Business Application Performance - Windows 2000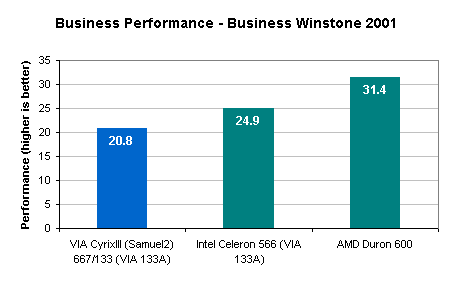 VIA made it very clear to us that the Cyrix III is targeted at "the needs of a Value PC user" including "productivity application .... and internet application" performance. Since Business Winstone 2001 focuses on such productivity and Internet applications, we were quite disappointed and a bit surprised to see the Samuel2 based Cyrix III perform so low when compared to the competition.
The 667 MHz Samuel2 based Cyrix III, even with its fast 133 MHz bus speed, is no match for even the lowest clocked Coppermine128 based Celeron, the 566 MHz version. The Celeron, which is severely crippled due to its 66 MHz bus speed, easily beats the Samuel2 based Cyrix III, scoring 4.1 points higher or about 20% faster than the Cyrix III.
The slowest Duron available, the 600 MHz model, easily dominates the new Cyrix III as well. This chip, which we have noted many times in the past as one of the best value chips on the market, is able to beat the Samuel2 Cyrix III by 51%.