Build Quality
It's hard to really find fault with the Puget Systems Genesis II Quiet's assembly. Puget Systems hardware has always been well put together, and the Genesis II Quiet is no different. They started with the Fractal Design Define XL R2, but in the process they made some changes and additions in order to maximize the overall cooling efficiency and keep noise levels down.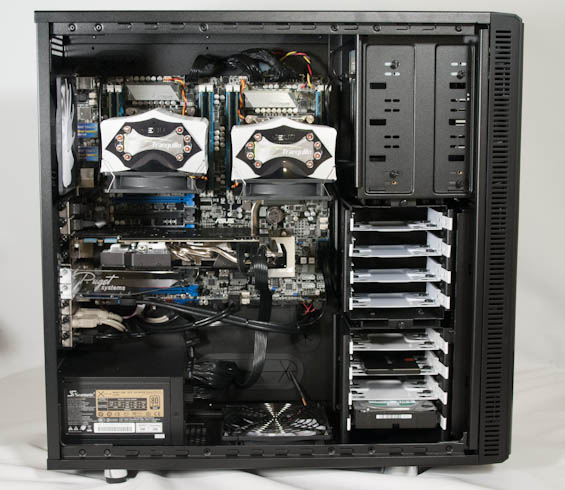 For starters, the stock cooling system has been revamped. Puget Systems removed the front intake fans entirely and instead placed a single intake on the bottom of the enclosure. The rear fan continues to operate as an exhaust, but they've removed the panels that block the top two 140mm fan vents. Those vents are unoccupied, but the Gelid Tranquilo v2 CPU coolers are oriented to draw air directly from the bottom and up out of the top and rear of the case. You'll see that this unusual cooling design does work and work well.
They've also taken advantage of the headers on the motherboard and attached just about as many brackets as they conceivably could, resulting in an embarrassment of ports on the back. Anything you want to connect to the Genesis II Quiet, you can.
Noise and Heat
If the Puget Systems Genesis II Quiet did a poor job of keeping thermals and noise down it would be a severe black mark, but thankfully the system is as well engineered as one would hope and expect. Noise levels border on inaudible; you have to put your ear up to the vents to really hear the Genesis II running, and there's no appreciable difference between idle and load noise. This is easily the quietest workstation I've tested, an impressive feat when you consider most high end workstations from major vendors are specifically designed to run quietly.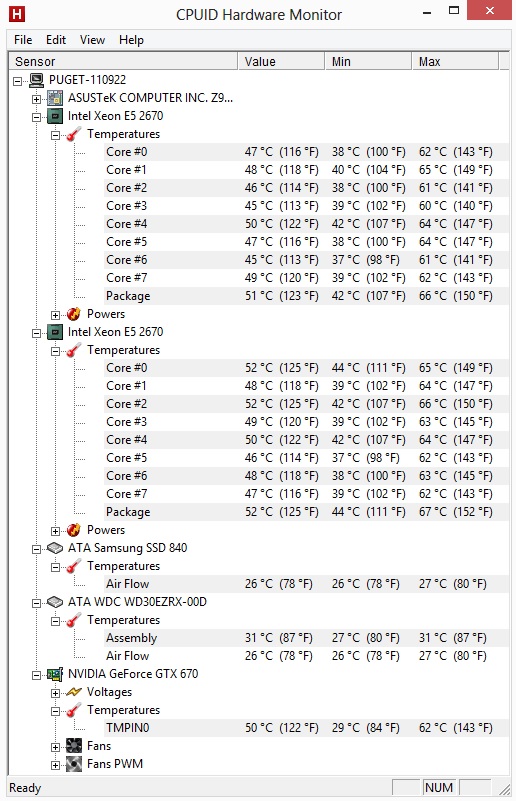 The thermal design of the Genesis II Quiet pays big, big dividends, too. No component inside the enclosure reaches 70C under sustained load. This is at least a substantial victory for Puget Systems, as this build is exceptionally efficient thermally and acoustically.
Power Consumption
Given that we're running two 115W processors, it's reasonable to expect that power consumption on the Puget Systems Genesis II Quiet is going to be a bit higher than the norm.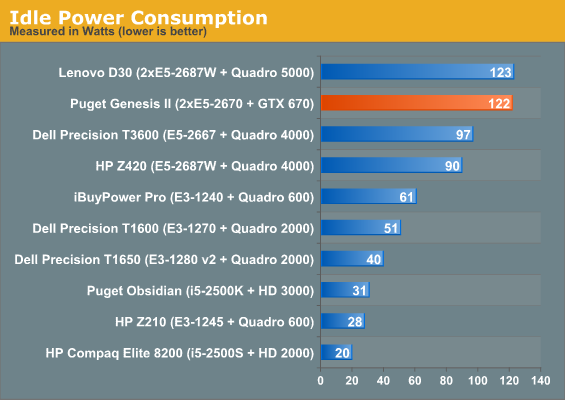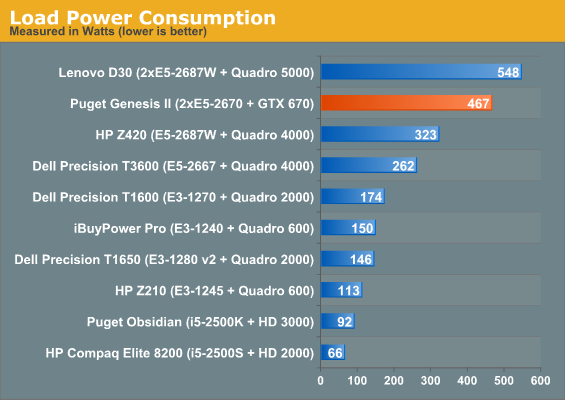 The Genesis II idles high and runs a high load draw, and both are to be expected. This is another reason why you need to be certain you need the high threaded throughput of dual processors like this before going down this road; single-CPU systems are much more frugal, especially when you get to hexacores on down to quads. This isn't bad power consumption, but it's notable; for the same idle power budget, you can power my desktop with a substantially overclocked i7-3770K and GTX 680 along with two IPS panels and a set of speakers. There isn't anything Puget Systems could really do under these circumstances, it's just the nature of a dual-CPU beast.