Gigabyte G1.Sniper M3 Overview
Visually, the G1.Sniper M3 looks like it packs a punch. The black and green livery is relatively striking compared to the red and black of other gaming motherboards (ASUS, MSI, ASRock), but on closer inspection we see a diminutive VRM heatsink, no power/reset buttons, no two digit debug, five SATA ports (one perpendicular to the board) and a slightly odd PCIe layout (visually).
Normally for a microATX motherboard, the PCIe layout is such that we have x8/x1/x8/x4, with the first slot being x16 when the second x8 is not populated. If you are not too careful, the G1.Sniper M3 actually has the layout slightly different – x8/x1/x4/x8. Because the final two slots are the same color, it could be very easy to put the GPU in the wrong slot and not notice. In fact, I did that – when I saw my gaming benchmarks performing worse (due to the x4 from the chipset), I had to double check what PCIe slots I was actually putting my GPUs in. As a result, I tested both x8/x8 and x16+x4 configurations in this review. It is worth noting that the x4 slot does not work for SLI, as SLI requires each video card to have an x8 minimum.
The big draw for the G1.Sniper M3 is going to be the audio – Gigabyte has gone with a Creative CA0132 chip, along with additional features on board to improve the quality of the signal. Much like what we see on ASUS motherboards, larger capacitors for filtering and an EM shield is placed around the audio section. However it is worth noting that the audio is not wholly isolated from the board in a separate PCB layer – various other chips do have tracing in and out of the EM shield. Nevertheless, when we tested the sound solution, due to the software included we could not get a clear reading. The only setting that gave any meaningful results with all the features enabled was 16-bit 48 kHz – in order to get the rest of the numbers, all the additional features had to be turned off.
As the Gigabyte G1.Sniper M3 enables multi-core turbo by default (when XMP is enabled), we get relatively good performance across our CPU benchmarks to match the ASUS MVG. The DPC Latency can be high if EasyTune 6 is left enabled, and the power usage seemed a little high in Metro with dual GPUs, but USB performance is reasonable. Overclocking on the G1.Sniper 3 gave results similar to the MVG in both automatic and manual modes, with a variety of options related to LLC adjusted in automatic mode to make temperatures reach near limits (85ºC on an open test bed).
For $170, the Gigabyte G1.Sniper M3 is a tough sell. Sure it is cheaper than the ASUS MVG by $30, but the difference in terms of additional hardware, support, software and features like fan controls is almost night and day.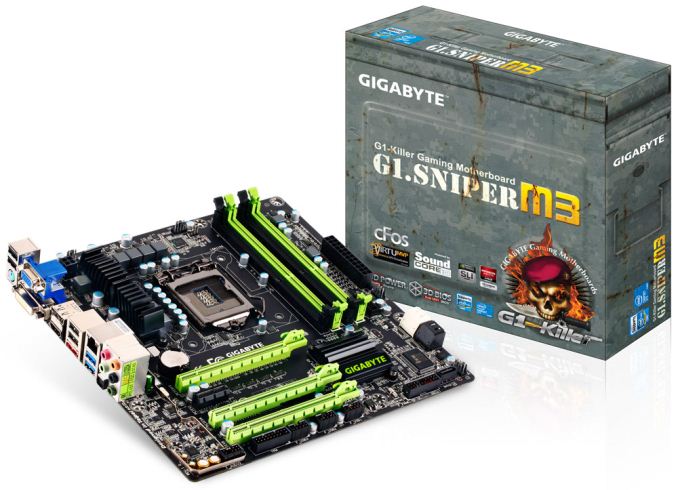 Visual Inspection
The green of Gigabyte's gaming range is hard to miss, and after our review of the full sized G1.Sniper 3, it will be interesting to see what exactly has been taken out for the G1.Sniper M3. To start, our VRM heatsink is smaller than that found on the G1.Sniper 3, with the chipset heatsink also petite, with no heatpipe connection between them. The socket area is thus relatively bare, with no restriction above and below for large heatsinks. We have three fan headers near the socket for fans – the CPU 4-pin above the socket, a SYS 4-pin to the top left of the socket, and another 4-pin just below the 24-pin ATX power connector. The final 4-pin is on the bottom right of the board.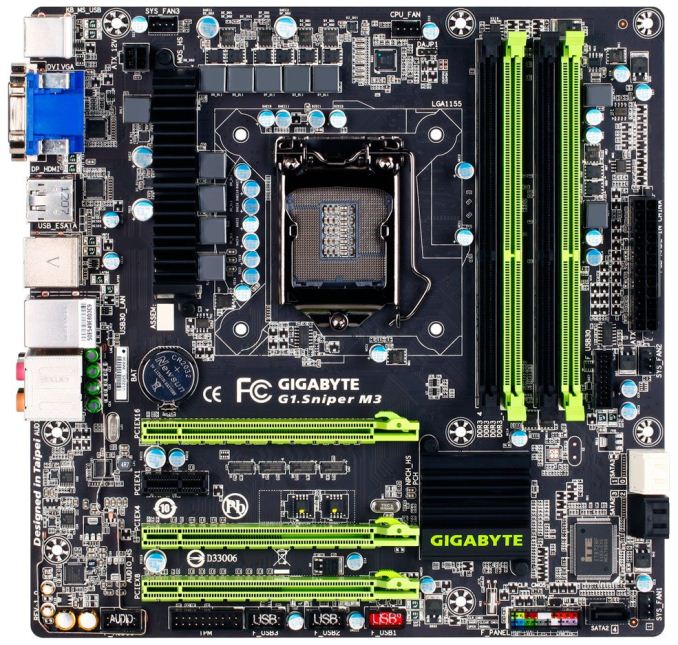 The memory slots are not the single sided latched versions which seem to populate the more expensive boards, but moving around the board in a clockwise direction, we have our 24-pin ATX power connector, and then a USB 3.0 header, powered by the chipset. We have only 5 SATA connectors on board – two 6 Gbps in white, two 3 Gbps in black, and another 3 Gbps in black sticking out of the board. It is odd to have a 'gaming' motherboard with no extra USB 3.0 or SATA 6 Gbps controllers – hopefully this is reflected in the price.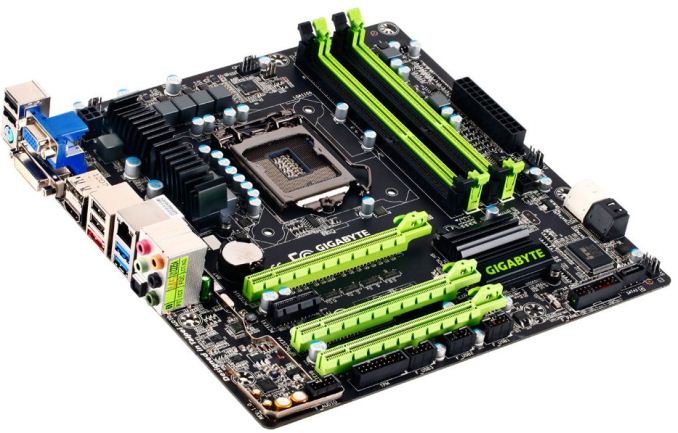 Continuing around the board and we have our three USB 2.0 headers, one in red to indicate it is the quick charge header. We also have a TPM module, and the front panel audio header.
The audio on the G1.Sniper M3 is worth a closer look – it uses the Creative CA0132 audio codec rather than a Realtek: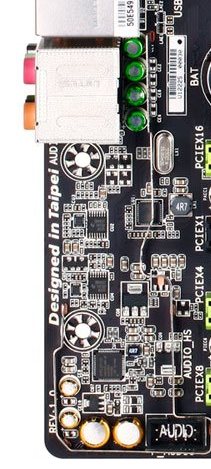 We can quite clearly see a small EM shield around the audio section of the motherboard, as well as a couple of filter caps towards the front panel audio header. While not as extensive as the ASUS SupremeFX audio solution, the proof will be in the testing. After speaking with Gigabyte, it is worth noting that the audio on the G1.Sniper M3 is not in its own isolated later on the motherboard.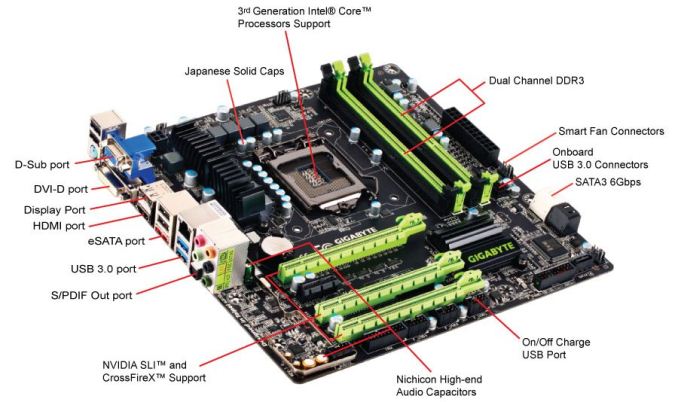 The PCIe layout is typical for a mATX, featuring two main PCIe x16 slots separated by an x1 slot and an x4 from the chipset. This would set the system up nicely for a dual double-slot GPU setup with an x4 WiFi or RAID card.

The rear IO is a little confusing. Here we have all the video outputs, but this is a gaming motherboard – surely we would be expecting all users to have a discrete GPU? In this circumstance only one video output should really be considered, and perhaps fill up the space with an OC button, a ClearCMOS button, or a stack of four USB 2.0 ports.
From left to right we have two USB 2.0 ports, a PS/2 combination port, D-Sub, DVI-D, DisplayPort, HDMI, another two USB 2.0 ports, an eSATA 3 Gbps port, an Intel Gigabit network port, two USB 3.0 ports, and our audio jacks.
Board Features
Gigabyte G1.Sniper M3
Price
Link
Size
mATX
CPU Interface
LGA-1155
Chipset
Intel Z77
Memory Slots
Four DDR3 DIMM slots supporting up to 32 GB
Up to Dual Channel, 1066-2800 MHz
Video Outputs
D-Sub
DVI-D
HDMI
DisplayPort
Onboard LAN
Intel
Onboard Audio
Creative CA0132
Expansion Slots
2 x PCIe 3.0 x16 (x16/-, x8/x8)
1 x PCIe 2.0 x4
1 x PCIe 2.0 x1
Onboard SATA/RAID
2 x SATA 6 Gbps (Chipset), RAID 0, 1, 5, 10
3 x SATA 3 Gbps (Chipset), RAID 0, 1, 5, 10
1 x eSATA 3 Gbps (Chipset)
USB
4 x USB 3.0 (Chipet) [2 back panel, 2 onboard]
10 x USB 2.0 (Chipset) [4 back panel, 6 onboard]
Onboard
2 x SATA 6 Gbps
3 x SATA 3 Gbps
1 x USB 3.0 Header
3 x USB 2.0 Header
4 x Fan Headers
1 x TPM Header
1 x Clear_CMOS Jumper
Power Connectors
1 x 24-pin ATX Power Connector
1 x 4-pin CPU Power Connector
Fan Headers
1 x CPU (4-pin)
3 x SYS (4-pin)
IO Panel
1 x Combination PS/2 Port
D-Sub
DVI-D
HDMI
DisplayPort
1 x eSATA 3 Gbps
2 x USB 3.0
4 x USB 2.0
1 x Intel GbE
1 x Optical SPDIF Output
Audio Jacks
Warranty Period
3 Years
Product Page
Link
If anything, the G1.Sniper M3 feels extremely bare. No additional USB 3.0 ports, no additional SATA 6 Gbps controllers, but a full complement of IO video outputs. By reducing these numbers (a simple gaming machine needs no more than the basics), Gigabyte do not need to invest in a PCIe 2.0 PLX chip to split some of the chipset lanes. This 'saving' has gone into the Creative audio solution. I do have a big beef though due to the lack of power/reset buttons on board as well as a two-digit LED debug. When a board goes wrong, having these features helps the rest of us dealing with the issue!