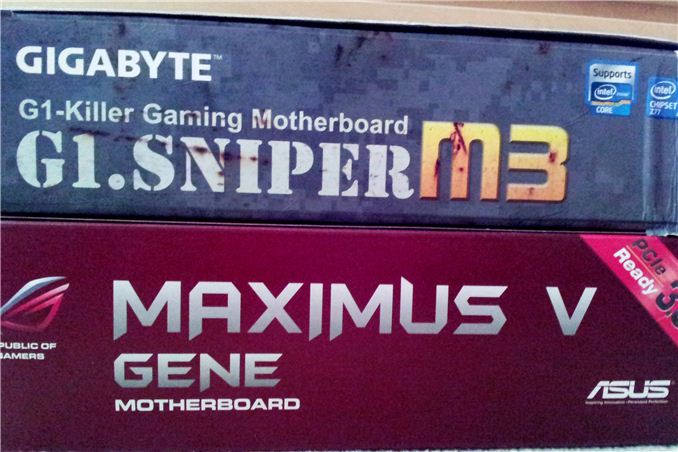 Competition between gaming mATX boards doesn't get any tougher than this. In the red corner, weighing in at $200 and from the Republic of Gamers' range, we have the ASUS Maximus V Gene. In the green corner, weighing in at $170 and providing the competition, we have the Gigabyte G1.Sniper M3. Let's get ready to review!
ASUS Maximus V Gene Overview
The ASUS MVG has a good heritage behind it – the Republic Of Gamers brand is now a definitive landmark in the motherboard arena, where from the least expensive to the extreme board we have consistency in terms of BIOS, software, optimizations and effort on behalf of the manufacturer. In our testing it is clear to see why – the MVG performs very well across the board.
For the price of $200, we get a gaming motherboard with overclocking potential. On board are the characteristic features of the ASUS ROG range – aside from the red and black livery, we get a mPCIe combo card for a WiFi card and half-height mSATA card, an Intel NIC, voltage read points, five fan headers, additional SATA 6 Gbps, additional USB 3.0, onboard power/reset buttons, and SupremeFX audio (an enhanced layout for the Realtek ALC898 codec). In the software are the best fan controls ever placed on a motherboard with FanXpert II, alongside USB 3.0 Boost, ROG Connect, USB BIOS Flashback, and a BIOS that attempts to make every option under the sun available for a tweaker to go nuts.
Alongside all the hardware, users may want to head over to the ROG forums, which allow users with any ASUS motherboard to ask for assistance in setting up their hardware, or for enthusiasts to tackle each other head on in overclocking contests. Users can also sign up for ROG Pro and take advantage of ROG Exchange so share settings or OC Knockout. We reviewed ROG as a brand in 2012, and to date is the only 'thing' I have ever given an AnandTech Gold Award to.
Users who want a mATX Z77 board can take the Maximus V Gene and be happy that they made a good purchase.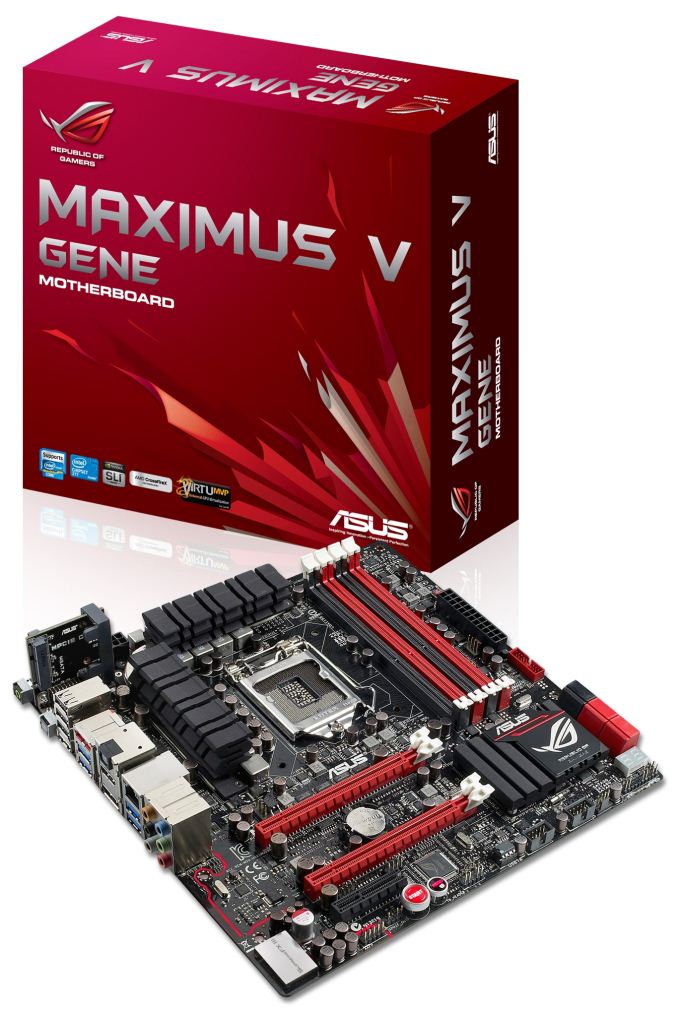 Visual Inspection
The red and black livery, as with all ROG boards, shines through with the Maximus V Gene. All high end motherboards, no matter what the market, have had a renaissance regarding attention to detail and color coordination, and I do like a good coordinated board. The first comparison point made compared to the G1.Sniper M3 in this review is going to be the VRM heatsink. The ASUS MVG uses a thick heatsink above and to the side of the socket, connected via a flat heatpipe. It feels quite substantial, especially when up against the G1. Sniper M3 offering.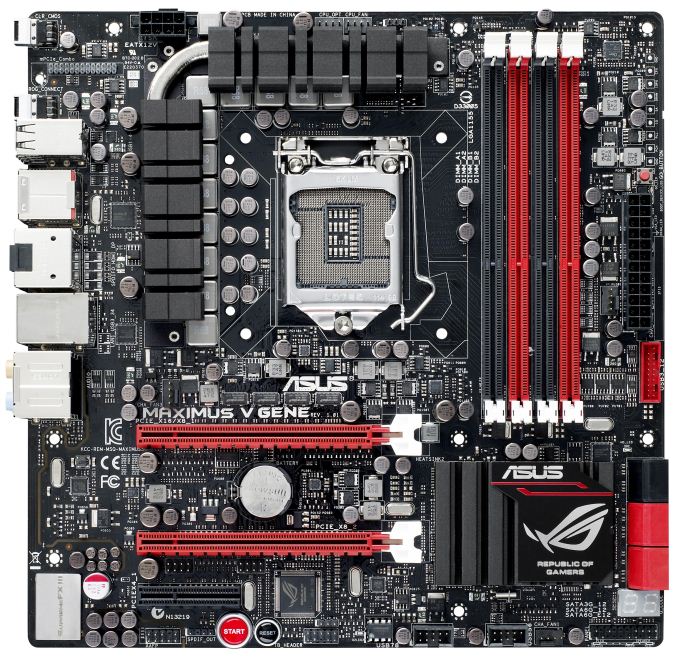 The socket area is actually at the minimum Intel recommended specifications, meaning that large coolers going left to right may have difficulty if you want to populate all the memory slots as well with anything other than a low profile kit. The socket area has access to four fan headers for CPU fans – two 4-pins above the socket, another 4-pin to the bottom left of the socket, and one more beside the 24-pin ATX power connector. The final fan header is a 4-pin on the bottom of the board.
Moving clockwise around the board, our memory slots feature the single sided latching mechanism used on most high end models in recent times – I find them sufficiently easier to use, although many users may just get the MVG and plug in memory once throughout its entire life. Next to the memory slots are a series of voltage read points for users to solder on their own DMMs, and also right next to a GO_BUTTON, for one touch overclocks set in the BIOS. Underneath this button are the ASUS Q-LEDs, for a quick reference as to what failed during a boot failure.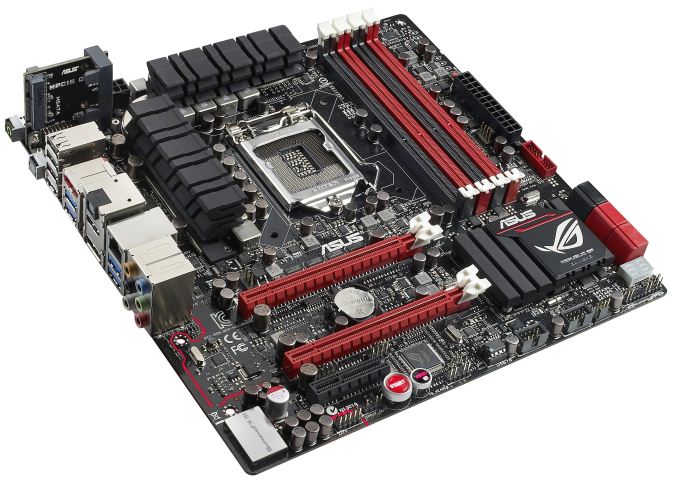 The 24-pin ATX power connector and USB 3.0 header follow next, and then onto the SATA ports. As ASUS is using an extra ASMedia SATA 6 Gbps controller, we get a total of four SATA 6 Gbps ports in red, along with two SATA 3 Gbps ports in black. That still leaves two SATA 3 Gbps ports from the chipset, one of which is used as an eSATA on the rear IO, and the other is for the mPCIe combo card as a half-height mSATA. Beneath the SATA ports is a two-digit debug LED display, along with a pair of power/reset buttons onboard.
Along the bottom of the board, aside from the power/reset buttons are our front panel headers, two USB 2.0 headers, a TB_Header (if you invest in the ASUS Thunderbolt add-in card), a SPDIF header, and the SupremeFX III audio solution.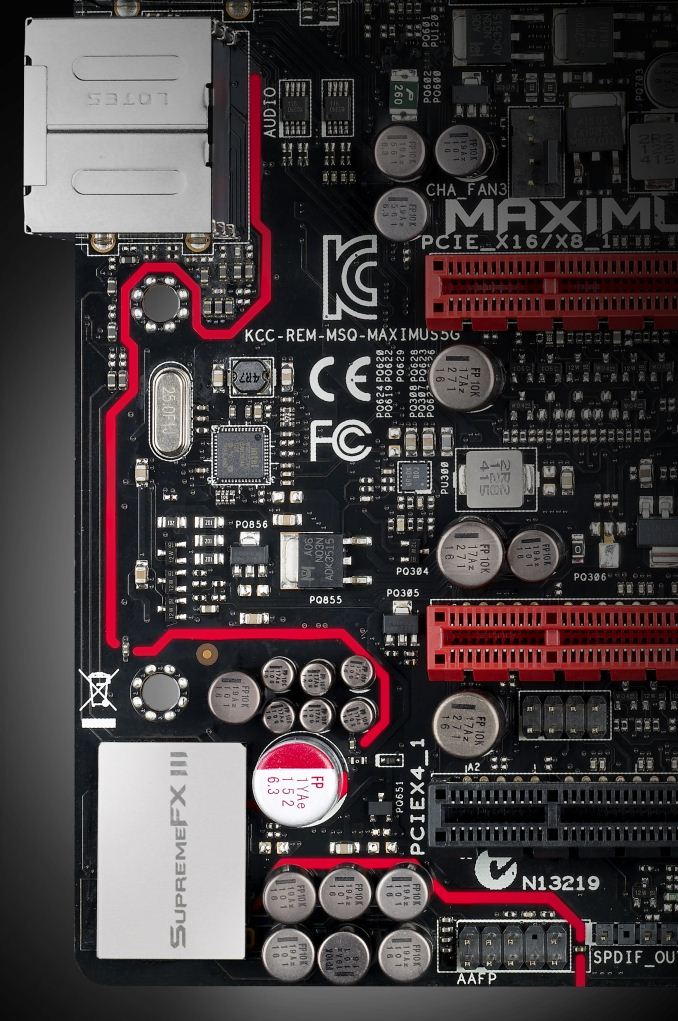 We covered the SupremeFX IV audio package on the Maximus V Formula, which differs by virtue of a headphone amplifier on the IV version, as well as few additional tweaks.
The PCIe layout is indicative of ASUS pointing at dual GPU setups, with two PCIe 3.0 x16 ports (x8/x8 in dual GPU), followed by an open ended PCIe 2.0 x4 if needed.

On the rear we have our Clear_CMOS button, a mini-PCIe combo card (for a dual WiFi card and space for an mSATA drive), an ROG Connect button, four USB 2.0 ports, two USB 3.0 from an ASMedia controller, an eSATA 3 Gbps port, HDMI, DisplayPort, SPDIF Output, two USB 3.0 from the chipset, Intel NIC, and audio outputs. The white port on the USB 2.0 set is for ROG Connect (via the included cable) and USB BIOS Flashback, a handy tool for BIOS flashing without a CPU, RAM or GPU installed.
Board Features
ASUS Maximus V Gene
Price
Link
Size
mATX
CPU Interface
LGA-1155
Chipset
Intel Z77
Memory Slots
Four DDR3 DIMM slots supporting up to 32 GB
Up to Dual Channel, 1066-3000 MHz
Video Outputs
HDMI
DisplayPort
Onboard LAN
Intel
Onboard Audio
SupremeFX III (Realtek ALC898)
Expansion Slots
2 x PCIe 3.0 x16 (x16/-, x8/x8)
1 x PCIe 2.0 x4
Onboard SATA/RAID
2 x SATA 6 Gbps (Chipset), RAID 0, 1, 5, 10
2 x SATA 6 Gbps (ASMedia), RAID 0, 1
2 x SATA 3 Gbps (Chipset), RAID 0, 1, 5, 10
1 x eSATA 3 Gbps (Chipset)
USB
4 x USB 3.0 (Chipset) [2 back panel,. 2 onboard]
2 x USB 3.0 (ASMedia) [2 back panel]
8 x USB 2.0 (Chipset) [4 back panel, 4 onboard]
Onboard
4 x SATA 6 Gbps
2 x SATA 3 Gbps
1 x USB 3.0
2 x USB 2.0
Power/Reset Buttons
Two-Digit Debug
5 x Fan Headers
mPCIe Combo Card
Power Connectors
1 x 24-pin ATX Power Connector
1 x 8-pin CPU Power Connector
Fan Headers
2 x CPU (4-pin)
3 x CHA (4-pin)
IO Panel
1 x Clear_CMOS Button
mPCIe Combo Card
1 x ROG Connect Button
4 x USB 2.0
- Including ROG Connect + Flashback
2 x USB 3.0 (Chipset)
2 x USB 3.0 (ASMedia)
1 x eSATA 3 Gbps
HDMI
DisplayPort
SPDIF Output
Audio Jacks
Warranty Period
3 Years + ASUS Premium Service
Product Page
Link
Compared to the G1.Sniper M3, the ASUS comes away with a lot of hardware in its favor – the extra USB 3.0 ports, extra SATA 6 Gbps ports, an Intel NIC, power/reset buttons, a two digit debug, voltage read points, Q-LED, and fully controllable fan headers. While the $200 price tag of the MVG is the highest of any mATX board, ASUS feel that the level of functionality, along with the software, ROG forums and support structure, are well worth the investment. It will be interesting to see how the differing audio features of the MVG and G1.Sniper M3 compare to each other.