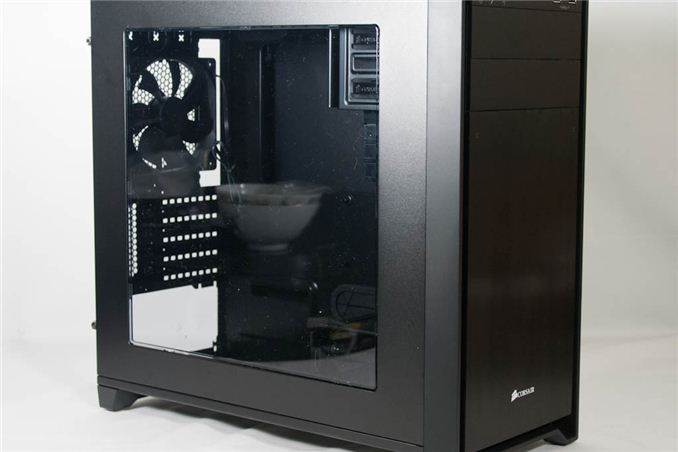 Introducing the Corsair Obsidian 350D
It seems like just yesterday we were talking about Corsair's gargantuan Obsidian 900D, a behemoth designed with the single goal of housing as much computer as you can possibly imagine. The Obsidian 900D supersized the already successful 800D (along with its price tag), and judging from the comments left on the review it's exactly what a lot of the watercooling enthusiasts were waiting for.
What you may not be aware of is the fact that the 900D ran...a little late. I had one of the early review units, and it had actually been sitting in my living room for some time before the new embargo date hit and gave me a deadline. That's part of the reason why we're seeing another case from Corsair as quickly as we are; had the 900D been on time this still would've seemed like a pretty quick turnaround time. Proving someone over there has a sense of humor, though, Corsair is following up their largest case with their smallest.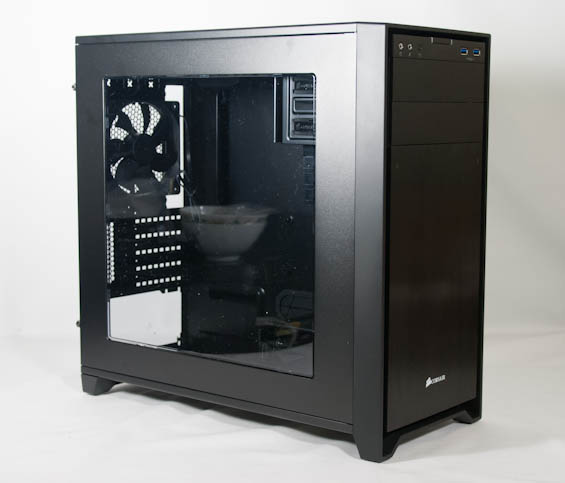 I'm actually a little disappointed that the campaign around the 350D was basically subsumed by the 900D, because of the two cases I think the micro-ATX 350D is actually the more interesting one. With the 900D, the sky is really the limit as to what you can put in it (or more accurately, your wallet is the limit). The 350D, on the other hand, is a case for people who thrive on limitations. That's not to say the case has limitations, per se, but when you're confined to the micro-ATX standard you start having to make creative decisions. As you'll see, Corsair made a few of their own that make the 350D a particularly interesting specimen in what's often one of the most diverse enclosure categories.
Corsair Obsidian 350D Specifications
Motherboard Form Factor
Mini-ITX, Micro-ATX
Drive Bays
External
2x 5.25"
Internal
3x 2.5", 2x 3.5"
Cooling
Front
1x 140mm intake fan (supports 2x 120mm/140mm)
Rear
1x 120mm exhaust fan
Top
2x 120mm/140mm fan mount
Side
-
Bottom
-
Expansion Slots
5
I/O Port
2x USB 3.0, 1x Headphone, 1x Mic
Power Supply Size
ATX
Clearances
HSF
160mm
PSU
200mm
GPU
300mm
Dimensions
17.3" x 8.3" x 17.7"
440mm x 210mm x 450mm
Weight
13.3 lbs. / 6.1 kg
Special Features
USB 3.0 via internal header
Removable drive cages
Removable filters on intakes and bottom
Supports 280mm radiators
Price
$99/$109 (without window/with window) MSRP
What needs to be considered in evaluating the Corsair Obsidian 350D is that this case is pretty clearly designed capitalize on liquid cooling. While my experiences with Corsair's closed loop coolers have been inconsistent, everyone benefits from them having a 280mm cooler like the H110 in their lineup. The existence of a 280mm cooler in Corsair's portfolio doesn't necessarily demand they include a place to mount it in all subsequent case designs, but it makes a convincing argument.
The reviewer's guide makes a big deal about using the 350D for water cooling, both with Corsair's products and with custom loops. There are five total fan mounts, and all of them support radiators: the top of the case features two 120mm/140mm mounts, the front of the case features another pair of 120mm/140mm mounts (and the 3.5" drive cage is removable), and then the rear of the case features a 120mm fan mount. What does surprise me is that Corsair opted not to include an additional fan mount beneath the drive cage, in the bottom of the case. It feels like a missed opportunity.