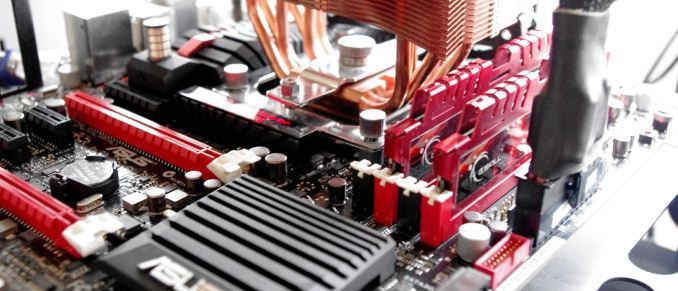 As part of our 'Best X' range of pipeline posts, our focus turns on to the motherboard segment. At this point of the year, we really are between a rock and a hard place, with new Z77 motherboards still being released, like the MSI Z77 Gaming range, and Haswell just around the corner. Demand for new desktop systems is still going b, regardless of this looming upgrade – I have built two new Z77 systems in the last couple of week for family who wanted a computer today, not 'in a few months'.
While we attempt to review a wide price range of motherboards at AnandTech, the skew is invariantly on the high end. Manufacturers would rather we reviewed their best products to represent the best of the range, rather than get a perspective from a budget $75 model. Recently we have covered the Z77 range of overclocking oriented models, but since Z77 release we have looked at the mITX range and also a wide series of new features on motherboards (for example Thunderbolt and PLX 8747). The AMD side of the equation has been very light in terms of review coverage by virtue of the fact that there has been no real demand from either manufacturers or readers to cover motherboards made-for-Vishera/Piledriver, and any FM2 coverage seemed to lack excitement.
We have awarded a number of Z77 products with awards since the beginning of 2012, and here are our favorites north of $220. In later pieces we look at sub $220 models from Z77 and FM2, and another piece for our X79 picks.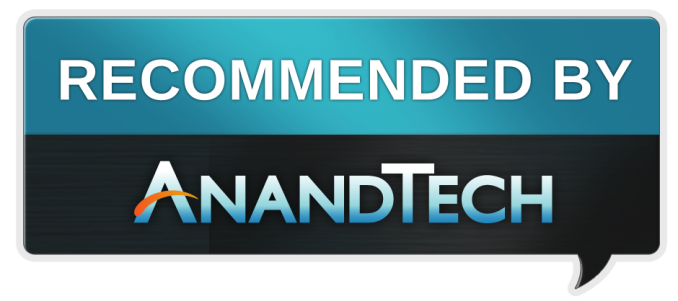 AnandTech Silver Award: ASUS Maximus V Formula ($290 with AC3)
While the Formula doesn't come cheap, and is in fact the most expensive Z77 motherboard without a PLX 8747 chip, it offers more of a package than any other non-PLX Z77 motherboard. The big draws are the SupremeFX IV audio solution, capable of reaching the Realtek listed dynamic range and THD+N numbers, the combination air/water VRM heatsink, and the package as a whole. In hardware we get an integrated WiFi/mPCIe combo card, an Intel NIC, extra SATA 6 Gbps, extra USB 3.0, options for overclockers and features such as BIOS Flashback. The BIOS is geared for overclocking, with our CPU sample hitting highs rarely seen internally on any other motherboard – the BIOS also includes plenty of OC features for high end memory kits. Software is similarly superb, with fan controls that actually act like fan controls should (see recent reviews for rants on this), network management, and features like USB 3.0 Boost. Users also have access to the vast ROG forums for help and hints to get the perfect system.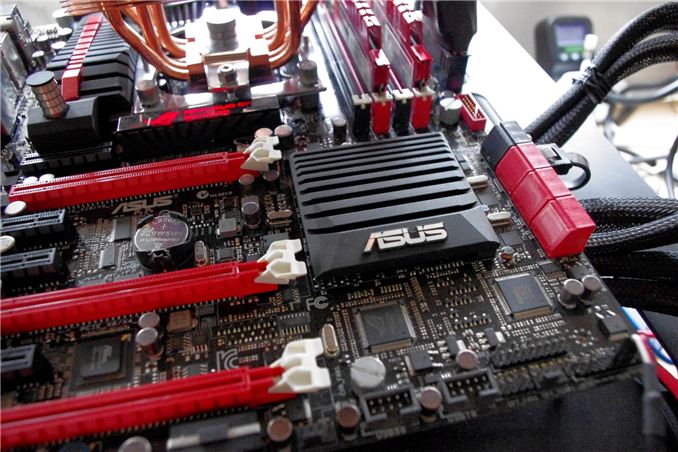 Read our review of the ASUS Maximus V Formula here.
AnandTech Silver Award: ASRock Z77 OC Formula ($225)
In a similar vein to the ASUS MVF, the ASRock Z77 OC Formula is a great motherboard to play with and is easily the best ASRock motherboard I have ever used. It dials in slightly cheaper than the ASUS (at the loss of some software control), but we still get plenty of overclock control, with the automatic options in the BIOS covering a wide range of clock speeds. This allows users to select the first option, stress test, then move to the next – stopping when stability is not to the user's liking. The BIOS itself is so easy to use, and it looks a lot more polished than almost every other available on the market. Software gets an OC Formula skin, and the XFast combination (RAM, LAN, USB) can help improve performance. The ASRock has some benefits over the ASUS MVF – the ASRock has OC Touch buttons for that last competitive OC MHz and easier voltage check points. For regular use the ASRock has more SATA ports, more USB 3.0 ports, PCIe disable switches, six USB 3.0 on the rear, and in the box we get a front USB 3.0 panel and motherboard standoffs for out-of-the box setups.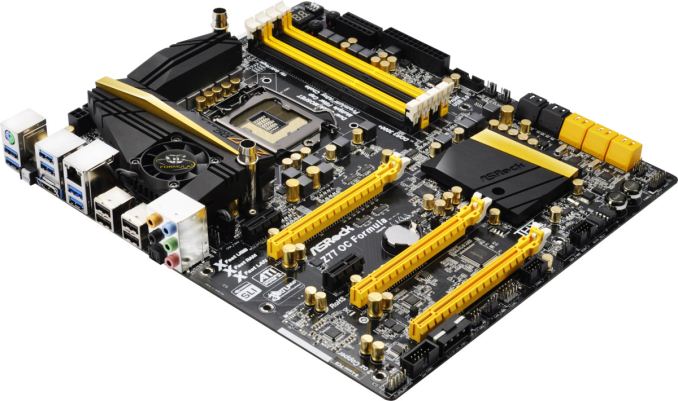 Read our review of the ASRock Z77 OC Formula here.
AnandTech Bronze Award: Gigabyte G1.Sniper 3 ($270)
Out of the PLX 8747 enabled motherboards we have tested on the Z77 platform, the Gigabyte G1.Sniper 3 has taken the lead in terms of layout, ease of user and performance. Even though users will probably not be running at stock, the G1.Sniper 3 uses MultiCore Turbo to improve stock performance of the CPU above every other motherboard we have tested. For gamers we have an Killer E2201-B network port alongside an Intel NIC, ten USB 3.0 ports, ten SATA ports, mSATA, PS/2 + Firewire connectivity, and a WiFi PCIe x1 card for users not using all the PCIe slots. There is a TPM as well as an eSATA rear bracket for additional options. While the PLX chip shows enhancements over non-PLX enabled three-way SLI/CFX and above, the option to have different PCIe layouts comes into force with PCIe SSDs or RAID cards. The Gigabyte G1.Sniper 3 still offers the best price/performance ratio for a PLX 8747 enabled board, and with better BIOS/software integration would have got a bigger award. This is something Gigabyte is working on for the future.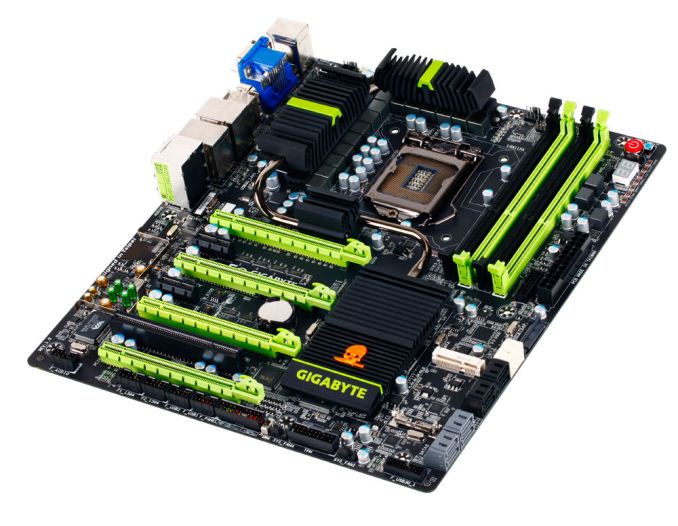 Read our review of the Gigabyte G1.Sniper 3 here.
AnandTech Silver Award: ASUS P8Z77-V Deluxe ($280)
Sweeping in at $280 is perhaps not the main price point for Z77, especially when there are motherboards that can run these processors for half the price. However, this is where the P8Z77-V excels - for your extra money, you get a plethora of enthusiast related features that a user would not dream of on a half-price product. Alongside the dual band WiFi, dual network controllers (one Intel, one Realtek), superior fan control and provision for a future Thunderbolt add-in card, we have the stalwarts of the ASUS arsenal, such as USB BIOS Flashback, Fan Xpert II, enhanced USB charging, USB 3.0 Boost, a well thought out BIOS and superior operating software. The only features directly missing seem to be those that add a significant cost on board (PCIe PLX chip for >2 GPUs, a premium sound solution), where instead we would normally see products specifically focused for them in that price bracket. As part of a long term, stable build, it is hard to put a foot wrong if you choose the P8Z77-V Deluxe.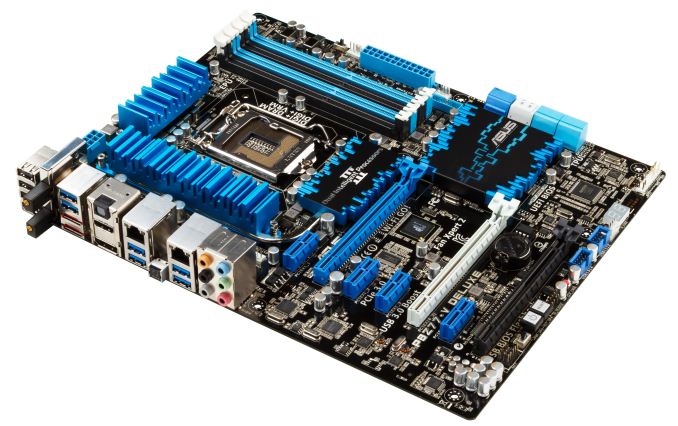 Read our review of the ASUS P8Z77-V Deluxe here.
What To Look Forward To
Haswell is approaching, and each of the contenders here will have a Z87 counterpart. Depending on the Z87 chipset itself, we may see more variation on how the motherboards line up, and whether each manufacturer will want to push up and down market segments. Regardless of what media coverage says regarding the shift to more mobile devices, the high end desktop space is still b – enthusiasts want more and they want it now.
As mentioned, our next 'Best Motherboard' feature will take a look at the $120-$200 market for both Z77 (regular + mITX) as well as an FM2 choice worth considering. While no new X79 products are hitting the shelves, we have tested a fair number of X79 and Sandy Bridge-E is still the way to go for a multi-core Intel machine – stay tuned for that roundup as well.