Performance: Upgrading from a Galaxy Tab 8.9
It's important to remember that users actually upgrade devices and aren't in a constant state of comparing only the absolute latest to the absolute latest. Stepping into the real world for a moment, I dusted off the first sub-10" tablet that ever excited me: Samsung's Galaxy Tab 8.9.
Built around NVIDIA's Tegra 2 and driving an 8.9-inch 1280 x 800 display, the Galaxy Tab 8.9 was in many ways a not too distant relative of the Note 8.0. Many of the UI customizations we see today on the Note 8.0 can be seen in a much earlier form on the Galaxy Tab 8.9. The app drawer existed back then (although it was seriously slow to appear/animate) and the tablet eventually got the ability to display multiple apps at the same time: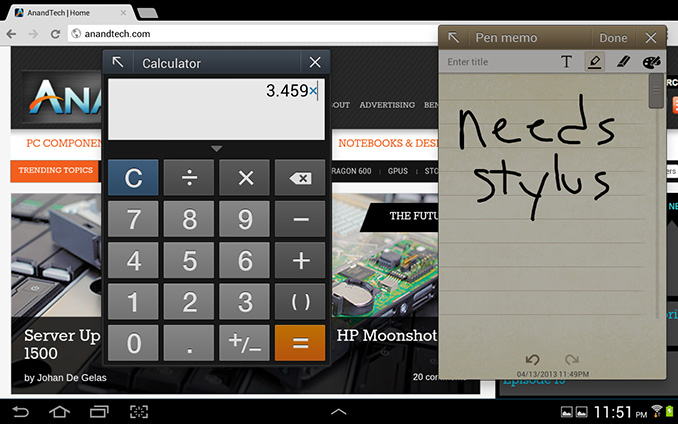 Multitasking on the old Galaxy Tab 8.9
There was even an early note taking app although the old Galaxy Tab 8.9 lacked a stylus.
From a performance standpoint, it's sort of insane to think of how far we've come in such a short period of time. Remember, the Galaxy Tab 8.9 came out less than 2 years ago. Back then, shipping 40nm LP hardware from TSMC was common place - we've gone through a full process node transition since. Building SoCs at 28/32nm not only gave manufacturers the ability to integrate more features (more cores, bigger GPUs), but at higher frequencies as well.
CPU Performance
The Galaxy Note 8.0 features Samsung's own Exynos 4 Quad (4412) SoC. The SoC features four ARM Cortex A9 cores running at up to 1.6GHz (1.4GHz max in the Note 10.1) fed by a 1MB L2 cache and a dual-channel LPDDR2/3 memory controller. ARM's Cortex A9 isn't exactly top shelf these days, but compared to what's in the iPad mini (2 x A9s running at 1GHz) the Note 8.0 has a substantial frequency advantage. The same is true if we look at the Note 8.0 compared to the old Galaxy Tab 8.9. The advantage there is even greater as Tegra 2 lacked NEON support and only had a single channel memory interface.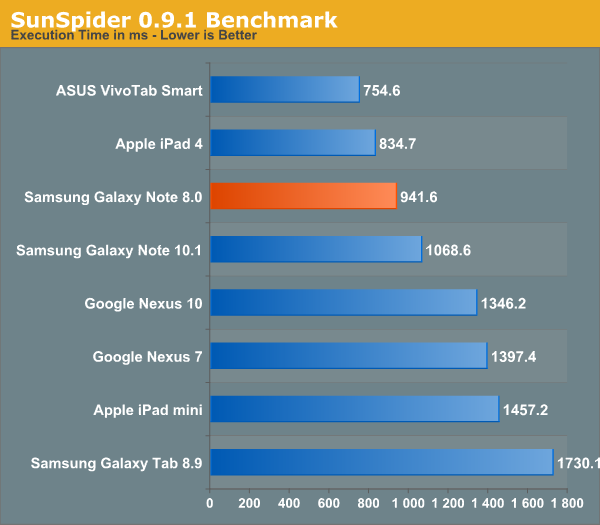 The Note 8.0 a bit faster than the Note 10.1 thanks to its higher max CPU frequency (1.6GHz vs. 1.4GHz). The comparison to the Galaxy Tab 8.9 is like night and day, the Note 8.0 is considerably quicker. The iPad mini comparison is also skewed significantly in favor of the Note 8.0. Using Apple's A5r2, the iPad mini still has a standard Cortex A9 based SoC with a much lower operating frequency than what's used in the Note. This chart alone is good reason for why Apple needs to move the mini to an A6 based design sooner rather than later.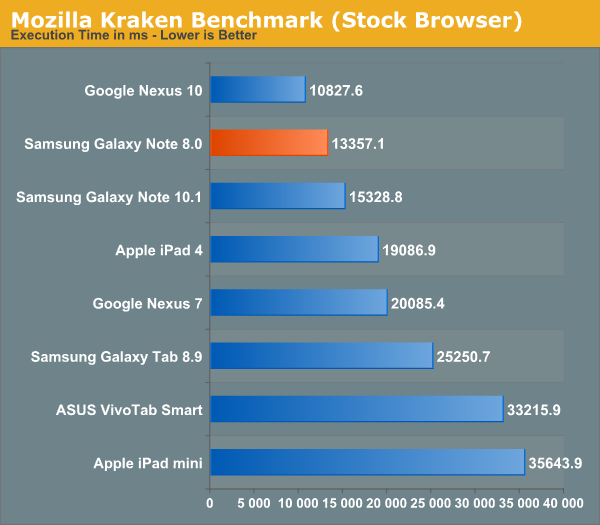 The Note 8.0's CPU performance remains very competitive here despite being based on a fairly old CPU architecture at this point. The 8 is much faster than the iPad mini, tangibly quicker than the Nexus 7 (dual-channel memory interface, higher max CPU clocks) and in this case even faster than the iPad 4 thanks to the performance of Chrome on Android.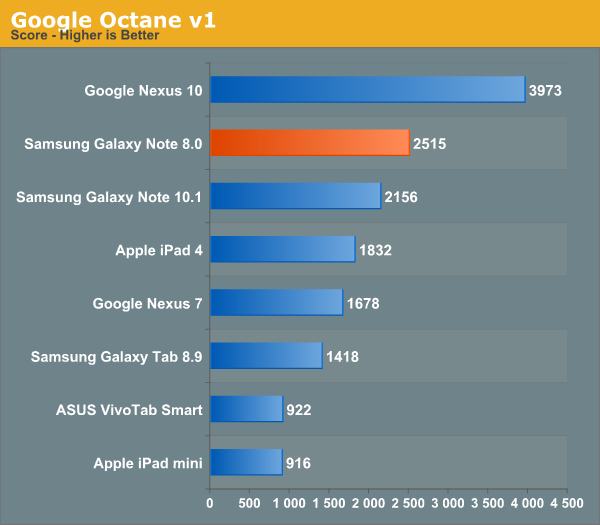 Our final CPU/js test echoes what we've seen elsewhere. Samsung knows how to build performance competitive hardware. The improvement over the old Galaxy Tab 8.9 remains significant.