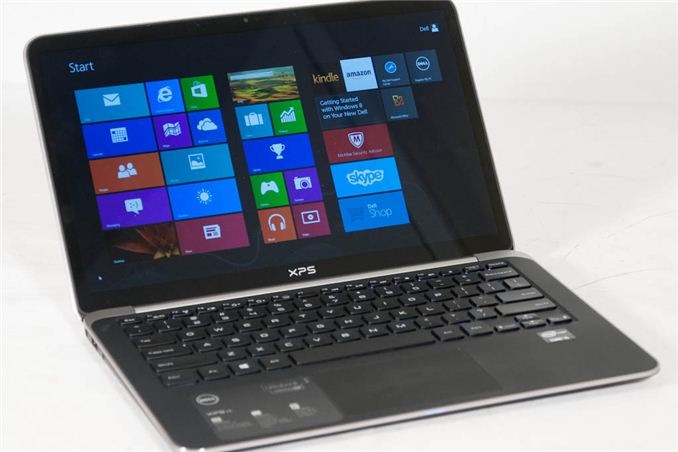 Re-introducing the Dell XPS 13
Around this time last year, we had a chance to take a look at Dell's first ultrabook, the XPS 13. This was an ultrabook I was for the most part fond of, but one that was clearly suffering from being first generation ultrabook hardware. Ultra low-voltage Sandy Bridge chips were perfectly serviceable, but they could still generate a tremendous amount of heat in a chassis the size of the XPS 13. That meant noise and heat were both serious issues. Compounding that was a routine, run-of-the-mill, utterly dismal 1366x768 TN panel display.
Dell gave me the opportunity to retest the XPS 13, though, specifically the current generation model. I was looking forward to the 1080p display, optimistic about Ivy Bridge, and utterly skeptical about the rest of the chassis. Don't get me wrong, the XPS 13 is a beautiful ultrabook and I appreciate that Dell went their own way with the design rather than producing another silver sliver, but there are what I consider to be flaws in the design that needed to be addressed. Hopefully they will be in the future, but in the meantime a lot has apparently happened under the hood.
Dell XPS 13 (Q1 2013) Specifications
Processor
Intel Core i5-3337U
(2x1.8GHz + HTT, Turbo to 2.7GHz, 22nm, 3MB L3, 17W)
Chipset
Intel QS77
Memory
2x4GB integrated DDR3L-1600
Graphics
Intel HD 4000 Graphics
(16 EUs, up to 1.1GHz)
Display
13.3" LED Glossy 16:9 1080p IPS
CMN1345
Hard Drive(s)
256GB Samsung mSATA PM830 6Gbps SSD
Optical Drive
-
Networking
Intel Centrino Advanced-N 6235 802.11a/b/g/n
Bluetooth 3.0
Audio
Realtek ALC275 HD Audio
Stereo speakers
Single combination mic/headphone jack
Battery
6-Cell, 11.1V, 47Wh (integrated)
Front Side
-
Right Side
Battery test button
USB 3.0
Mini-DisplayPort
Left Side
AC adaptor
USB 3.0
Mic/headphone combo jack
Back Side
-
Operating System
Windows 8 64-bit
Dimensions
12.4" x 0.24-0.71" x 8.1" (WxHxD)
316mm x 6-18mm x 205mm
Weight
2.99 lbs
1.36kg
Extras
Webcam
SSD
Bluetooth
Ambient light sensor
Backlit keyboard
1080p IPS display
Warranty
1-year limited
Pricing
Starts at $999
As configured: $1,399
In the intervening period between the first XPS 13 review and this one, a couple of things have been changed, but most updates have been fairly incremental. For my thoughts on the chassis design itself, you'll want to check my prior review, as for better and worse, absolutely nothing has changed there. If you were part of the way sold on the XPS 13 before, though, the refinement that's gone on under the hood may yet change your mind.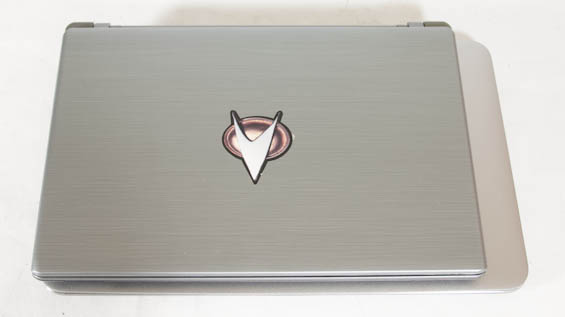 Footprint compared to the 11.6" Acer Aspire V5-171.
Dell advertises the XPS 13 as being a 13.3" notebook that has a similar footprint to an 11.6" one. "Similar" is a nice way of saying "we're fudging the numbers," though; comparison reveals that the XPS 13's footprint, while svelte for a 13.3" notebook, is more in line with a 12.1" chassis. That's still excellent, though, as it means more desktop real estate (even before getting to the panel quality) in a smaller area.
As far as the CPU goes, the jump from Sandy Bridge to Ivy for ultrabooks has been a phenomenally positive one. The more hands on time I get with it, the more I'm convinced that the all-star mobile CPU for this generation of notebooks is the Intel Core i5 ULV. ULV i3 is tremendously crippled by the lack of turbo core, while ULV i7 offers virtually nothing but an extra 1MB of L3 cache and slightly higher clocks; the i5-3337U here is essentially the sweet spot. The nominal clock of 1.8GHz and turbo core of 2.5GHz on both cores and 2.7GHz on a single makes the CPU a very capable performer, and the HD 4000 graphics (with a top turbo of 1.1GHz) have proven to be largely acceptable for casual gaming.
In the meantime, Dell bumped up the RAM to 8GB, bumped the RAM speed up to 1.6GHz, and then opted for DDR3L instead of standard voltage DDR3. The wireless card has gotten an incremental update to the Centrino 6235, and the single USB 2.0 port has been replaced by a 3.0 port. Still missing is an integrated card reader. The Samsung mSATA PM830 was an excellent SSD before, so there's no real reason to replace it.
The biggest upgrade to the XPS 13 is the 1080p display, which I'm fairly convinced is either an IPS panel or Samsung's SuperPLS; it exhibits none of the viewing angle anomalies of *VA, and it doesn't wash out the way TN does. Meanwhile Dell's store page for the XPS 13 remains fairly mum about the panel type itself outside of espousing how fantastic it is, which is actually strange given that consumer awareness of IPS and alternate panels is increasing.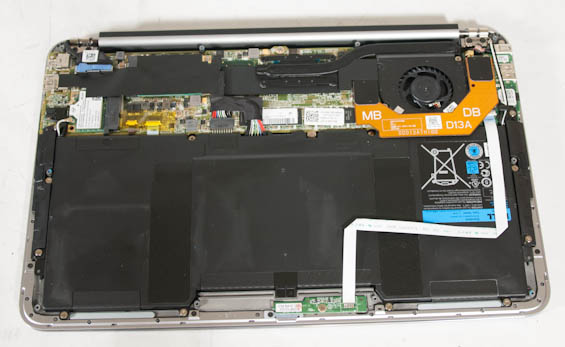 As a sidenote, I was able to actually remove the bottom casing of this XPS 13. To get inside the XPS 13, you'll need a T-5 Torx screwdriver. It should surprise no one that the RAM is soldered to the board; there's also a black sticker layer that sits between the mSATA SSD and the inside of the bottom panel. It's good to know that you can replace the mSATA drive and wireless card, though, should you need to/desire to.