Crysis: Warhead
Up next is our legacy title for 2013, Crysis: Warhead. The stand-alone expansion to 2007's Crysis, at over 4 years old Crysis: Warhead can still beat most systems down. Crysis was intended to be future-looking as far as performance and visual quality goes, and it has clearly achieved that. We've only finally reached the point where single-GPU cards have come out that can hit 60fps at 1920 with 4xAA.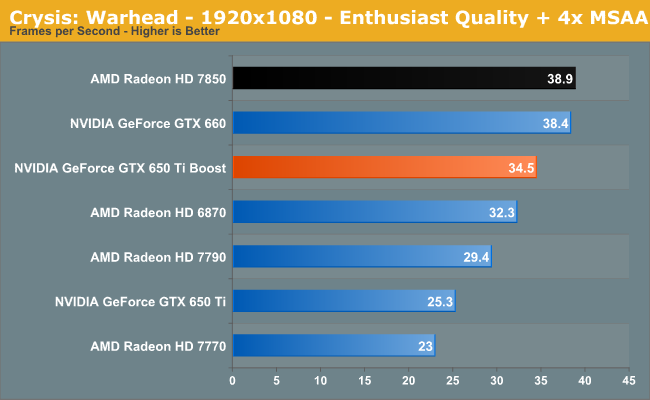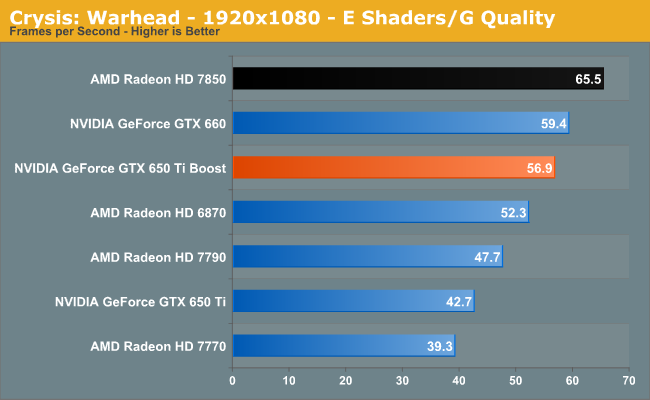 Crysis has shown to favor raw ROP performance and memory bandwidth above shader performance, so it's been a rough game for NVIDIA's Kepler cards, which typically have less memory bandwidth than their AMD competition. In this case at Gamer quality the GTX 650 Ti Boost still can't crack 60fps, and it's trailing the 7850 by 12%. On the other hand it has 50% more memory bandwidth than the 7790, so the 1GB variant may be interesting to see here if it can achieve similar results as the 2GB variant.
It's interesting to note though that because this game depends so much on ROP performance and memory bandwidth that this is as close as we'll see the GTX 650 Ti Boost get to the GTX 660. There's less than 5% separating them at Gamer quality; these cards have plenty of shading/texturing performance, but not enough ROP performance to satisfy Crysis.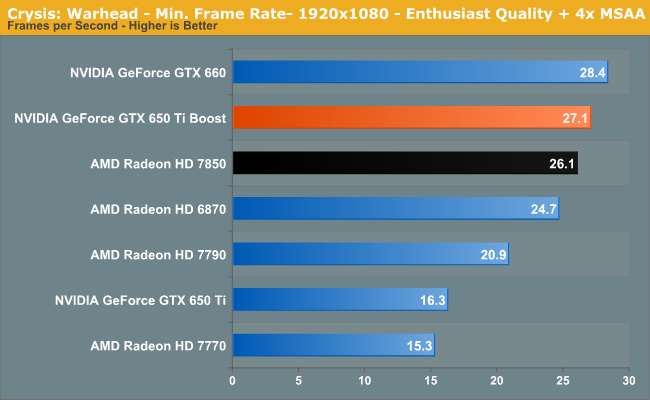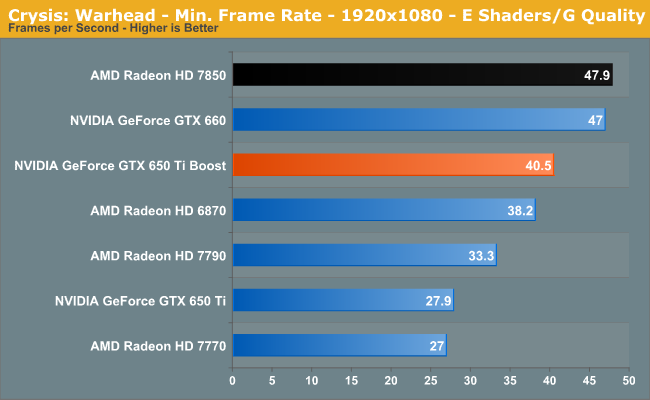 Jumping to our minimum framerates, we do see things open up a bit as shader bottlenecking does occur in a few places. The result is that the GTX 650 Ti Boost falls well behind the 7850 in minimums, and the full GK106 GTX 660 pulls ahead. Still, the difference between the GTX 650 Ti and its boost variant is nothing short of staggering; the boost card leads by 45% here, relying heavily on those ROP and memory bandwidth advantages.