Performance Results
Given that I've been doing these cooler reviews entirely in roundups, it's probably no surprise that the amount of results I've put together have absolutely ballooned. So much so that including all of the results in every graph would result in some very, very long graphs. With that in mind, for the master list of coolers (including all of the results from the current roundup), I'm only including what I feel are the most balanced results for a given cooler. I'm taking into account if ratcheting up fan speed doesn't produce much of a difference in performance, or if ratcheting it down makes a huge difference.
Results in black are for coolers that actually failed testing.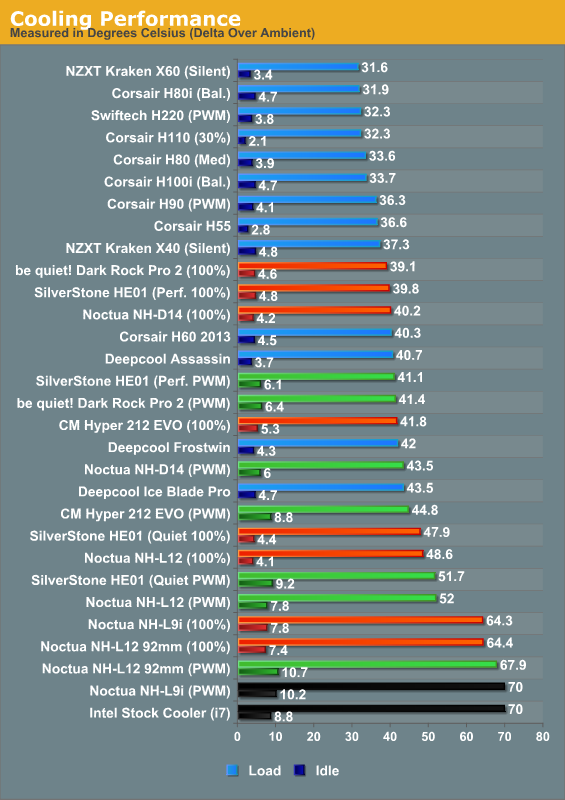 Out of this roundup of coolers, the three big boys put in the best performance overall, tying or beating Deepcool's flagship Assassin. Unfortunately, they have to run at full bore to really start to nip at the heels of the closed loop coolers. None of them are bad coolers, but the metrics I'm using here really don't tell the whole story.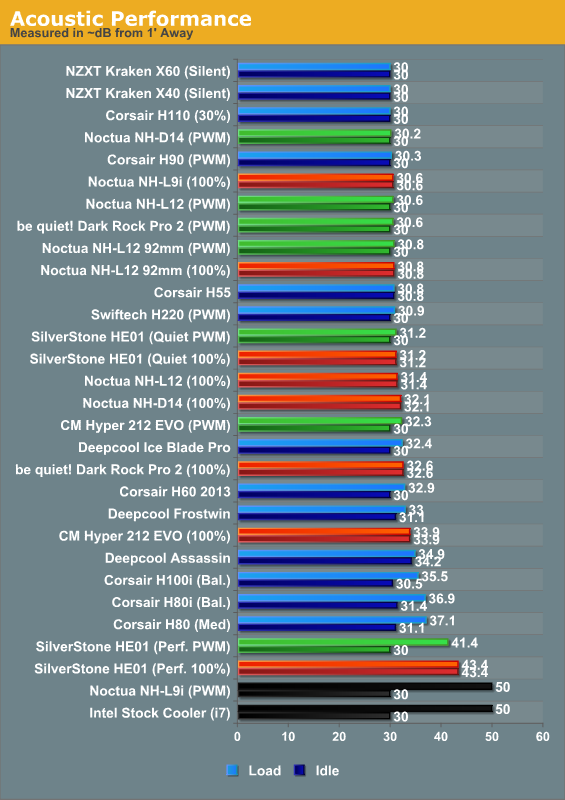 The nice thing about these new coolers is that none of them are really that loud, with the exception of SilverStone's HE01. The fan Cooler Master employs on the Hyper 212 EVO isn't particularly quiet, but at full bore it's still fairly easy to ignore.
In the midst of all these results, it's unfortunate that Noctua's NH-L9i pretty much has to run at full bore to be usable. It's a definite improvement on the Intel stock cooler, but you're still not really going to be doing any overclocking with it. Its chief advantages over the stock cooler are going to be its lower noise level under load and superior mounting mechanism.