Samsung ATIV Smart PC: Battery Life
The battery life this platform offers is fantastic. The 31Wh battery gives over 10 hours of runtime in our internet browsing test, which is in the same ballpark as the Tegra 3 Windows RT tablets, but also better than the iPad from a power efficiency standpoint. It's worth noting that the iPad has a much higher resolution display that results in a significantly higher power draw, but offers almost the same 10 hour battery life with a much larger 42.5 Wh battery.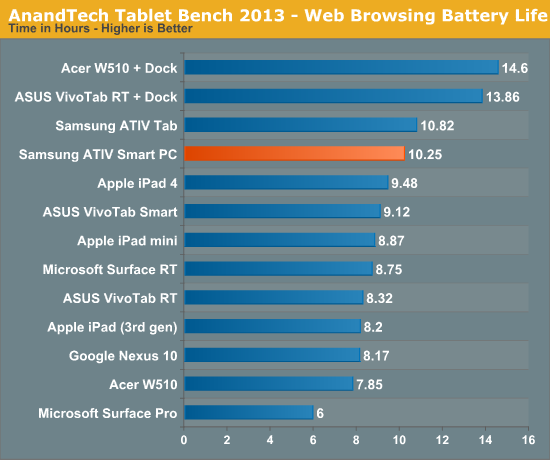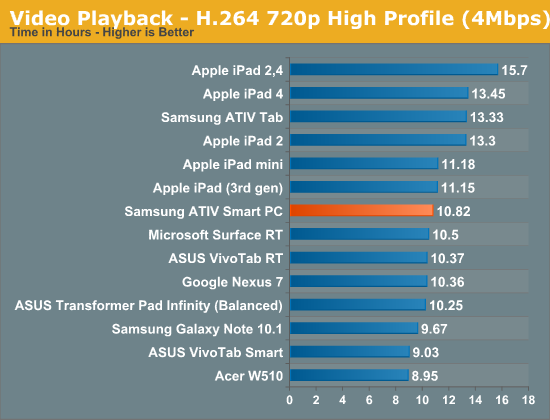 I do wish that the notebook dock contained a second battery, though. The ASUS VivoTab with the dock has 55Wh of combined battery capacity (30Wh in the tablet, 25Wh in the dock) and is rated to have 19 hours of total battery life. If you get even 75% of that in real world use, you're still looking at a Windows 8 system with nearly 15 hours of battery runtime, which is incredibly valuable. The lack of a secondary dock has a bigger impact in the Ivy Bridge-based ATIV Smart PC Pro than it does here, because the Pro has relatively mediocre battery life (I'll get to that in the 700T review) and could really use another couple of dozen watt-hours. Even without the second battery, the 500T still has excellent battery life, but it's a bit of a missed opportunity to be sure.