Test Setup
Alongside the X5690 CPUs we are using for this review, the Gigabyte server team was at hand to offer one of their dual processor 1366 server motherboards – the GA-7TESM. The 7TESM was released back in September 2011, featuring support for 55xx/56xx Xeons and up to 18 DIMMs of registered or unbuffered DDR3 memory – for up to 288GB at 1333 MHz with Netlist Hypercloud modules. Alongside four Intel GbE network ports (82576EB + 2x 82574L) and a management port, we get six SATA 3 Gbps ports from the chipset and 8 SAS 6 Gbps ports from an LSI SAS2008 chip (via SFF-8087), both supporting RAID 0/1/5/10. Onboard video comes from a Matrox 200e, and the system provides a PCIe 2.0 x16, an x8, an x4, and a PCI slot. Many thanks to Gigabyte for making the review possible!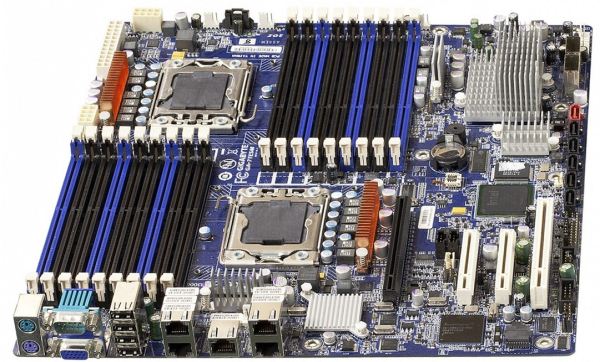 Many thanks also to...
We must thank the following companies for kindly providing hardware for our test bed:
Thank you to OCZ for providing us with the 1250W Gold Power Supply and SATA SSD.
Thank you to Kingston for providing us with the ECC Memory.
As per the last test with E5 2600 CPUs, we are using Windows 7 64 bit. The reason behind this is simple – in the research environment I was in, we never updated operating systems beyond security updates. IT staff wanted everyone in the building to use an approved OS image, of which there was only Windows XP, if anyone wanted network access. For this review I got in contact with a colleague to see if this is still the case, and it is – Windows XP 32-bit across the whole department at the university.
Power Consumption
Power consumption was tested on the system as a whole with a wall meter connected to the OCZ 1250W power supply, while in a single 7970 GPU configuration. This power supply is Gold rated, and as I am in the UK on a 230-240 V supply, leads to ~75% efficiency > 50W, and 90%+ efficiency at 250W, which is suitable for both idle and multi-GPU loading. This method of power reading allows us to compare the power management of the UEFI and the board to supply components with power under load, and includes typical PSU losses due to efficiency. These are the real world values that consumers may expect from a typical system (minus the monitor) using this motherboard.
While this method for power measurement may not be ideal, and you feel these numbers are not representative due to the high wattage power supply being used (we use the same PSU to remain consistent over a series of reviews, and the fact that some boards on our test bed get tested with three or four high powered GPUs), the important point to take away is the relationship between the numbers. These boards are all under the same conditions, and thus the differences between them should be easy to spot.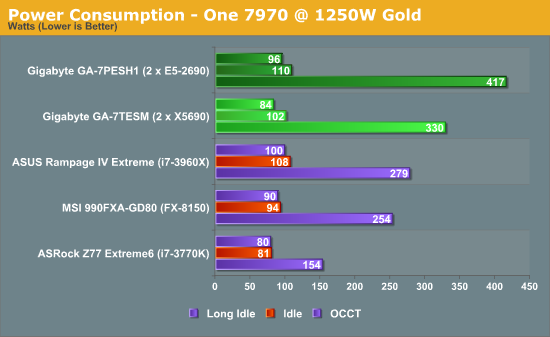 For the workstation theorist in a research group, power consumption is often the last thing on their minds – as long as the system computes in a decent time, everything is golden. In a commercial situation where the code works and throughput is everything, then power does matter. The Sandy Bridge-EP system used 26.3% more power during CPU load than our Westmere-EP system did, in line with the pricing of the CPU itself.
DPC Latency
Deferred Procedure Call latency is a way in which Windows handles interrupt servicing. In order to wait for a processor to acknowledge the request, the system will queue all interrupt requests by priority. Critical interrupts will be handled as soon as possible, whereas lesser priority requests, such as audio, will be further down the line. So if the audio device requires data, it will have to wait until the request is processed before the buffer is filled. If the device drivers of higher priority components in a system are poorly implemented, this can cause delays in request scheduling and process time, resulting in an empty audio buffer – this leads to characteristic audible pauses, pops and clicks. Having a bigger buffer and correctly implemented system drivers obviously helps in this regard. The DPC latency checker measures how much time is processing DPCs from driver invocation – the lower the value will result in better audio transfer at smaller buffer sizes. Results are measured in microseconds and taken as the peak latency while cycling through a series of short HD videos - under 500 microseconds usually gets the green light, but the lower the better.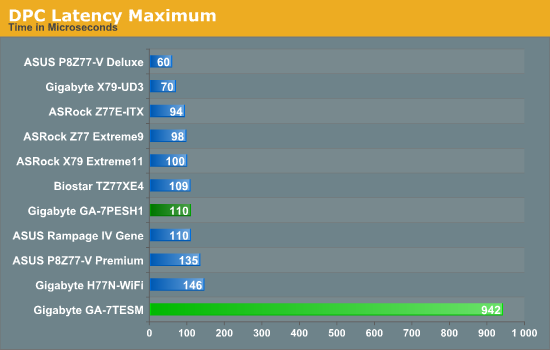 For whatever reason the DPC Latency on the X5690 system is bad. This is more indicative of the motherboard than the CPU performance, which should easily handle DPC requests. It is highly doubtful that time sensitive work would be carried out on a system like this, but any non-Xeon product would be able to outperform our setup.