The Philips Hue Experience
Subjectively, I find the light from the Hue system looks beautiful; it's also fun watching the different combinations (or scenes) pre-programmed into the app. If not for the $60 per Connected Bulb price, I would seriously consider getting more lights and having them all over my home. ­­I'm not going to try and reproduce pictures and videos showing what Hue looks like in action, as you can experience that on MeetHue.com, but it definitely creates a different feel than having standard lights.
There are many pre-programmed scenes that come with the app (and others are available online, including user-created scenes). If you can't find something you like, however, you can easily edit existing scenes or create new ones. The app gives you the ability to set both the brightness and the color of each bulb and then save that setting, and you can group these settings so that, for example, your living room light settings are separate from your bedroom light settings.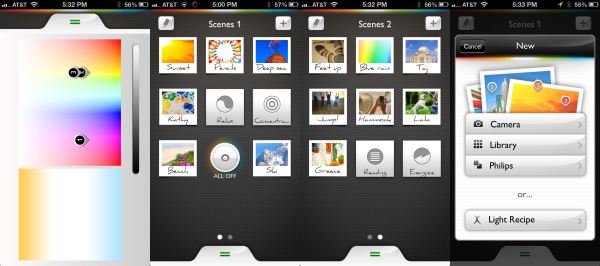 There is no observable latency when controlling the lights while on the home network. The bulbs respond to changes with barely perceptible lag when being controlled from the smartphone. They ramp up/down to the specified brightness level and you can see the gradual change of color or brightness. This makes sense as an abrupt change would make for a very harsh experience.
Once you leave the home network and control the lights over the Internet, the lag/latency increases to around 8-12 seconds. I was able to simulate this by turning off my phone's WiFi connection and using its data connection, but however you do it the results should be similar. When you're remotely managing the lighting, there are a few extra steps that account for the delay, as communication has to go through a server that then has to send commands over the Internet to your Hue Bridge. Now you have to use the app to connect to the MeetHue portal (which takes around 8-10 seconds initially). Once connected the bulbs respond to changes to a new scene or to turn on/off in around 5-8 seconds. Depending on the protocol used and the server load, this could account for the majority of the lag, but it's worth noting that instant responses to remote changes in lighting levels don't really matter since you're not physically there to see what's happening anyway.