Gigabyte Z77X-UP7 Conclusion
There are many industries where luxury products exist – cars, houses, holidays, and even a garlic press can be brushed up in aluminum, a $50 price tag, and be called 'luxury'. Boutique builders will offer you a custom-built PC for many thousands of dollars, but are the internal components themselves anything special? We saw something of this ilk with the ASUS P8Z77-V Premium – a $450 motherboard built for functionality no matter direction you approached it from. But the Gigabyte Z77X-UP7 relies on one direction solely for its business, and hopes that extreme overclockers with $400 to spare will veer towards its orange glow.
Having a halo product in the market has advantages – advertise a top down strategy, and let those in the market know that you have the best product, and thus the products underneath that segment are worth considering. The halo product is often a flop in sales – not price competitive and unbalanced for R&D, but the halo effect kicking in should help the rest of the range. The Gigabyte Z77X-UP7 stands on top of its product stack, underneath the G1 Gaming series of boards and the channel SKUs. Recently it has been used to great affect, with Team.AU (an overclocking team sponsored by Gigabyte) taking a few world records.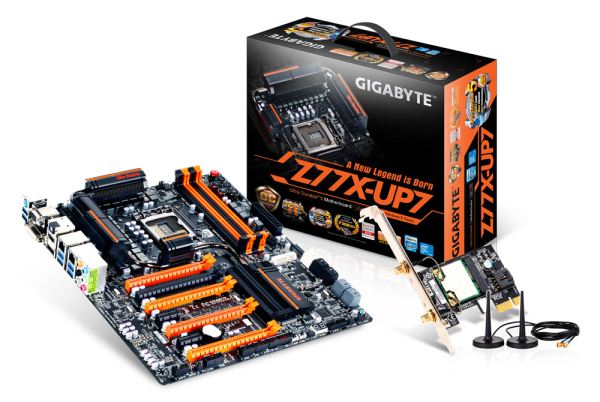 The main feature of the Z77X-UP7 is the 32-phase IR3550 power delivery, which is advertised at being capable of delivering 2000W of power. We estimate this part of the board alone to be ~$125 of the asking price, and it truly is overkill. 32 phases, each at 60A, should be able to cope with 1920A of current, bearing in mind that that commercial power supplies never go that high, and the best Ivy Bridge CPUs hit 6.6 GHz for 3D loading at 1.9 volts, using up ~600W. This pulls out a number of ~320A, or 16.7% usage. While I often use the analogy of driving a 150mph car at 70mph vs. an 80mph car at 70mph to denote that having headroom is a good thing, 32 phases is obscenely overkill. It could have been reduced to 16 or 12 and still been sufficient for the most extreme of overclocks. It has been pointed out to me that 'it's there if you need it', but no-one will ever need it – that is the issue.
Power delivery aside, if we discount that area of the motherboard, we are looking at what looks like a G1.Sniper 3 underneath. The pricing and in-box packages matches up rather well, with some minor deviations in feature placement – we liked the G1.Sniper 3 when we tested it at AnandTech, giving it a Bronze award for the price and performance it offered compared to other PLX enabled Z77 boards. The Z77X-UP7 is built for a different type of enthusiast, and this is one we have to consider both in terms of performance and utility.
The UP7 comes off well in most of our benchmark suite, beating many other MultiCore Turbo enabled boards for efficiency, especially in some of our computational benchmarks. As the board is designed to be overclocked most of the numbers in that section of the review will not apply, but more to our overclocking escapades. For users new to overclocking, the UP7 might be a little bit of a handful compared to some others – QuickBoost in EasyTune6 is conservative on the high end, giving us large temperatures for mid-range overclocks. Personally the software is not conducive to learning about overclocking, and the BIOS controls are an odd mash of separate menus and scattered options when ideally I would prefer a different layout. For the expert enthusiasts who are used to navigating these menus, this is of little consequence, and Gigabyte TweakLauncher is the perfect software companion alongside the onboard OC-Touch buttons.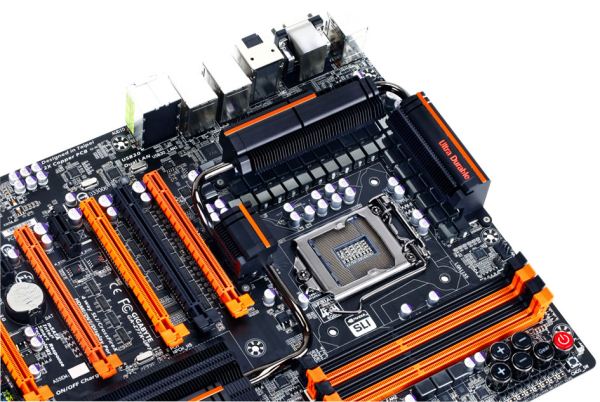 But the general conclusion on the UP7 is going to be that we have a nice design at our fingertips, but a power delivery makes the product, and price, overkill. 12 phases would have suited 99.9% of overclockers (Ivy Bridge hitting 600W at extreme OC, so no need for 1000W let alone 2000W) and still get the efficiency benefit of IR3550. Even if you remove that and price the rest of the board at $250, it meets the G1.Sniper 3 at $280. Sniper has dual NIC including an Atheros Killer, but the UP7 has the single GPU aspect for it. UP7 has OC-Touch, Sniper has better audio, TPM and a PCI slot. Both have 4-way support, UP7 has more fan headers and separate BIOS switches, but the Sniper3 is technically faster at stock. Basically the UP7 is a souped up Sniper3 for overclocking - move some of the non-overclocker specific stuff off (Killer, audio, TPM, PCI) the Sniper, add the phases, a PCIe slot that bypasses the PLX chip, OC Touch, fan headers and Bob's your uncle.
Compared to the other OC motherboards we have tested, the Gigabyte is a tough sell over the ASRock Z77 OC Formula, because the ASRock competes on many different levels. If you need to go 4-way, out of the boards we have tested, the Gigabyte UP7 is the way to go. But for anything 2-way or less then the ASRock leaves a better taste in the mouth, particularly if: (a) anything breaks, (b) the board is going to be used for something other than extreme overclocking, and/or (c) the user is still learning about overclocking. The only other motherboard competing for 4-way extreme overclocking is the ASUS Maximus V Extreme, which runs $370 but is aimed towards gamers and general users as well, with Thunderbolt and built-in WiFi among other things.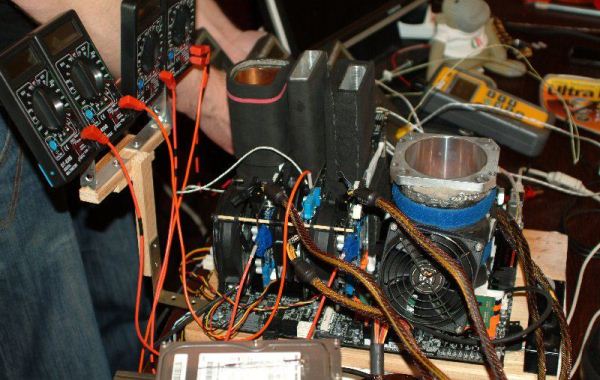 If Gigabyte was going for more sales, from my perspective, if some of the IR3550s were removed and the system reduced to just over $300, it might get more takers, although the rebuttal is that the Halo Product of the range should be a no-holds barred affair. For many extreme overclockers, price is no object and the best will only be good enough – the Gigabyte Z77X-UP7 is a good contender for that spot for sure, but for everyone else it is a big ask to hand over $400.