A Console-Like Experience
Obviously a big selling point of NVIDIA's GeForce Titan is the ability to deliver a ton of performance in a single card configuration. While we can't get to performance specifics until Thursday, I can talk about the experience a bit.
The Tiki's form factor really did a great job approximating a gaming console, while offering the performance, quality and flexibility you get with a gaming PC. I used this little experiment as an opportunity to play around with Steam's Big Picture mode, a 10-foot-UI designed to be navigated via a wireless controller while your PC is connected to a TV. When combined with the Tiki's small form factor, the experience was actually pretty striking. There are really two elements to Steam's Big Picture mode enabling a console-like PC gaming experience. The first is simply the user interface. Big Picture is extremely quick, and just so much better than the sluggish mess that is the Xbox 360's UI today. It doesn't hurt that it's being driven by a 4.6GHz Core i7 in this case, which brings me to the next point. The combination of Intel's Core i7 with NVIDIA's GeForce Titan, in the Tiki's console-like chassis, resulted in a system that could run pretty much anything I threw at it without flinching.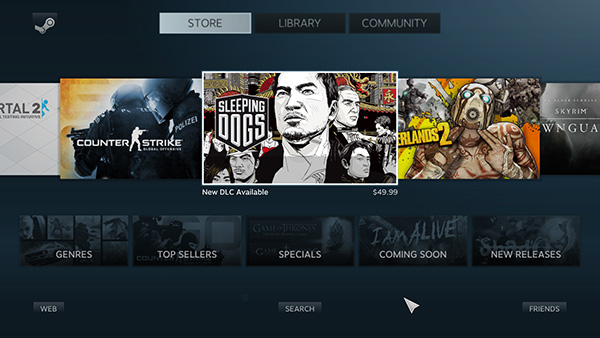 With the exception of games like Far Cry 3, everything ran so very fast and smooth on the system with every setting cranked all the way up (sometimes set unreasonably high). In these cases the setup might as well have been a console, everything just worked, ran smoothly and loaded quickly. It's the FC3s and Crysis 3s of the world that will still require that you be reasonable with your quality settings, at least if you're running at 1080p or 2560 x 1440 (mostly by keeping AA disabled, you can leave the quality settings turned way up). Even taking into account the titles that can stress a single 7.1B transistor GPU, the overall experience is still very good.
While Steam's Big Picture mode does still have some rough edges, it really does enable a very console-like experience. It's obvious to me that Valve has a real path towards building an open console platform around PC hardware. I can't stress how much the Tiki's small form factor really added to the illusion of gaming on a console. It's all really well done.
Power Consumption & Noise
My perspective on what's considered quiet has been sort of warped by the fact that for the past two months I've been using a 27-inch iMac as my primary system. While the upgraded 27-inch iMac is a surprisingly potent gaming system for an all-in-one, the Tiki is in a completely different class of performance. The Titan equipped Tiki idled at 40.5dB(A), measured a foot in front of the chassis. Under heavy GPU load, I measured 42.6dB(A) at the same spot (with the system off I measured 33.0dB(A)). The system isn't silent by any means, but it's not loud either. You hear a lot of air movement (as well as the Asetek cooler pumping its liquid around from time to time), but not much else. The days of a high end gaming rig being obnoxiously loud are thankfully over.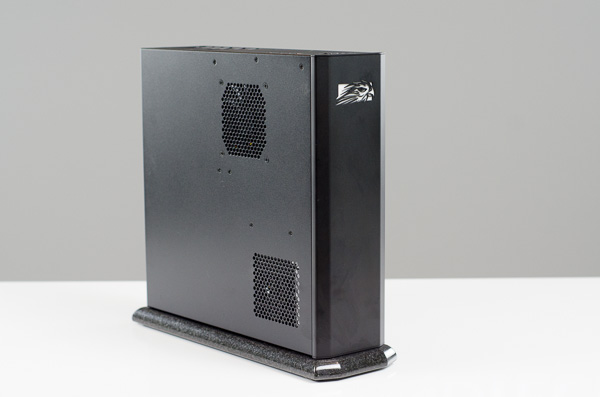 At idle the Tiki benefits from tons of power gating on the two big consumers in the system (Intel's Core i7 and NVIDIA's GF Titan), my test system only drew 50.5W at the wall - that's actually less power than a slim Xbox 360 at idle. Under load it's a different story however. The Titan equipped Tiki pulled a peak of 323.5W, but sustained power consumption with a GPU heavy workload was 286.5W.