Origin's Genesis: Titan on Water & More to Come
Wrapping up part 1 of our look at NVIDIA's GeForce GTX Titan, we wanted to take a quick look at the tri-SLI system NVIDIA sampled to us for this article: Origin's Genesis. Without the ability to publish performance data we can't go into any detail and otherwise fully evaluate it, but what we can do is give you a sneak peek at what's among the most unusual, and likely most powerful Titan systems on the market.
But first, as a bit of a preface, as we mentioned earlier in our article NVIDIA has been sampling reviewers with various SFF and tri-SLI systems to showcase their two boutique computer concepts. With the tri-SLI system it was not only intended to show off raw performance, but also to serve as a showcase of Titan's build quality. You see, NVIDIA had told us that the acoustics on Titan were so good that a tri-SLI system could not only be a reasonable choice from a background noise perspective, but that it would be notably quieter than even a GTX 680 tri-SLI system, the latter being particularly hard to believe given GTX 680's impressive acoustics and low power consumption.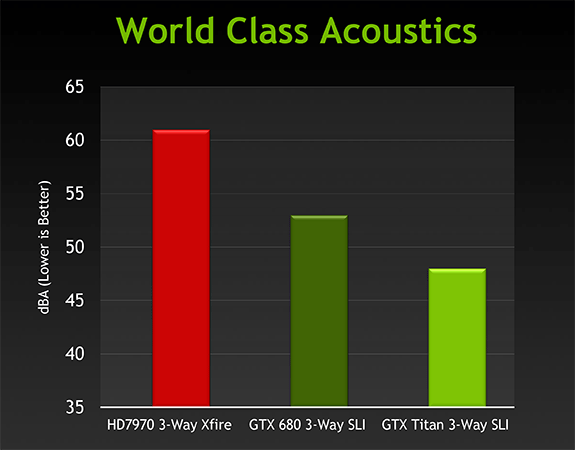 Of course, things didn't exactly go according to plan, and in a happy accident Origin went above and beyond NVIDIA's original request. As the Genesis' marquee feature is water-cooling, Origin went all-out in setting up our sample system for water-cooling, and not just on the CPU. Despite the fact that Titan was (and technically still is) an unreleased card, working alongside their waterblock supplier EKWaterBlocks they were able to get proper waterblocks for Titan in time to build our system. As a result our tri-SLI Genesis unexpectedly ended up being both completely water-cooled and factory overclocked.
The bad news of course is that because of the performance embargo we can't tell you anything about the performance of the Genesis, other than to say that as fast as one Titan card is, three overclocked Titan cards running on water is even faster, sometimes by a massive margin. Furthermore, coupled with this is the fact that GPU Boost 2 was designed in part to better mesh with the superior cooling capabilities of water-cooling, taking advantage of the fact that water-cooled GPUs rarely hit their temperature limits. As a result what's already a fast system can sustain performance that much higher thanks to the fact that we hit our top boost bins more often.
But we're getting ahead of ourselves here…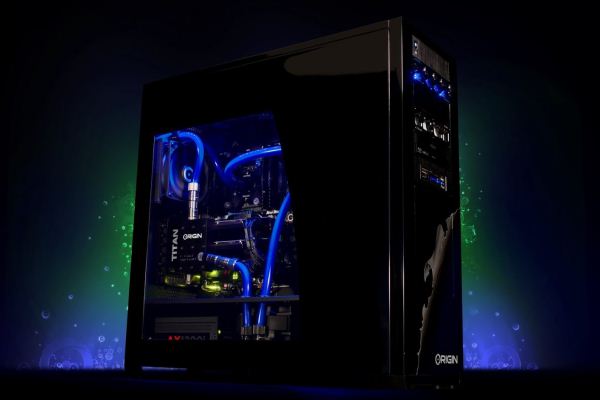 Origin Genesis Specifications
Chassis
Corsair 800D
Processor
Intel Core i7-3970X Extreme Edition, Overclocked To 4.9GHz, ORIGIN CRYOGENIC Custom Liquid Cooling CPU
(6x4.9GHz, 32nm, 15MB L3, 150W)
Motherboard
Intel DX79SR
Memory
16GB Corsair Vengeance DDR3 1866Mhz
Graphics
3-WAY SLI NVIDIA GeForce GTX TITAN, ORIGIN CRYOGENIC LIQUID Cooling Solution and Professional Overclocking
Hard Drive(s)
2x120 GB Corsair Neutron SSDs in RAID 0

1TB Western Digital Caviar Black SATA 6.0Gb/s, 7200RPM, 64MB Cache
Optical Drive(s)
12X Blu-ray (BD) Disc Combo
Power Supply
1.2 Kilowatt PSU Corsair
Networking
On-Board Intel
Audio
Realtek ALC892
Speaker, line-in, mic, and surround jacks
Front Side

Power button
4x Fan Controls
40-in-1 card reader
2x USB 3.0
2x USB 2.0
Mic and headphone jacks

Top Side
-
Operating System
Windows 7 Ultimate 64-bit
Dimensions
16.2" x 4.6" x 16"
(412mm x 117mm x 407mm)
Warranty

1 Year Part Replacement and 45 Day Free Shipping Warranty with Lifetime Labor/24-7 Support

Pricing
MSRP of review system: ~$7000
We'll have more on Thursday, including performance data for what so far is turning out to be a ridiculously fast tri-SLI system. So until then, stay tuned.