Titan For Compute
Titan, as we briefly mentioned before, is not just a consumer graphics card. It is also a compute card and will essentially serve as NVIDIA's entry-level compute product for both the consumer and pro-sumer markets.
The key enabler for this is that Titan, unlike any consumer GeForce card before it, will feature full FP64 performance, allowing GK110's FP64 potency to shine through. Previous NVIDIA cards either had very few FP64 CUDA cores (GTX 680) or artificial FP64 performance restrictions (GTX 580), in order to maintain the market segmentation between cheap GeForce cards and more expensive Quadro and Tesla cards. NVIDIA will still be maintaining this segmentation, but in new ways.
NVIDIA GPU Comparison
Fermi GF100
Fermi GF104
Kepler GK104
Kepler GK110
Compute Capability
2.0
2.1
3.0
3.5
Threads/Warp
32
32
32
32
Max Warps/SM(X)
48
48
64
64
Max Threads/SM(X)
1536
1536
2048
2048
Register File
32,768
32,768
65,536
65,536
Max Registers/Thread
63
63
63
255
Shared Mem Config
16K
48K
16K
48K
16K
32K
48K
16K
32K
48K
Hyper-Q
No
No
No
Yes
Dynamic Parallelism
No
No
No
Yes
We've covered GK110's compute features in-depth in our look at Tesla K20 so we won't go into great detail here, but as a reminder, along with beefing up their functional unit counts relative to GF100, GK110 has several feature improvements to further improve compute efficiency and the resulting performance. Relative to the GK104 based GTX 680, Titan brings with it a much greater number of registers per thread (255), not to mention a number of new instructions such as the shuffle instructions to allow intra-warp data sharing. But most of all, Titan brings with it NVIDIA's Kepler marquee compute features: HyperQ and Dynamic Parallelism, which allows for a greater number of hardware work queues and for kernels to dispatch other kernels respectively.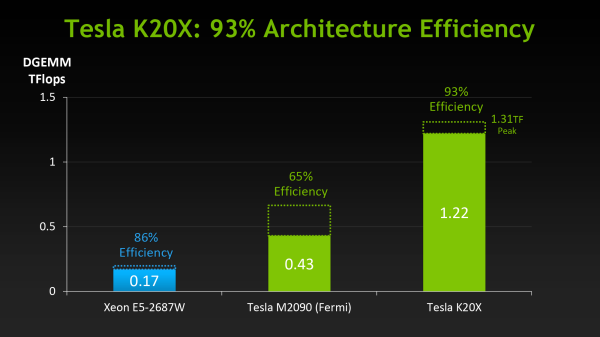 With that said, there is a catch. NVIDIA has stripped GK110 of some of its reliability and scalability features in order to maintain the Tesla/GeForce market segmentation, which means Titan for compute is left for small-scale workloads that don't require Tesla's greater reliability. ECC memory protection is of course gone, but also gone is HyperQ's MPI functionality, and GPU Direct's RDMA functionality (DMA between the GPU and 3rd party PCIe devices). Other than ECC these are much more market-specific features, and as such while Titan is effectively locked out of highly distributed scenarios, this should be fine for smaller workloads.
There is one other quirk to Titan's FP64 implementation however, and that is that it needs to be enabled (or rather, uncapped). By default Titan is actually restricted to 1/24 performance, like the GTX 680 before it. Doing so allows NVIDIA to keep clockspeeds higher and power consumption lower, knowing the apparently power-hungry FP64 CUDA cores can't run at full load on top of all of the other functional units that can be active at the same time. Consequently NVIDIA makes FP64 an enable/disable option in their control panel, controlling whether FP64 is operating at full speed (1/3 FP32), or reduced speed (1/24 FP32).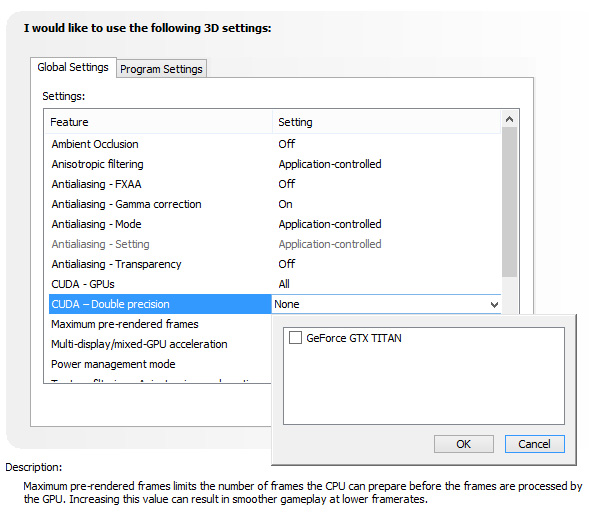 The penalty for enabling full speed FP64 mode is that NVIDIA has to reduce clockspeeds to keep everything within spec. For our sample card this manifests itself as GPU Boost being disabled, forcing our card to run at 837MHz (or lower) at all times. And while we haven't seen it first-hand, NVIDIA tells us that in particularly TDP constrained situations Titan can drop below the base clock to as low as 725MHz. This is why NVIDIA's official compute performance figures are 4.5 TFLOPS for FP32, but only 1.3 TFLOPS for FP64. The former is calculated around the base clock speed, while the latter is calculated around the worst case clockspeed of 725MHz. The actual execution rate is still 1/3.
Unfortunately there's not much else we can say about compute performance at this time, as to go much farther than this requires being able to reference specific performance figures. So we'll follow this up on Thursday with those figures and a performance analysis.