Our Real World Test
We've set up two systems, the Xeon system with two different pairs of Xeon CPUs, 128GB and ESXi 5.1. We created 24 virtual machines on top of the Xeon server. Inside each we have a PhpBB (Apache2, MySQL) website with four virtual CPUs and 4GB RAM. The website uses about 8GB of disk space. We simulate up to 75 concurrent users that send new requests every 0.6-2.4 seconds.
The Boston Viridis server gets the same workload, but instead of using virtual machines, we used the 24 physical server nodes.
Since the redesign in late 2010, our vApus stresstesting framework is well suited to hit (virtualized or not) clusters with lots of workloads in parallel. A quad 7400 server is able to spawn 24 testing clients. The server is connected to our Dell PowerConnect 8024F (10Gbit Ethernet), which is connected to the testservers.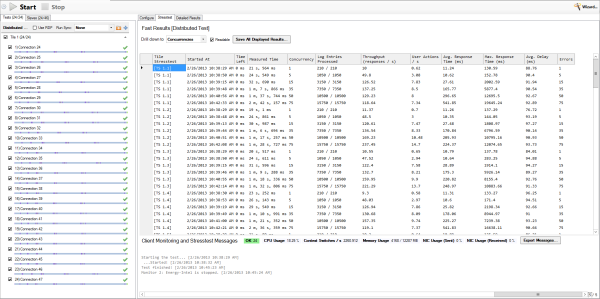 vApus hitting 24 web servers in parallel
This way we can simulate a webhosting environment where tens of websites are hit by a few thousands of visitors per second. That might not sound very impressive, but those few thousand requests per second result in a web environment with 100 million hits per day.
Since we made sure that our web server serves up some nice pictures (png), there is some significant network traffic going on. We measured peaks of up to 8Gbit/s, with typical network traffic being about 4 to 6Gbit/s.