Introducing the Nanoxia Deep Silence 2
Just recently we had a chance to review Nanoxia's Deep Silence 1, arguably the most impressive silent case we've ever tested. Nanoxia was able to produce an enclosure capable of delivering substantial air flow to components while still containing fan noise. In a market where silent cases usually lose a lot of their luster once overclocking enters the picture, the Deep Silence 1 was a breath of fresh air and proof that you could build a powerful system that you never had to hear.
In a bid to capture some of that sweet, sweet boutique volume, Nanoxia has refreshed the Deep Silence 1 into a slightly less expensive enclosure: the Deep Silence 2. The DS2 is an odd bird; it's a trimmed down DS1, but not heavily so, and in certain ways it can feel like a refinement. That all sounds incredibly promising, but did Nanoxia lose some of the potency of the original chassis in the process?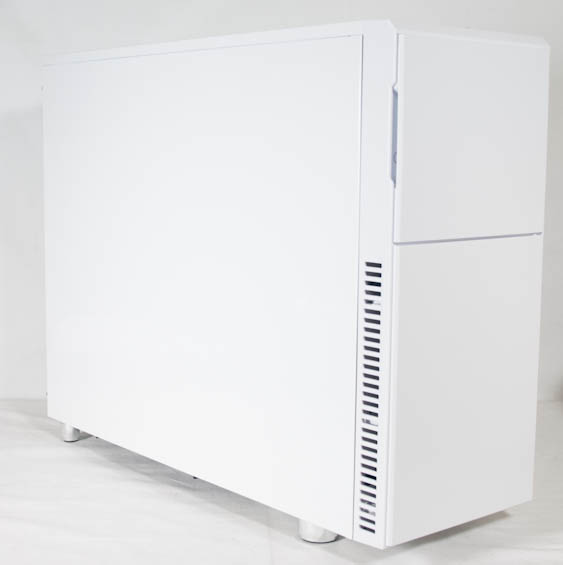 It's interesting testing the Deep Silence 2 so soon after the first one. This kind of refinement, starting with a top end product and gradually working things out as you make your way down the price ladder, is becoming less and less unusual. Corsair had a good thing going for a while, and NZXT just blew up their own top end with the Phantom 630. Yet when you look at the DS2, there isn't a whole lot that seems to differentiate it from its predecessor.
That's not a bad thing; the DS1 is one of the most attractive and functional cases I've tested. The DS2, by comparison, makes a few relatively safe trims: the bottom fan door is gone and replaced with just a solid fascia, the chimney is gone and replaced by a pair of 140mm fan mounts (with removable acoustic panels blocking them off, of course), and the flip-up I/O cluster on the top of the case has been eliminated in favor of just organizing the I/O around the power button.
Nanoxia Deep Silence 2 Specifications
Motherboard Form Factor
Mini-ITX, Micro-ATX, ATX, E-ATX
Drive Bays
External
3x 5.25" (plus included 5.25"-to-3.5" adapter plate)
Internal
7x 2.5"/3.5"
Cooling
Front
2x 120mm intake fan (optional 2x 120mm fan mount behind drive cage)
Rear
1x 120mm exhaust fan
Top
2x 120mm/140mm fan mount
Side
1x 120mm/140mm fan mount
Bottom
1x 120mm/140mm fan mount
Expansion Slots
7
I/O Port
2x USB 3.0, 1x USB 2.0, 1x Headphone, 1x Mic
Power Supply Size
ATX
Clearances
HSF
165mm
PSU
200mm
GPU
13.5" / 345mm
Dimensions
18.42" x 8.15" x 23.15"
468mm x 207mm x 588mm
Weight
24.2 lbs / 10.96 kg
Special Features
Removable fan filter
USB 3.0 via internal header
Analog dual-channel fan controller (three fans per channel)
Acoustic padding on the interior and side panels
Price
89 EUR; expected US MSRP $99
I had the Deep Silence 2 sitting near the Deep Silence 1 on the floor of my apartment, and I actually had a little bit of trouble discerning the differences between the two. Amusingly, the spec sheets are extremely helpful in teasing out how different these cases actually are.
First, the Deep Silence 1 is, overall, slightly larger than the DS2. That's owing to a reduction in height; the DS2 loses a drive tray and expansion slot along with the chimney and XL-ATX compatibility. The DS2 is also thinner than the DS1, losing 20mm of CPU cooler clearance and trading down to a 120mm exhaust fan instead of 140mm. Yet the DS2 is actually deeper than the DS1, presumably a result of the added internal fan mounts. That increase in depth is enough to make up the difference in weight; the DS2 is nearly as heavy as the DS1, and to be clear, these are unusually heavy cases for this segment of the market. Nanoxia doesn't cheap out in building material: they use thick steel and fairly durable plastic for these cases.
Importantly, and thankfully, we do keep the dual-channel analog fan controller from the DS1. I've been pretty gung ho about integrated fan controllers as of late because they add a lot of value to a case for not much expense. If you want your case to run as cool as possible, you need not bother with them, but if you'd rather tune for a balance of silence and performance, they allow you to do that. Many fans have an inflection point where their noise level increases substantially compared to cooling performance, and being able to tune for that point is handy.