Last week AMD announced their Never Settle Reloaded gaming bundle, with several high-profile games available with the purchase of AMD GPUs. This week, NVIDIA follows suit with their own announcement...except this is a "gaming bundle" that's quite different from what we've seen in the past.
We've seen the transition from traditional gaming models to Free 2 Play (F2P) over the past few years, with many MMOs reporting increased revenue from the "free" model compared to monthly subscriptions. F2P has been so successful that quite a few high-end games have skipped the traditional model completely and launched as F2P. NVIDIA's latest bundle targets three of these titles: World of Tanks, Hawken, and Planetside 2.
Part of the reasoning behind the latest bundle is to convince gamers with lower end hardware to upgrade. Based on figures from Valve's latest Steam hardware surveys and NVIDIA's recommended settings for the above games, 36 million gamers don't meet the required hardware specifications for the above three titles. NVIDIA provided some numbers showing performance with their newer GPUs compared to an old 8800 GT as a reference:
In order to open up access to these and other games on NVIDIA hardware (note that Hawken and Planetside 2 both support PhysX while World of Tanks is a 3D Vision title), NVIDIA is offering up to $150 of in-game value with the purchase of a new GTX series GPU.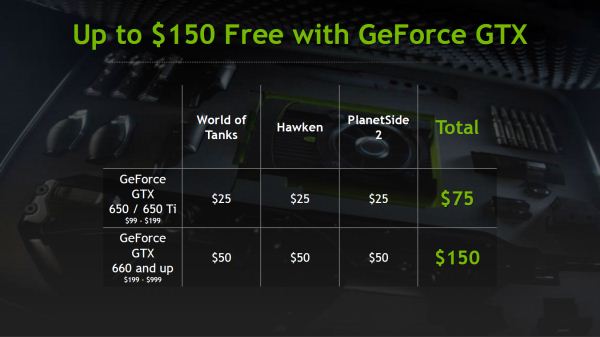 For GTX 650 and GTX 650 Ti purchases, buyers will receive a $25 credit for each of the games. Purchase a GTX 660 or above and the amount of in-game currency bumps up to $50 per title. While all of the games are technically free, the $25 or $50 credit is enough to get you jump started, and clearly the game manufacturers are hoping that after the initial taste gamers will be interested in forking over additional funds.
Putting things in a different light, the least expensive GTX 650 currently goes for $100 (with a $10 mail-in rebate available right now), so if you're actually interested in playing the above games that's potentially $25 towards the hardware and the rest towards the games. The GTX 650 Ti starts at $140 (with a $20 MIR available), and it offers twice as many CUDA cores with increased memory bandwidth for a fairly sizeable increase in performance. The base GTX 660 starts at $220 right now ($10 MIR), so that would be $70 towards the hardware and $150 towards the games. It increases the number of CUDA cores yet again and also comes with a 192-bit memory interface, effectively more than doubling the performance of the GTX 550 for a comensurate increase in price. (Note that it appears the above promotion also applies to new laptops with GTX 650M or higher GPUs.)
Keep in mind that both the AMD and NVIDIA bundles are delivering new games with hardware that is now several months old at best--in fact, AMD's bundle with the 7800 and 7900 uses hardware that's roughly a year old, and the GTX 680 is from the same era. This is one more way to try and entice users to upgrade, and there's the potential for new hardware to come out in the next few months that will make the current offerings look just a little less shiny. But that's always the case. If you've been sitting on the fence for a few months, this might be enough to push you over and get you to upgrade; at least, that's the hope. The full set of slides are included below for reference.