Yesterday we brought you the first part of
our Motherboards in 2001 Preview
. That article covered upcoming motherboards from ABIT, AOpen, Chaintech, EPoX, and FIC. With Part 2, we've got full coverage of Gigabyte, Microstar, Shuttle, and Transcend plus a wrap up when all is said and done. Unfortunately, we were unable to visit companies like ASUS, Iwill, Supermicro, Soyo, or Tyan while at Comdex this year due to time constraints. Thus, we don't have their roadmaps at this time, but rest assured that they all have more or less similar product lines on the way. Don't forget to read Part 1 of the article if you haven't already. Besides coverage of the aforementioned manufacturers, we've also got some interesting tidbits on trends we see going on in the motherboard industry at the present time and in the near future. So without further ado, let's get started. First up is Gigabyte.
Gigabyte
Gigabyte really surprised us during Comdex, as they were one of the only two manufacturers that actually demonstrated a running i850 board. On the DDR end, they also have several DDR solutions ready for AMD processors.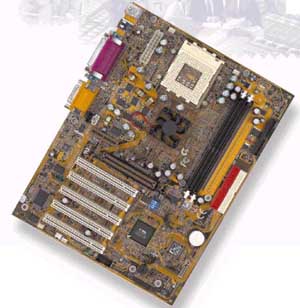 Click to Enlarge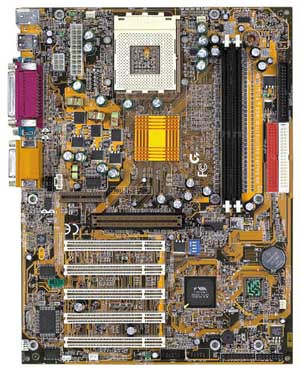 The pictures above show the GA-7DX, one of Gigabyte's Socket-A DDR solutions. It uses the popular combination of AMD's 761 North Bridge and VIA's 686B South Bridge. Thus, it supports 200/266 MHz FSB AMD processors and up to 2GB of DDR SDRAM.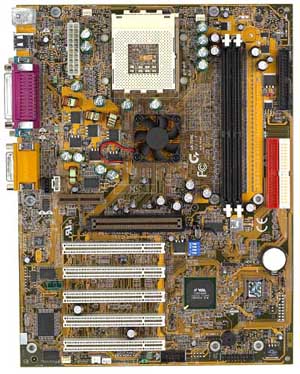 The GA-7DXC, which looks identical to the 7DX, will only support 200MHz FSB AMD processors and PC1600 DDR SDRAM. The South Bridge is also the VIA 686B South Bridge. The reason for eliminating the 266MHz processors and the PC2100 DDR SDRAM support is probably to reduce the price. However, we are not aware of AMD releasing a version of the AMD 761 that only supports a 200 MHz FSB. Meanwhile, everything on the 7DXC appears identical to the 7DX, so it's not quite clear what is going on here.