Conclusions, Part 1
As before, drawing conclusions on these products is less about simply crowning one the victor than it is about figuring out just what they offer on balance against each other, whether or not they hit the right price points, and what they're competing with. So while NZXT's Kraken X60 and Corsair H110 both dominate the charts, that doesn't make them the best choices for everyone. It's easier to fit a 120mm Corsair H80i into most cases than a 280mm Asetek radiator.
The Corsair H90
I've been a pretty big advocate of Corsair's products for some time now. Their RAM has largely been synonymous with "guaranteed to run right the first time" in my group, I still use and adore the K90 keyboard on my main workstation (and the M60 mouse on my Alienware M17x), and Corsair Link is a product with a lot of potential. That's why the H90 and H110 are such a disappointment.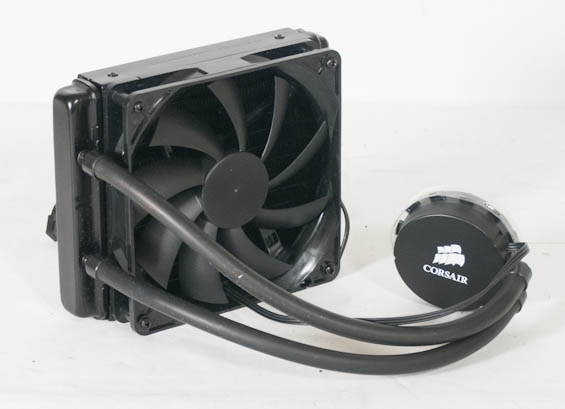 Outside of the mounting bracket, what you see here with the H90 is pretty much what you get. The H90 and H110 are barebones packages that are uncharacteristically devoid of any of the care and polish you typically expect with Corsair kit. Beyond that, using a different fan doesn't really make up for the fact that the Asetek 140mm radiator is a bit of a dud. Corsair really should've included two fans to differentiate themselves from the NZXT Kraken X40; as it stands, NZXT's package offers more features and better connectivity at the exact same price, making the H90 a non-starter.
The Corsair H110
If the lack of trimmings on the H90 was essentially fatal, on the H110 it's at most crippling. Not including any allowances of any kind for the fact that the H110 has two PWM fans to run is borderline unacceptable, but the H110 does have at least two advantages against the NZXT Kraken X60: price and fan quality.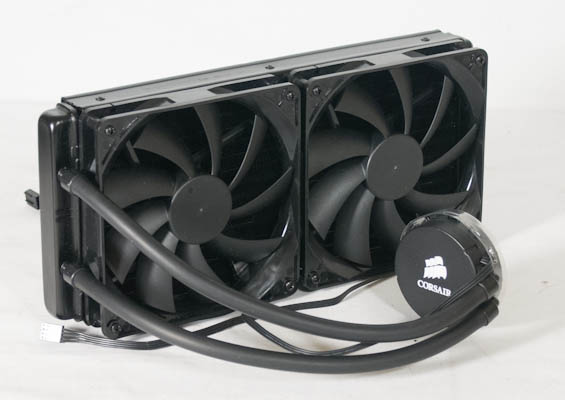 Build quality and performance are almost identical between the two products. The 280mm radiator does allow Corsair's fans to stretch their legs, though, and while at low speeds there's very little difference between the X60 and H110, at high speeds the H110 is able to produce comparable performance at lower noise levels. The fans NZXT uses on the X40 and X60 really only have two noise profiles: quiet at their lowest setting, and then unpleasantly loud at almost any other setting. Corsair's enjoy a more gradual ramp.
There's also the fact that despite its lackluster presentation (or maybe because of it), the H110 is ten bucks cheaper than the NZXT Kraken X60. If you're willing to make the sacrifices needed, the H110 at least makes a case for itself, and Corsair does offer a superior five year warranty on its products compared to the two year warranties on the Krakens.