Yesterday along with iOS 6.1 being pushed to iPhones, iPads, and iPod Touches, Apple released an update to the Apple TV 2,1 and 3,1, and curiously enough released another image for an unannounced Apple TV 3,2 product with model A1469. Originally it was assumed this was an international release with minimal changes, however it turns out there's much more inside, including an A5X SoC and BCM4334 (up from BCM4330) WLAN and BT.
Matthew Panzarino from The Next Web pinged me about the FCC documents posting and whether there were any changes inside, which piqued my interested and made me dig a little deeper. First, the Apple TV 3,2 model is slightly smaller, as noted by Engadget. Inside however from what we can glean from the FCC documents there's no longer a two antenna solution for the BCM4330 WiFi+BT combo, but rather a single antenna solution with different gain and utilizing a BCM4334 combo instead. This is the same WLAN+BT combo as used in the iPhone 5 and basically all of the newly refreshed iDevices, and is built on a 40nm RF CMOS process. Since the previous antennas were a part of the Apple TV PCB, and the FCC disclosure notes that the new Apple TV uses a single PIFA (Planar Inverted F Antenna), it's highly likely we're looking at a completely different PCB.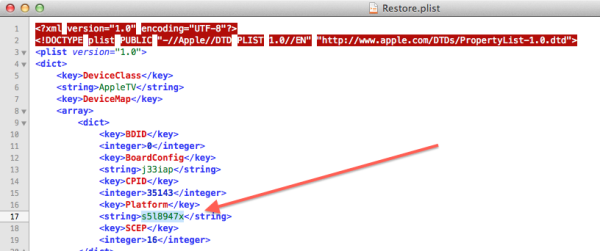 That fact intrigued me and made me take a look inside the Apple TV 3,2 IPSW, which contained exactly what I was looking for. Instead of the A5R2 SoC (S5L8942) inside the Apple TV 3,1, this new device contains an A5XR2 SoC (S5L8947) as shown in the screenshots I've taken of the Restore.plist file, though there are numerous others. It's entirely possible that Apple is again using different bins of the A5X, it's not possible to tell whether CPU or GPU cores are fused off at this point from my digging through the IPSW. Update: I should note that S5L8945 is the original 45nm Samsung produced A5X, S5L8947 is the A5XR2 that is in this unannounced Apple TV. Note that previously the A5 underwent a similar plus 2 offset, from S5L8940 (A5) to S5L8942 (A5R2) which changed process geometry from 45nm to 32nm HK-MG at Samsung. It's possible we're also looking at a process node change with the A5X to A5XR2 here.
This is an interesting silent update and development for the Apple TV. Given the IPSW release onto the web before an actual hardware announcement, I originally suspected this was a silent upgrade of the Apple TV platform to newer hardware, however the presence of an A5X SoC inside makes things a bit more curious. Hopefully we will see an official announcement in the next few days.