Introduction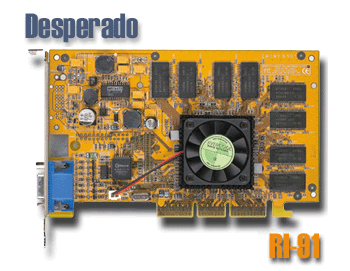 Five months have passed since NVIDIA introduced their version of a high-end gaming video-card solution, the 64MB GeForce2 GTS. This chip featured a GeForce2 GTS core clocked at 200MHz, 64MB of 166MHz DDR-SDRAM (333MHz effective), and a price tag of just under $400. Not surprisingly, it is basically a souped up version of the less expensive GeForce2 32MB, but the extra 32MB of DDR RAM can help quite a bit in texture-heavy game scenes. The GeForce2 64MB has dominated a good portion of the gaming market, and there is no sign of it slowing down. Competition is present, in the form of 3dfx and ATI, but they have not been able to take the speed crown away from NVIDIA thus far.

Chaintech is well known for their "bang for the buck" products, which usually yield excellent stability and great prices. Like many motherboard manufacturers, Chaintech is based in Taiwan, which has become a small "silicon center"of this industry. Chaintech is a very "easy going" company as they rarely try to deliver a product which differs significantly from the reference design. What do you get when you pair up NVIDIA with a motherboard manufacturer like Chaintech? The Desperado RI-91, a 64MB GeForce2 GTS card.

Chaintech has been making video cards for a few years now, but none have ever received any great attention or recognition. Their first big announcement was with the release of NVIDIA's TNT chip, which ultimately found its place on the Chaintech Desperado RI-30. The trend continued with the release of the Desperado RI-40, based on the NVIDIA TNT2 core, and finally the RI-70, which was powered by the NVIDIA GeForce 256 chip. From there, Chaintech has widened their horizon, and released the RI-A2 in the form of a low-cost GeForce2 MX, then the RI-90 with its 32MB of DDR SGRAM, and now the RI-91 64MB, their current top of the line model. Their slogan for the RI-91 is "GeForce2 Power, Chaintech Price!"

While many competitors are trying to ramp up the value of their flagship card by adding bells and whistles, they're simultaneously increasing the price, which actually lowers the value in the minds of many users. Chaintech, on the other hand, has stuck to the old adage "keep it simple stupid" in order to keep costs down. Lets see what they have to offer this time around.

Features (Courtesy of Chaintech)
Interface
AGP 2.0 compliant
4x AGP support / 2x AGP compliant
Chipset

nVIDIA GeForce2 GTS
RAMDAC : 350MHz

Memory
64MB DDR SDRAM ( RI91 )
32MB DDR SDRAM ( RI90 )
Resolution
Maximum 2048 x1536  32bit color
Features

nVIDIA QuadEngine.
25M Polygons / sec , 800M Pixels / des.
32-bit ARGB rendering with destination alpha.
32-bit Z-buffer / stencil.
DVD and HDTV-ready motion compensation for MPEG-2 decoding.


TV-out (Optional )

DirectShow , MPEG-1 , MPEG-2 , Indeo
NTSC / PAL
RCA TV-output / S-Video output jack

Miscellaneous

VESA DPMS
DDC2 monitor communication
Acceleration for Windows 95/98 and Windows NT 4.0 / 2000
Software DVD play ( optional )
Optional DFP function