Enthusiasts and speed freaks are always looking for an edge – a little something that will help push their gear that little bit faster. There is already a market for pre-overclocked GPUs and now SSDs are coming with internal RAID to push the boat over the SATA connections. These require little-to-no knowledge of overclocking and are essentially plug and play. When it comes to pushing GPUs higher, and motherboards, we get a dichotomous nature of 'easy to OC' against 'advanced options to push the limits'. In order to meet these two markets, the top four motherboard manufacturers have all come out with their respective weapons for Z77 and Ivy Bridge, aiming for either ~$220 or ~$380, and all of them have broken overclocking records at one stage or another since their release. First up on our battle bridge is the ASRock Z77 OC Formula, designed by ASRock's in-house overclocker Nick Shih, and commands a paltry $240 for all the goodies.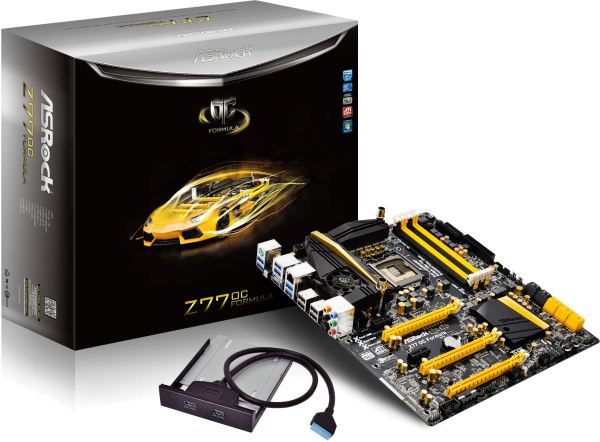 Overclocking Motherboards From All Sides
As mentioned, the top four motherboard manufacturers all have weapons when it comes to hitting the enthusiast or power user with an overclocking platform. These weapons are (with prices correct as of 1/13):
$400 – Gigabyte Z77X-UP7
$370 – ASUS Maximus V Extreme
$290 – ASUS Maximus V Formula
$240 – ASRock Z77 OC Formula
$200 – MSI Z77 MPower
$200 – ASUS Maximus V Gene
There are two main differentiators between the low and the high end. The first is usually the choice to include a PLX PEX 8747 chip to allow 3-way or 4-way GPU setups. We covered how the PLX chip works in our 4-board review here, but to summarize, this functionality can add $50-$80 onto the board depending on the bulk purchase order of the manufacturer and the profit margins wanted. The second is usually attributed to the functionality and power delivery – the 32x IR3550s used on the Gigabyte Z77X-UP7 costs them a pretty penny, and the extensive feature list of the ASUS ROG boards usually filters through.
In the past there have been attempts at pure overclocking boards, such as the Gigabyte X58A-OC, which was entirely stripped of all but the necessary components for pushing overclocks under sub-zero conditions for competitions. The board itself was cheaper due to the functionality not present, but it did not provide a rock solid home system for many users. The ASUS ROG range, as we reviewed in 2012, has been releasing motherboards for both gaming and overclocking for several years, trying (and succeeding) with the mATX Gene, ATX Formula and Extreme. All three of these boards continuously push both the gaming and OC frontiers, with a slight gaming focus on the Formula and an OC focus on the Extreme, but all boards cross over into each other's territory very easily.
A motherboard in this area cannot focus solely on the overclocking component – there has to be additional focus for power users and gamers in order to shift units, as competitive overclocking is a small blip on the radar. I hope all the players realize this!
ASRock Z77 OC Formula Overview
When the Z77 OC Formula was first shown to the public at Computex 2012 (we covered it here), there was a small outcry on the basis of its name more than anything else. We already had the Gigabyte X58A-OC and ASUS Formula boards, so there was a large inkling that ASRock wanted a piece of this pie in their 'OC Formula' naming. When quizzed on this, ASRock pulled out the obvious analogy I was expecting:
"The name is derived from Formula 1 racing – the series will focus on overclocking which is like driving the race car."
This mentality is clearly shown on the motherboard box, which features a Lamborghini Aventador mash-up with technology and going full bore on the yellow and black coloring scheme.
Naming aside, this is a board I really like to use. On the board itself we get integrated water cooling on the large VRM heatsink (like the ASUS Maximus V Formula), a liberal abuse of eight fan headers, 10 SATA ports (six SATA 6 Gbps), 8 USB 3.0 ports with 10 USB 2.0 ports for good measure, an ideal layout for dual-GPU setups, all the debug tools needed should anything go wrong, 13 (thirteen) onboard temperature sensors and even voltage read points for overclockers. Features not readily apparent include a multiple filter cap system to reduce electrical noise, and switches to enable/disable PCIe slots (reduce instability when not in use).
In my frequent BIOS rants, I often complain about interactivity, simplicity and experience, given that no motherboard manufacturer can offer me all three. ASRock's BIOS continues to grow on me, and the Z77 OC Formula BIOS is almost great. Visually everything is easy to read, at a nice resolution, and every option gets a description of what it is and how to use it. The important options for overclocking are well laid out, and ASRock provide 12 automatic OC options for users to try. ASRock also likes to include their ever growing BIOS features like Internet Flash, OMG and Dehumidifier.
ASRock's software package also gets a small overhaul – AXTU becomes 'Formula Drive', and operates in much the same way except for an upgraded fan tuning utility (compared to ASRock's previous version, this one is awesome) and other menus relating to new functionality. We also get a memory timing configuration utility, and software to use the RapidOC buttons onboard. This is all on top of the XFast LAN, XFast USB and XFast RAM utilities. In the box are a set of plastic standoffs for the motherboard, making extreme overclocking without a test bench very easy, and we also get a front USB 3.0 panel among SATA cables.
Benchmark performance of the Z77 OC Formula is aided by the decision by ASRock to enable a form of what they call Multicore Acceleration, which enables the top turbo mode for the processor under any load by default (read our debate about it here). Stock settings aside, the Z77 OC Formula pushed our retail i7-3770K CPU sample to 4.9 GHz, limited only by the cooling at load, and to 5.2 GHz unloaded. We also pushed a set of 2x4 GB 2666 C11 memory to 2800 C12 with a simple bump on the memory strap after XMP, peaked at an unloaded 2920 C12 and reached a peak BCLK of 110.3 overall.
A couple of niggles are worth mentioning. By default, all the fans are select to be 'Full On', which helps ASRock in any overclocking and temperature results, but can cause issues related to noise. The fan tools in the OS can auto apply a user profile on OS boot though. The 4-pin molex on board for additional PCIe power is not really needed unless you are pushing for competitive overclocks, but I still had to use it to get dual 580s running with a stock system. The Rapid OC buttons only work when the Rapid OC software is up and running, giving more sources of instability when pushing overclocks. One might also argue that the lack of mSATA/WiFi/better-than-Realtek audio may detract from the gaming crowd a touch, or that the small fan on the VRM is cause for concern.
Overall though, at $240 this board feels like a solid bit of kit. The main comparison should be to the $180 Gigabyte Z77X-UD5H which we gave a Bronze Award back in July. Overall the ASRock looks nicer, has more features, better OC and fan controls, as well as software and in-the box contents. However is it worth $60 more?
Visual Inspection
A rundown of motherboard colors gives us red for ASUS' ROG, camo for ASUS' Sabertooth, green for Gigabyte's G1, orange for Gigabyte's UP7, red for ASRock's Fatal1ty, gold for ECS' Golden Series, black for MSI's MPower, and blue for MSI's Big Bang. While I am still waiting on pink, white and purple, ASRock jumps in with a rather nice looking yellow palette.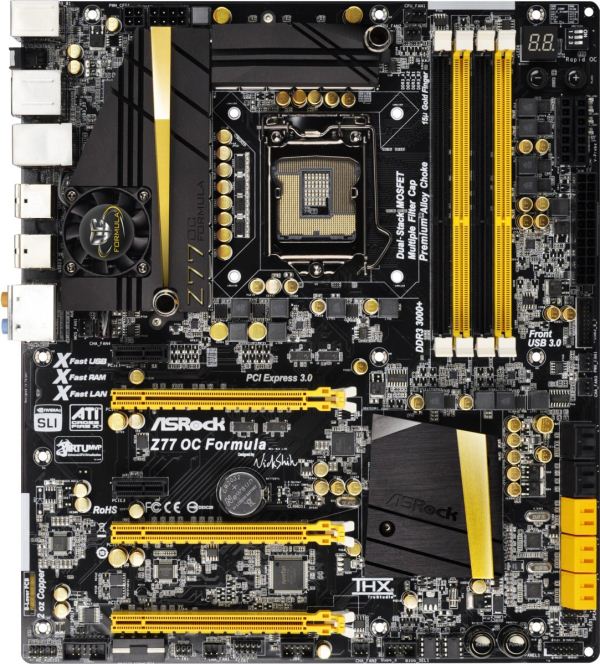 Aside from the color scheme, the VRM heatsink is a large part of the visual on this board. It hides a 12+4 phase setup, but also includes a water cooling pipe through the middle of the heatsink to be attached by 3/8" tubing. Like similar motherboards, the dual VRM cooling design allows the VRMs to be cooled by air or water or both, and the addition of a small VRM fan is designed to aid both setups with active cooling. This small fan spins at around 4400 RPM, but can be disabled by taking the connector beneath the fan out of the fan header – with respect to noise, I could not hear it above a GPU fan on an open test bench.
The overall VRM heatsink is quite shallow (~3.5cm), allowing large air coolers to be used on the CPU – I was able to fit a Thermalright TRUE Copper and fans without issues. The socket area has access to five open fan headers for CPU fans, with a sixth being used for the VRM fan. We get two CPU fan headers above the socket, two chassis fan headers between the 24-pin power connector and the SATA ports, and the fifth fan header below the VRM heatsink. The final two headers on board are found at the bottom.
The Z77 OC Formula uses both an 8-pin and a 4-pin CPU power connector, although the 4-pin needs only be used when pushing extreme overclocks on sub-zero. All the testing done in this review used only the 8-pin connector. To the right of the socket are our color coded memory slots, with the yellow ones used preferentially when dealing with one or two memory modules. It is a small shame that ASRock did not use the single sided latch memory connectors coming into circulation on other motherboards.
The motherboard itself is actually E-ATX (305mm x 267mm compared to 305mm x 244mm for ATX), meaning the extra width on the board is ripe for additional controls. In that regard we get our two-digit debug at the top left, a set of PCIe switches to disable unused PCIe slots, and a pair of Rapid OC (+/-) buttons. Beneath these are a set of 14 voltage read points for extreme overclockers to monitor voltages to the CPU, memory, VTT and others, a chipset-based USB 3.0 header, and two of the aforementioned chassis fan headers.
The Z77 OC Formula gives us a total of 10 SATA ports to play with – four SATA 3 Gbps from the chipset, two SATA 6 Gbps also from the chipset, and four more SATA 6 Gbps from a pair of Marvell SE9172 controllers. All the ports support RAID 0 and RAID 1, but only the chipset ports support RAID 5 and 10. Intel RST and SRT are also chipset only.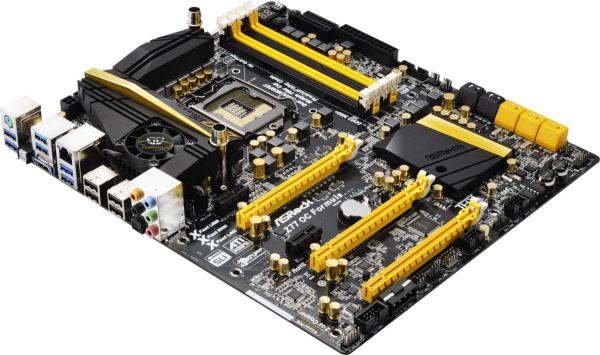 The chipset heatsink is very solid with a few grooves for airflow, suggesting that ASRock are going for bulk rather than surface area to aid chipset cooling. The bottom of the board is full of connectors, and going left to right we have our front panel audio, a COM port, a 4-pin molex power collector, an IR header, a 4-pin chassis fan header, a USB 2.0 header, a 3-pin chassis fan header, another USB 2.0 header, a pair of soldered on BIOS chips with a BIOS select header, power and reset buttons, and finally a front panel header.
The PCIe layout is relatively sparse in comparison to the normal Z77 range, but aimed squarely at double width GPU users. In order, we get a PCIe x1, x16 (x8 in dual mode), a gap, x1, x8, gap, x4 (from chipset). The layout caters for users with two double-slot or triple-slot GPUs as well as those needing an x1 slot for a sound card.

The rear IO takes advantage of the GPU-focused nature of the board by removing all but one of the video outputs and placing a large swathe of USB ports in their stead. From left to right we get a combination PS/2 port, six USB 3.0 ports, a clear CMOS button, a HDMI port, a Broadcom BCM57781 network port, four USB 2.0 ports, an optical SPDIF output and standard audio jacks. Compared to other motherboards in this price range, aside from the few video outputs, ASRock also reduce the NICs to one.
Board Features
ASRock Z77 OC Formula
Price
Link
Size
ATX
CPU Interface
LGA-1155
Chipset
Intel Z77
Memory Slots
Four DDR3 DIMM slots supporting up to 32 GB
Up to Dual Channel, 1066-3000 MHz
Video Outputs
HDMI
Onboard LAN
Broadcom BCM57781
Onboard Audio
Realtek ALC898
Expansion Slots
2 x PCIe 3.0 x16 (x16/- or x8/x8)
1 x PCIe 2.0 x16 (x4)
2 x PCIe 2.0 x1
Onboard SATA/RAID
2 x SATA 6.0 Gbps (Chipset), RAID 0, 1, 5, 10
4 x SATA 6.0 Gbps (Marvelll SE9172), RAID 0, 1
4 x SATA 3.0 Gbps (Chipset), RAID 0, 1, 5, 10
USB
4 x USB 3.0 (Chipset) [2 rear panel, 2 onboard]
4 x USB 3.0 (Etron EJ188H) [4 rear panel]
10 x USB 2.0 (Chipset) [4 rear panel, 6 onboard]
Onboard
6 x SATA 6 Gbps
4 x SATA 3 Gbps
1 x USB 3.0 Header
3 x USB 2.0 Header
8 x Fan Headers
1 x COM Port Header
Voltage Measurement Points
Two-Digit Debug LED
Power/Reset Switches
Rapid OC Buttons
PCIe On/Off Switches
Power Connectors
1 x 24-pin ATX Power Connector
1 x 8-pin CPU Power Connector
1 x 4-pin CPU Power Connector
1 x 4-pin Molex PCIe Power Connector
Fan Headers
2 x CPU (4-pin, 3-pin)
4 x CHA (4-pin, 3x3pin)
1 x POW (3-pin)
1 x MOS (3-pin)
IO Panel
1 x PS/2 Combination Port
2 x USB 3.0 (Chipset)
4 x USB 3.0 (Etron EJ188H)
1 x Clear_CMOS Button
1 x HDMI Port
1 x Broadcom BCM57781 Ethernet
4 x USB 2.0
Audio Jacks
Warranty Period
3 Years
Product Page
Link
The ASRock Z77 OC Formula gets 10 SATA ports, six of them SATA 6 Gbps, eight total USB 3.0 ports and eight fan headers. Each of these numbers is in the upper echelons of anything available on a motherboard today. I am also pleased with the debugging tools on board, as they are helpful for overclockers as well. Only two of the fan headers are four pin which could be frustrating, and other non-OC/non-gaming oriented motherboards in this price range often have dual network ports / WiFi included.