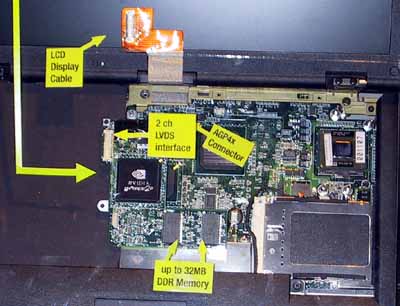 Click to Enlarge
With either of those two implementations (32-bit DDR or 64-bit SDR), the GeForce2 Go will have 1.3GB/s of available memory bandwidth which is about half of the available bandwidth of a GeForce2 MX.  With half of the available memory bandwidth you can pretty much expect to see the GeForce2 Go perform at around half the level of the GeForce2 MX at memory bandwidth limited resolutions.
This means that on a Pentium III 500 laptop you can expect around 40 fps at 1024 x 768 x 16, and close to 60 fps at 640 x 480 x 32, both under Quake III Arena.  Compared to the virtually non-existent frame rates with today's mobile graphics accelerators, the GeForce2 Go definitely has quite a bit of potential.  The only downside to the GeForce2 Go will be that you probably won't see more than 16MB in most implementations, in fact, 8MB could be a highly desired configuration which will hurt performance considerably. 
And just like its desktop counterpart, the GeForce2 Go will have a full TwinView implementation and will work with the same unified drivers that the rest of NVIDIA's line works with.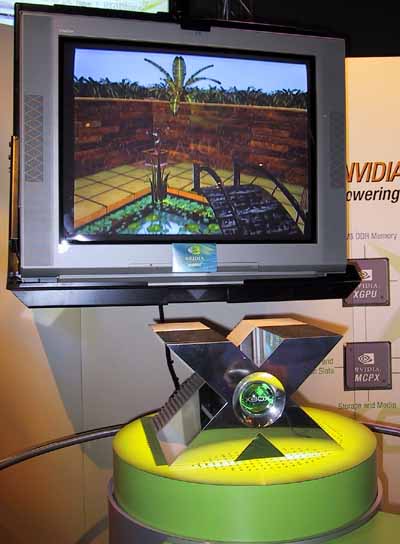 Click to Enlarge
NVIDIA was also showing off the X-Box, however there was very little that they had to say that hasn't already been disclosed.