JMC "Arctic Breeze Plus"
JMC, formerly known as RDJD, is a manufacturer that sells most of its heatsinks to OEMs. The Arctic Breeze Plus is their first cooler with a copper inlay. Copper as a material for CPU heatsinks clearly becomes more popular these days, also among manufacturers that aren't specialized in heatsinks designed for overclocking. The reason for this is  that all modern CPUs are now produced using the "flip chip" technology, which allows the heatsink to be in direct contact with the (very small) CPU die. Since the contact area between CPU and heatsink is so small, it is important to spread the heat effectively across the base of the heatsink. Copper is very suitable for that purpose, since it conducts heat about twice as good as aluminum.
Like several previous models from JMC/RDJD, the Actic Breeze Plus is equiped with a temperature controlled fan. The temperature sensor is not in direct contact with the heatsink, it is located near the center of the fan. Unfortunately the fan does not allow rpm monitoring; the third wire is a "rotor lock signal" lead - but no current PC motherboard can use this signal to detect fan failure.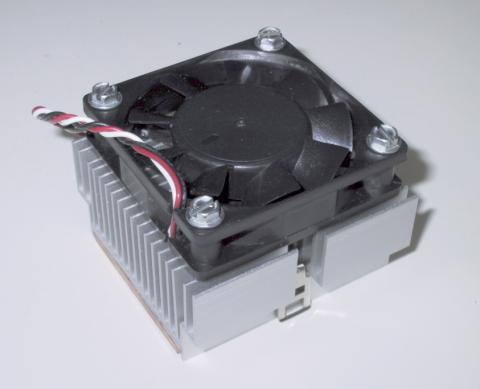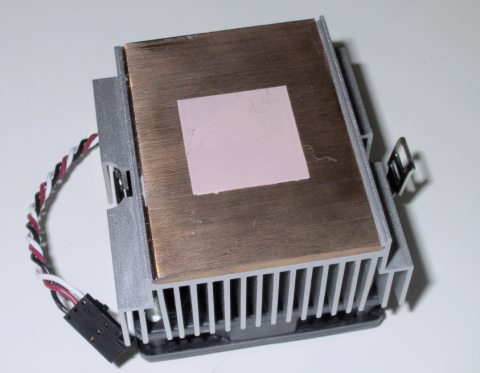 Performance and Conclusion
Because of its temperature controlled fan, the Arctic Breeze Plus doesn't keep the CPU temperature as low as possible; instead it keeps the CPU just as cool as necessary, while making the least possible noise. Seen from an overclocker's point of view, the performance is disappointing. But not everybody is overclocking, and many people find low noise more important than cooling performance. Our Thunderbird-750 overclocked to 950 would not run stable with this cooler; however the cooler will provide sufficient cooling for current Athlon CPUs that aren't overclocked.
Installation
The Arctic Breeze Plus is equiped with a quite minimalistic clip that doesn't have a handle. Therefore tool-free installation isn't possible, but with the aid of a screwdriver, the cooler can be installed very quickly. It is necessary to carefully check that the heatsink really has good contact with the CPU die without turning the PC on. On the lower side of the cooler (where it is in contact with the CPU), the aluminum part holding the copper plate on the side is a little higher than the copper plate itself - as you can see in the second image. If the heatsink isn't centered well, it is possible that the aluminum part sits on the ceramic outer part of the CPU, but the copper plate itself does not touch the CPU die. This of course must be avoided.
JMC "Arctic Breeze Plus"
Fan:  One JMC 60x15mm, temperature controlled

Fan rpm (measured): n/a

Weight: 
Height: 
Price: unknown
Advantages
Very quiet
Inexpensive
Compact
Disadvantages
Not suitable for overclocking