Thermaltake "Chrome Orb"
The Thermaltake "Chrome Orb" is a Athlon/Duron compatible version of the popular "Golden Orb", with a different clip, a new base plate, and a stronger fan.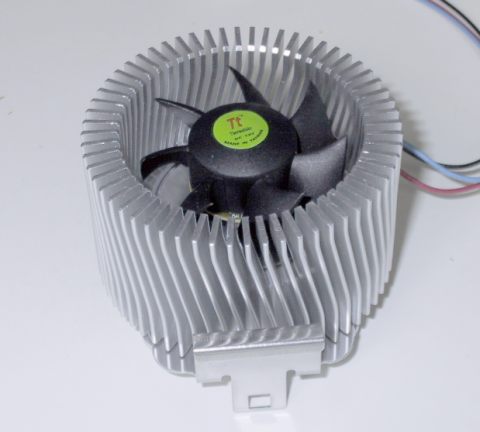 Performance and Conclusion
The Chrome Orb's performance is ok - it is not quite as efficient as its big brother Super Orb, but still it does a good job keeping CPUs cool enough. It is even suitable for moderate overclocking. Our Thunderbird-750 overclocked to 950MHz would run perfectly stable with the Chrome Orb. Also, it is inexpensive and not too loud.
Installation
Just like the Super Orb, the Chrome Orb does not fit the Abit KT7 and the Epox 8KTA+, because capacitors right next to the CPU socket are in the way. Instructions for a modification and photos are available here on The Heatsink Guide. With the Chrome Orb, there's no risk of damaging the CPU when installing the cooler (which was a major problem with the Golden Orb, when used with AMD CPUs)
Thermaltake "Chrome Orb"
Fan: One Thermaltake, embedded into heatsink

Fan rpm (measured): 5553

Weight:
Height:
Price: Around $17
Advantages
Inexpensive and compact
Looks very cool
Disadvantages
Compability problems with some motherboards, in particular the KT7