TaiSol CGK742092
TaiSol is a heatsink manufacturer that primarily sells coolers to OEM manufacturers. Therefore TaiSol coolers are not very widely available on the retail market; however this might change in the future.
The CGK74092 is not extruded (like earlier TaiSol models), but forged. Alpha is using the same production method for their PEP66, P7125 and P3125 models.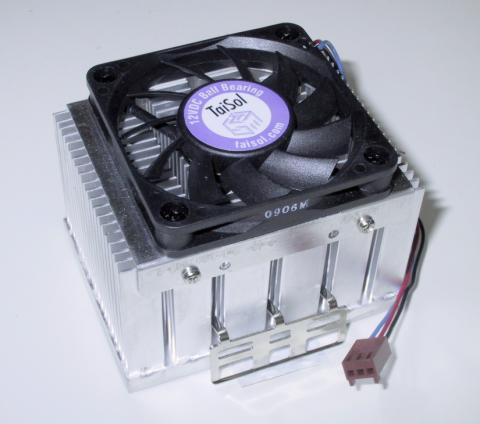 Performance
The CGK74092's huge heatsink, combined with a compact (60x10mm) but relatively strong fan, results in very good performance. Performance-wise, the Taisol model is on par with the Alpha PAL6035/YS Tech, Global WIN FOP32, and Thermaltake Super Orb, but it is quieter than these. In order to compare the heatsink design directly to the Global WIN FOP32 and Alpha PAL6035, we replaced the 60x10mm Delta fan with a stronger 60x25mm YS Tech fan take from the Global WIN unit. This lowered the CPU temperature by another degree, so that the TaiSol unit outperformed its direct competitors, and performed on par with the much more expensive Karie Hedgehog heatsink equiped with the same fan.
With the CGK74092, TaiSol proves that the best receipe for making a good cooler is to use a heatsink that is as large as possible. The combination with a fan that is efficient enough, but not excessively loud, the TaiSol cooler an excellent choice for overclockers.


Installation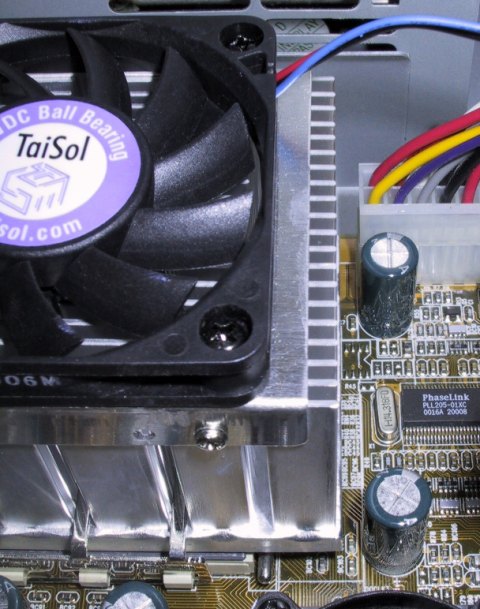 Tight fit: The Taisol cooler is 80mm wide - that is much wider than the CPU socket, as you can see on the image. It would fit our test motherboard (Abit KT7-RAID) without any problems, but if you plan to use a different board, make sure to check if there's enough space around the CPU socket.
The clip Taisol uses is particularly good. As you can see on the image, the motherboard's CPU socket has three little plastic hooks on each side, which hold the heatsink clip. Some heatsink clips (e.g. from Global WIN) use only the middle hook, other clips use three hooks on one side, but only one hook on the other side (e.g. the clips from Alpha and Thermaltake). The TaiSol clip is the only one to use all three hooks on both sides, which is definately an advantage. Unlike the other heatsinks tested, the TaiSol unit does not allow tool-free installation or deinstallation though; you will need a screwdriver to install it. Still, installation is easy.
TaiSol CGK742092
Fan: Delta 60x10mm

Fan rpm (measured): 4854

Price: unknown
Advantages
Very good performance
Not very loud
Disadvantages
Not very widely available on the retail market
Might not fit all motherboards, due to the large size of the heatsink