The Pentium 4 does much better under Content Creation Winstone 2000 which provides a more realistic performance testing environment than SYSMark 2000. Content Creation Winstone 2000 measures performance while multitasking, switching between office and content creation applications such as MS Word, Photoshop, Dreamweaver, etc... and performing normal tasks in each application before switching to another.
The low latency caches of the Pentium 4 come in handy here as with these applications you're generally not dealing with a huge sets of data.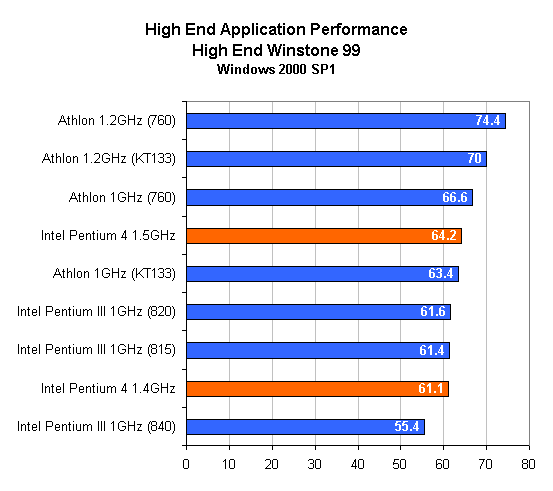 High End Winstone was once dominated by Intel, before the introduction of the Athlon. Now, even with the Pentium 4, High End Winstone still belongs to the Athlon although at 1.5GHz the Pentium 4 does put up a bit of a fight. Again, we have a situation in which the Pentium 4 needs a much higher clock speed to compete. Couple that with a PC133 or DDR SDRAM platform to run on and the Pentium 4 could become a serious contender, however until then the Pentium 4 at 1.4GHz doesn't even make sense to pursue and at 1.5GHz it's barely able to outperform a 1GHz Athlon priced at almost half of its cost.