Dual GPU video cards are nothing new, but there are very few companies that do it with the level of flair (and dare we say overkill) of Asus. Along with their standard reference-derived designs for products such as the GTX 690 and Radeon HD 6990, the company also produces one or two ultra-luxury custom designs that push the envelope in terms of performance, features, power, and size. These cards have been released under the ARES (AMD) and MARS (NVIDIA) brands, with the most recent entry being the dual-GTX580 based MARS II in 2011.
Now with CES upon us Asus has announced their next custom dual-GPU card, the Asus ARES II. Like the Radeon HD 5870 based ARES (I), the ARES II is effectively two Radeon video cards on a single board. Specifically, Asus is building a single card Radeon HD 7970 GHz Edition crossfire solution, packing two overclocked 7970GE GPUs and 6GB of memory (3GB per GPU) on to a single card. Clockspeeds are at 1050MHz for the core and 6.6GHz for the memory, 50Mhz(5%) and 600MHz (10%) over a stock 7970GE respectively.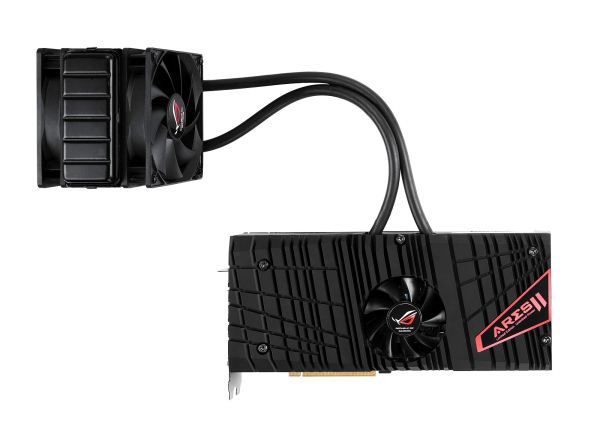 As to be expected, power and cooling requirements for such a card are quite high, which is where Asus's customizations and expertise come into play. Feeding the beast will be 3 8pin PCIe power connectors, and with another 75W from the PCIe slot itself we're looking at total power consumption somewhere in the neighborhood of 500W (roughly twice that of a single 7970GE). Asus uses their own Super Alloy Power delivery system here, with a total of 20 power phases between the various GPUs and memory components.
Meanwhile cooling the beast will be something even more outlandish and unique for a 1st party video card: closed loop liquid cooling augmented with standard air cooling. Rather than going with an even bigger HSF like the ARES (I) or competitor PowerColor's Devil13, Asus is sticking with a dual-slot card and moving most of the cooling duties to a 120mm radiator. The radiator itself is a single 120mm block with a pair of fans in a push-pull configuration, very similar to aftermarket CPU coolers we've reviewed in the past such as the Corsair H80i. These closed loop coolers have proven to be extremely effective in the past so it will be interesting to see how Asus's implementation plays out, particularly with the uniquely high power/heat properties of a dual-GPU video card. Meanwhile Asus also has an 80mm fan on the card itself (thereby making this a hybrid configuration) and based on their description we believe this covers cooling the memory and VRMs, while the closed loop cooler is dedicated to the GPUs.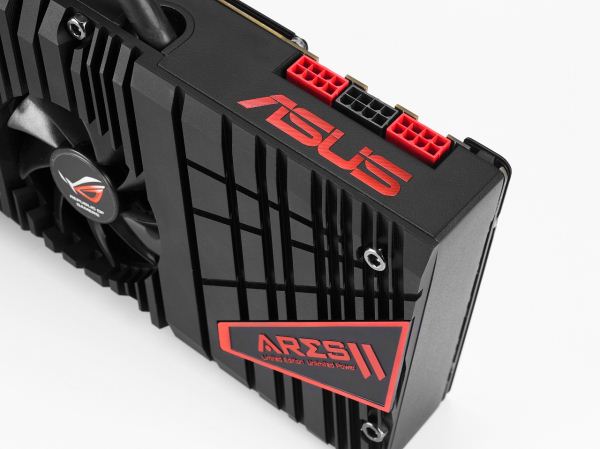 Asus for their part points out that by going with a closed loop cooler they can keep the size of the card down, making it compatible with more cases. Certainly at 11.8" long and two slots wide the card is by no means small, but this configuration does mean that it should be possible to squeeze the card into some mATX enclosures that aren't accessible to triple-wide cards. Alternatively it will be much easier to set up a pair of these cards in Crossfire for a 4-way GPU configuration, this being the bane of triple-wide cards on most ATX motherboards.
Finally, like past ARES and MARS cards, the ARES II is once again a limited edition product with Asus constructing just 1000 cards, each numbered and sold in a collectable fashion. Unfortunately Asus hasn't announced specific pricing or a launch date, but based on their prior cards $1500 is not out of the realm of possibility.
| | | | |
| --- | --- | --- | --- |
| | Asus ARES II | PowerColor Devil13 HD7990 | Radeon HD 7970 GE |
| Stream Processors | 2 x 2048 | 2 x 2048 | 2048 |
| Texture Units | 2 x 128 | 2 x 128 | 128 |
| ROPs | 2 x 32 | 2 x 32 | 32 |
| Core Clock | 1050MHz | 925MHz | 1000MHz |
| Boost Clock | 1100MHz | N/A | 1050MHz |
| Memory Clock | 6.6GHz GDDR5 | 5.5GHz GDDR5 | 6GHz GDDR5 |
| Memory Bus Width | 2 x 384-bit | 2 x 384-bit | 384-bit |
| VRAM | 2 x 3GB | 2 x 3GB | 3GB |
| TDP | A Lot | A Lot | 250W |
| Transistor Count | 2 x 4.31B | 2 x 4.31B | 4.31B |
| Manufacturing Process | TSMC 28nm | TSMC 28nm | TSMC 28nm |