Video card – Creative Labs Annihilator2 Ultra - $435
RealMagic Hollywood Plus PCI - $60
In the past, we've had a tough time making the call between the ATI Radeon and the NVIDIA GeForce 2 GTS, but the call always went to NVIDIA thanks to better drivers. However, this time around, GeForce2 Ultra card are finally available and the Ultra is the clear 3D acceleration champ right now.
We've had the opportunity to look at a few GeForce2 Ultra cards and the one that stands out in our mind is the Creative Labs Annihilator2 Ultra. It doesn't hurt that it also happens to be the least expensive.
We've also thrown in a RealMagic Hollywood Plus hardware MPEG-2/DVD decoder card. While the GeForce2's DVD playback is pretty good, it's still not up to par with a dedicated hardware decoder, especially since a dedicated decoder will have Dolby Digital AC-3 output among a few other features that video cards generally do not include. At just $60 it's hard to go wrong with such an addition to a system like this if you ever watch DVD's on your computer. In order to maintain the best possible 2D image quality, you'll want to avoid using the video pass through on the RealMagic card. Instead, get a VGA cable with BNC connectors for your 2D output and use the cable included with the monitor for the RealMagic output.
For more information, read our GeForce2 Ultra Review and Creative Labs Annihilator2 Ultra Review.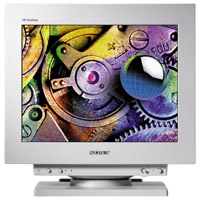 Monitor – Sony GDM-FW900 - $2300
This pure flat monitor is without a doubt the best monitor we've ever set our eyes on, surpassing our previous favorite the GDM-F500R.  What sets this monitor apart is the 24" (22.5" viewable) widescreen CRT and its support for resolutions up to 2304 x 1440 @ 80Hz.  You've got to see it to believe it – one look and you'll be hooked.  But at $2300, it remains just a dream for the vast majority of us.
Case – Addtronics W8500-400A - $400
We took a look at the Addtronics W8500 not too long ago.  For those that don't remember, it's a WTX case, meaning that it's backwards compatible with today's ATX standard and will also accept future boards based on the WTX standard.  A grand total of 9 fan locations ensure that you'll always have plenty of cooling available, while 11 drive bays handle expansion.  To ensure that we have enough power, we'll go with the 400W power supply option from Addtronics – that should be plenty for just about anything we could throw at it. 
For more information, read our Addtronics W8500 Review.

Sound Card – Sound Blaster Live! Platinum 5.1 - $180
The sound card selection for the dream professional system was as tricky as any other component.  But some careful thought shows that the Sound Blaster Live! is the best choice.  The first problem is that a number of sound cards out there don't have drivers that work properly with SMP systems under NT 4.0.  Further, the ideal sound card would also have driver support under Windows 2000, Linux, and BeOS. 
The Sound Blaster Live! provides all the features we need in a sound card and thus it is the only choice for this system.  It's got full support under Windows NT 4.0 and is one of the first cards with a feature complete driver set under Windows 2000 with the recent release of Live!Ware for Win2000.  Creative also has their own set of Linux drivers, while BeOS has built in support for the Live!  We have heard from a few users that the Live! drivers still do not get along with SMP systems under Windows 2000, but we have not been able to duplicate these results in the AnandTech lab. We'll continue to investigate, however.
Specifically, we chose the Platinum model since we don't have to worry about price and, besides, the Live Drive of the Platinum is a nice addition to any system. The 5.1 version of all Sound Blaster Live! cards are now available and allow your Live! to handle Dolby Digital decoding. For the Dream System, this doesn't make any difference since we already have a Dolby Digital output on our DVD decoder card and Dolby Digital decoding in our speaker system. The Platinum 5.1 model does include an updated Live Drive that includes an infrared remote - perfect for watching DVD's using your computer.
Speakers – VideoLogic DigiTheater DTS - $600
We loved the Video Logic Sirocco Crossfire speaker system, but it's time to add Dolby Digital decoding to our Dream System. The natural replacement is another VideoLogic system, of course, and that means the DigiTheater DTS. Although it's a bit pricey at $600, we wouldn't want anything but the best in the Dream System.