What's Next? ARM's Cortex A15
Comparing to Qualcomm's APQ8060A gives us a much better idea of how Atom fares in the modern world. Like Intel, Qualcomm appears to prioritize single threaded performance and builds its SoCs on a leading edge LP process. If this were the middle of 2012, the Qualcomm comparison is where we'd stop however this is a new year and there's a new kid in town: ARM's Cortex A15.
We've already looked at Cortex A15 performance and found it to be astounding. While Intel's 5-year old Atom core can still outperform most of the other ARM based designs on the market, the Cortex A15 easily outperforms it. But at what power cost?
To find out, we looked at a Google Nexus 10 featuring a Samsung Exynos 5250 SoC. The 5250 (aka Exynos 5 Dual) features two ARM Cortex A15s running at up to 1.7GHz, coupled with an ARM Mali-T604 GPU. The testing methodology remains identical.
Idle Power
As the Exynos 5250 isn't running Windows RT, we don't need to go through the same song and dance to wait for live tiles to stop animating. The Android home screen is static to begin with, all swings in power consumption have more to do with WiFi at this point: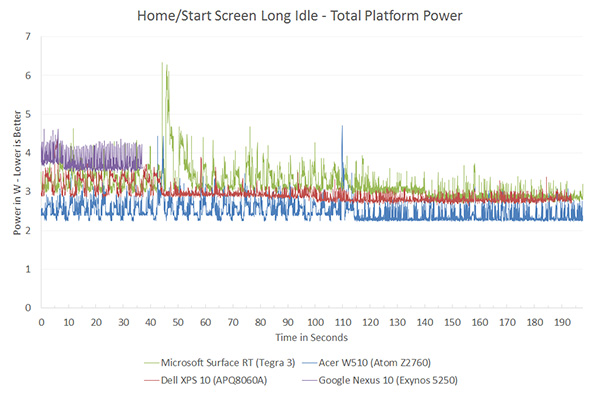 At idle, the Nexus 10 platform uses more power than any of the other tablets. This shouldn't be too surprising as the display requires much more power, I don't think we can draw any conclusions about the SoC just yet. But just to be sure, let's look at power delivery to the 5250's CPU and GPU blocks themselves: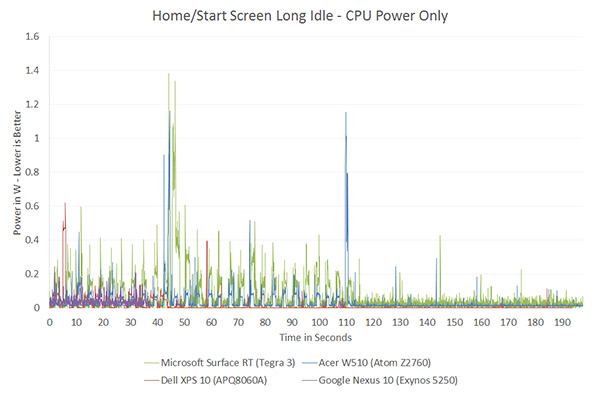 Ah the wonderful world of power gating. Despite having much more power hungry CPU cores, when they're doing nothing the ARM Cortex A15 looks no different than Atom or even Krait.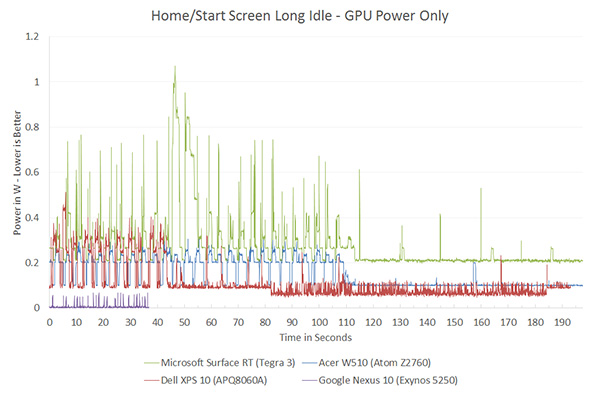 Mali-T604 looks excellent here. With virtually nothing happening on the display the GPU doesn't have a lot of work to do to begin with, I believe we're also seeing some of the benefits of Samsung's 32nm LP (HK+MG) process.
Remove WiFi from the equation and things remain fairly similar, total platform power is high thanks to a more power hungry display but at the SoC level idle power consumption is competitive. The GPU power consumption continues to be amazing, although it's possible that Samsung simply doesn't dangle as much off of the GPU power rail as the competitors.