Performance Results
Of course, for the Arctic Cooling Accelero Hybrid, the proof is in the testing. Once I was satisfied that I hadn't bricked the GeForce GTX 680 during assembly, I went about testing it in eVGA's OC Scanner X software. I've actually been pretty happy with OC Scanner X in personal use, and it generates enough heat to give the coolers a good workout.
I will say that what I found in testing, while not necessarily unexpected, was still pretty impressive.
Ambient temperature during testing was ~21C.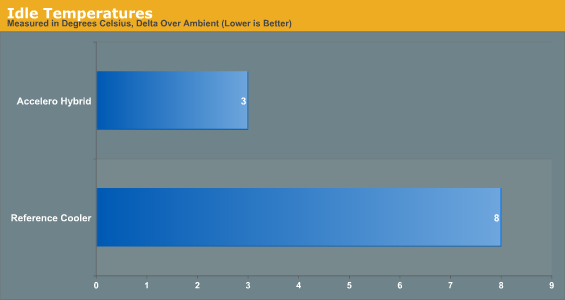 Unsurprisingly, idle temperatures are pretty impressively low for both cooling systems, but already the Accelero Hybrid is able to produce a substantially better result well outside of the margin of error.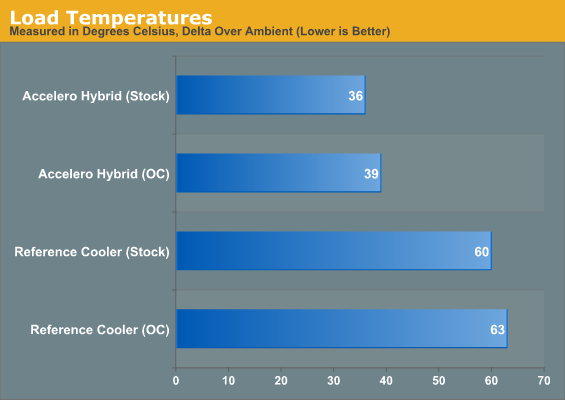 Once a load is applied to the card, though, all bets are off. The Accelero Hybrid blows past the reference cooler, producing a massive reduction in thermals. Keep this in mind, I'm going to come back to it later.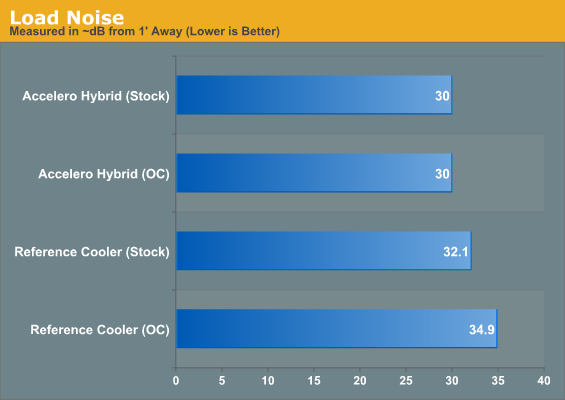 Since the reference cooler and Accelero Hybrid both idle below the 30dB floor of our sound meter, idle noise results aren't listed. What's impressive is that the Hybrid is almost dead silent under load, regardless of the increased pressure applied to the cooling system. So while the reference cooler gets louder the harder you push the card, the Hybrid seems to have plenty of thermal headroom to spare.
Using the Arctic Cooling Accelero Hybrid on the GTX 680 has also revealed another interesting wrinkle. While overclocking on the GTX 680 is mostly limited by the Power Target, the reference cooler definitely introduces some thermal limitations. I've seen the GPU clock of the 680 take a step back and begin to throttle a little once it goes north of 70C, but because the Accelero Hybrid has so much thermal headroom, that throttling almost never happens. With the fan control manually maxed out at 85%, I registered a noise level of just 31.3dB in testing, but have actually been able to push the 680 north of 1.3GHz. The stable 6.6GHz clock on the GDDR5 has been consistent between the reference cooler and the Hybrid, but the added headroom for the GPU has allowed me to move past the ~1.2GHz I was able to attain on the stock cooling.
As I've been writing this review, I've actually been steadily testing overclocking on the GTX 680 plus Hybrid by incrementing the GPU Offset +10MHz, running it through OC Scanner X for fifteen minutes (and accepting no artifacts), then benchmarking it in 3DMark 11's Extreme test. This is by no means a thorough stability test, but it's a decent way to poke around the edges of the card's tolerances. I can't imagine how much hotter and louder it would be running with the reference cooler, but with the Hybrid at 85% it's peaking at 63C. That's at 1.3GHz, sustained load.