Wireless Web Browsing Battery Life Test
For our final test I wanted to provilde a snippet of our 2013 web browsing battery life test to show what its power profile looked like. Remember the point of this test was to simulate periods of increased CPU and network activity, that could correspond to more than just browsing the web but interacting with your device in general.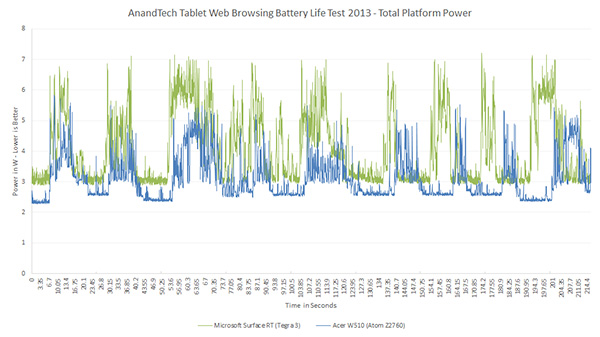 Those bursts of power consumption are the direct result of our battery life test doing its job. That the tasks should take roughly the same time to complete on both devices, making this a good battery life test by not penalizing a faster SoC with more work.
Note that the W510's curve ends up lagging behind Surface RT's curve a bit by the end of the chart. This is purely because of the W510's garbage WiFi implementation. I understand that a fix from Acer is on the way, but it's neat to see something as simple as poorly implemented WiFi showing up in these power consumption graphs.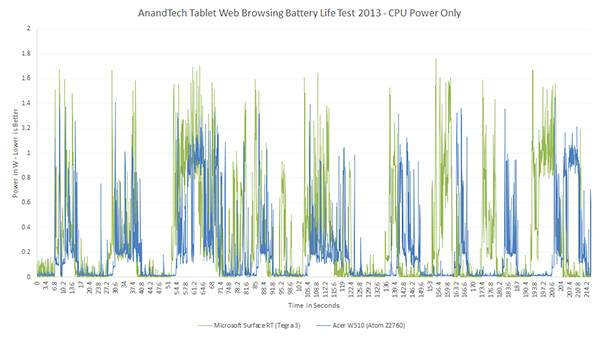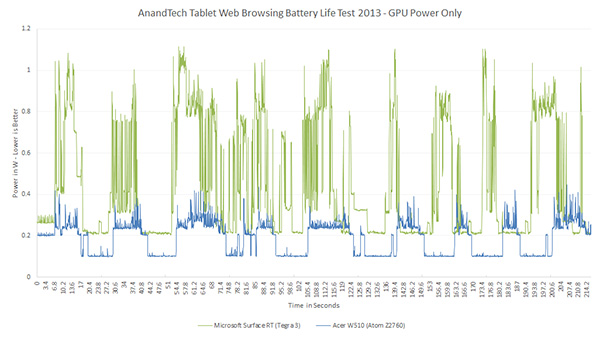 I always think about GPU power consumption while playing a game, but going through this experiment gave me a new found appreciation for non-gaming GPU power efficiency. Simply changing what's displayed on screen does burn an appreciable amount of power.