Final Words
Phison's PS3108 and the BP3 are a pleasant surprise. After reviewing the Crucial v4, I didn't have high hopes with the BP3 given the miserable performance of Phison SATA 3Gbps controller, but I was proven wrong. That's not to say that the PS3108 is anywhere close to challenging today's high-end controllers such as Samsung MDX and OCZ Barefoot 3, but at least the performance is no longer from 2009. I also doubt Phison is aiming the PS3108 for high-end market as in general their controllers have been found in low-cost SSDs, and shifting the market target would require big investments and possibly more R&D time as well. The low-end SSD market is also interesting in the sense that there is less competition than in the high-end market: the main options are Samsung's SSD 840, a bunch of SSDs from OCZ, and some SF-2281 based SSDs that compete at the lowest prices.
Pricing is definitely the biggest advantage of the BP3. It's considerably cheaper than other mSATA SSDs and is in fact cheap in terms of 2.5" SSD prices as well. However, Phison's (and MyDigitalSSD's) long term reliability is a big question mark as Crucial v4 is really the first Phison based SSD from a big SSD manufacturer. If you're willing to be a guinea pig, the BP3 is an affordable mSATA SSD choice and due to its price, I would recommend it over the SMART—and either way, it's still significantly faster than any hard drive you'd have in a laptop.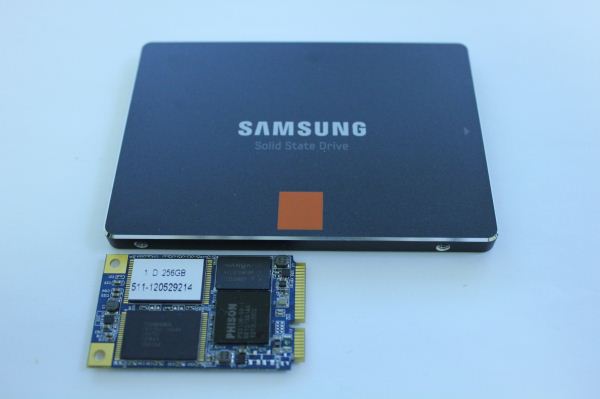 There is one general thing about the SSD market that I've been wondering for quite a while, though: is there really a market for mSATA SSDs? I see absolutely no reason why a desktop user would pick an mSATA SSD over a regular 2.5" SSD because 2.5" SSDs are usually cheaper and also faster (mSATA form factor is limited to four channels while most controller have eight). Only very few motherboards come with an mSATA slot anyway, so that diminishes the market even more.
The notebook market is fairly limited too as most laptops are still using standard 2.5" hard drives. The manufacturer may offer SSDs in some models or as built to order but those are still 2.5", an empty mSATA slot is a rarity due to space constraints. Popular SSD-only notebooks such as ASUS' Zenbook series and Apple's MacBook Air use custom SSDs, so mSATA is of no use with those either. That basically leaves us with a very limited amount of notebooks that even have mSATA capability to begin with. Out of those systems, most will likely already have an mSATA SSD installed when the system is purchased, so really the market for retail mSATA SSDs is consumers who have bought a notebook with an mSATA SSD (probably a small caching-only SSD) and want to upgrade the SSD and make it the OS/Apps drive. That's not a very big market if you ask me, at least right now.
I may be missing some scenarios where mSATA SSDs are used but I think it's safe to say that mSATA has not really taken off and the market for retail mSATA SSDs is close to non-existent. MyDigitalSSD does have the potential to grab a large share of that market, particularly for cost-conscious users where the BP3 might be attractive, but given the early nature of the controller I'm not sure most people would be comfortable buying the BP3. Looking at the SMART, we generally know what to expect from SF-2281 SSDs, which is good, but the pricing can't compete with other SF-2281 based mSATA SSDs. I would pick Crucial's M4 mSATA SSD over the SMART since it's considerably cheaper, but the BP3 is definitely worth a consideration if you're looking for an affordable mSATA drive and are willing to settle for an unproven drive.