Display Quality
The HP EliteBook 8570w is capable of being outfitted with a 10-bit IPS display that HP dubs DreamColor, and the high color gamut can be a sight to behold. On top of that, we're looking at a 1920x1080 display in a 15.6" form factor, a pixel density much appreciated in notebooks. It appears that LG Philips is manufacturing the majority of these high end panels that are being used, as Dell's Precision M6700's PremierColor display is also using one of their panels.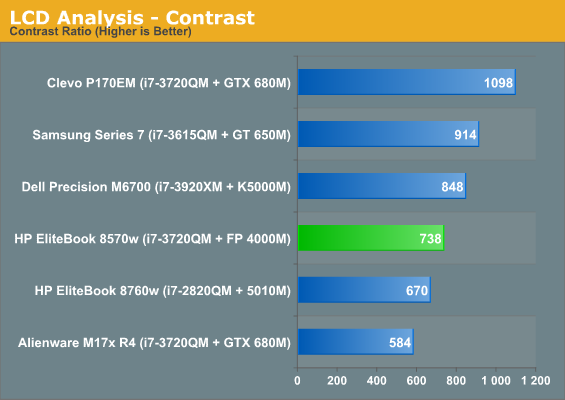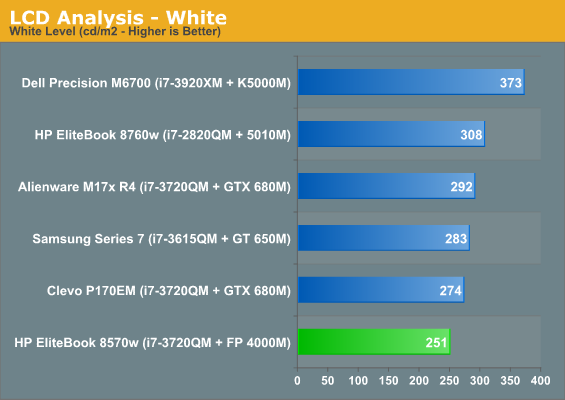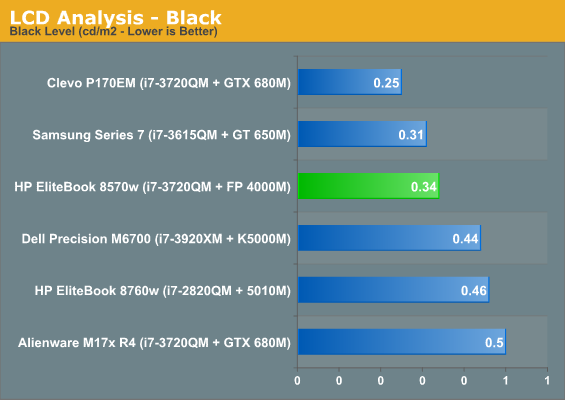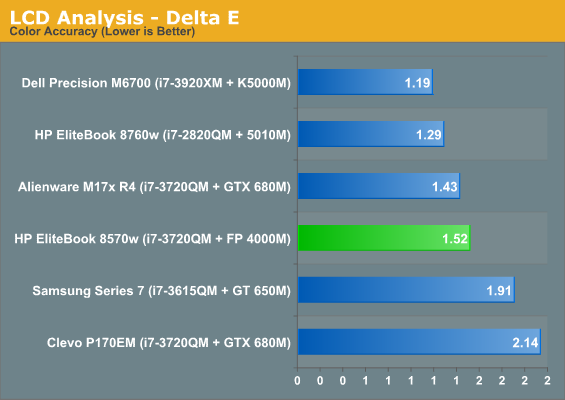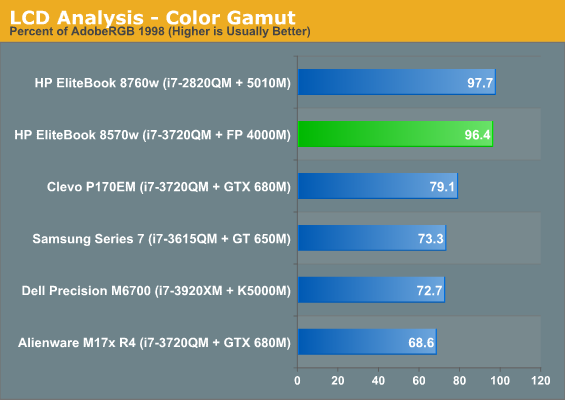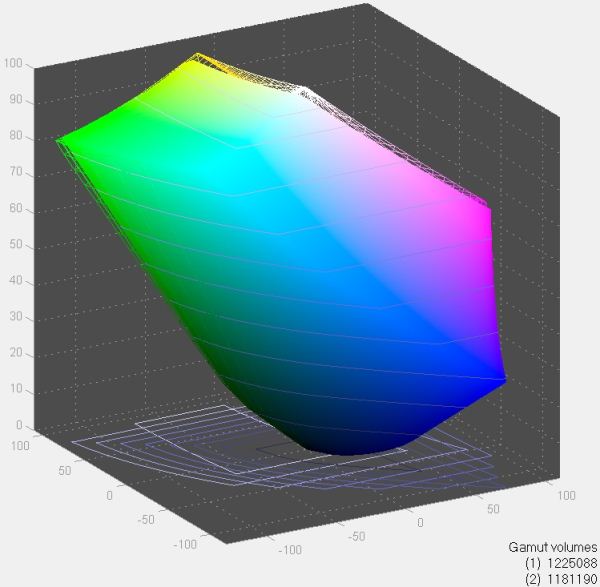 The 8570w's display isn't particularly bright, but it's bright enough, and the colors are incredibly vibrant and crisp. Note that we had to calibrate the M6700's display at a gamma of 1.8 instead of our typical 2.2, and its test results do suffer as a result. I'd argue that, size notwithstanding, the M6700's display quality is actually comparable, and you benefit from their PremierColor software which allows for changing color gamut on the fly.
You can see, though, the 8570w is able to produce almost the entirety of the AdobeRGB 1998 color gamut, with fine contrast and good (though not exceptional) color accuracy.
Battery Life
As many of you pointed out in the last review, the use of a 10-bit IPS panel precludes any kind of switching graphics technology. The result is a notebook that takes a substantial hit to running time. Unfortunately, that hit is exceptionally evident with the HP EliteBook 8570w.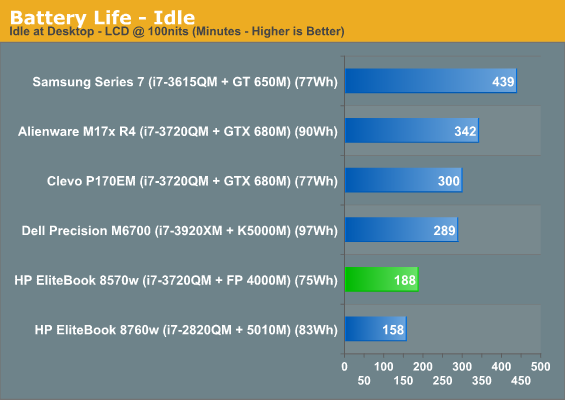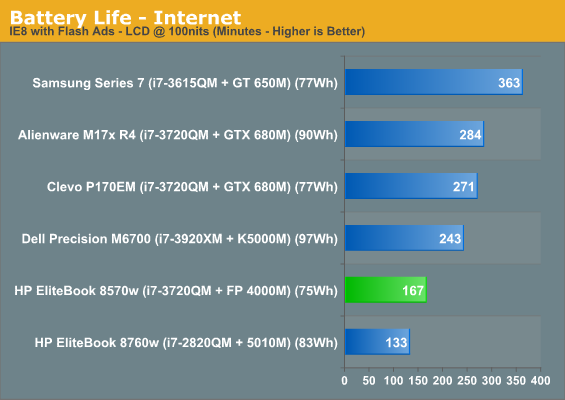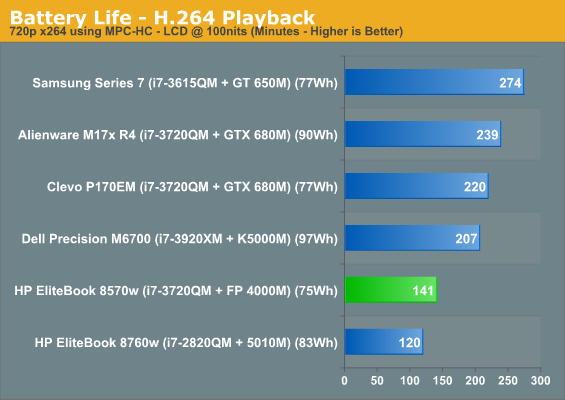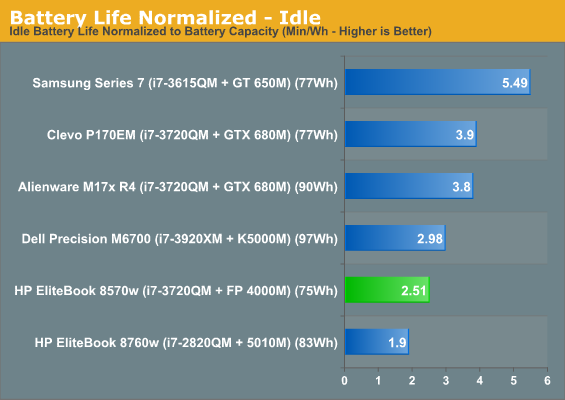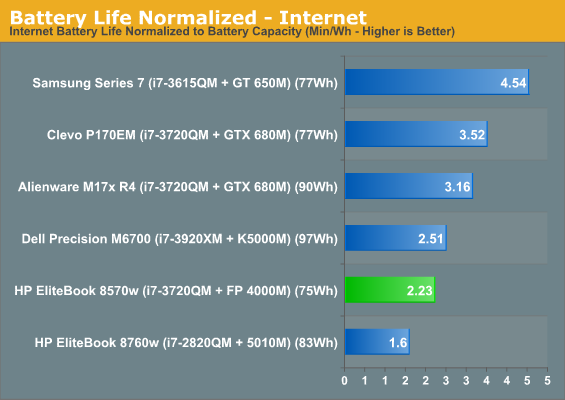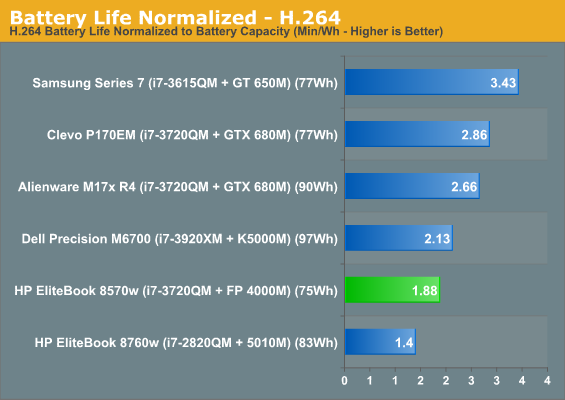 As you can see, you're just not going to be using the 8570w on the battery that often. Even the normalized results are pretty poor, inexplicably ranking below the results of the larger Dell Precision M6700 despite that notebook's larger display and hotter CPU and GPU. In this day and age, a useful running time below three hours is almost inexcusable.
Heat and Noise
You remember how I mentioned that heat was the primary weakness of the HP EliteBook 8570w's design? It's finally time to check in on it, and as you'll see, it's not a happy picture.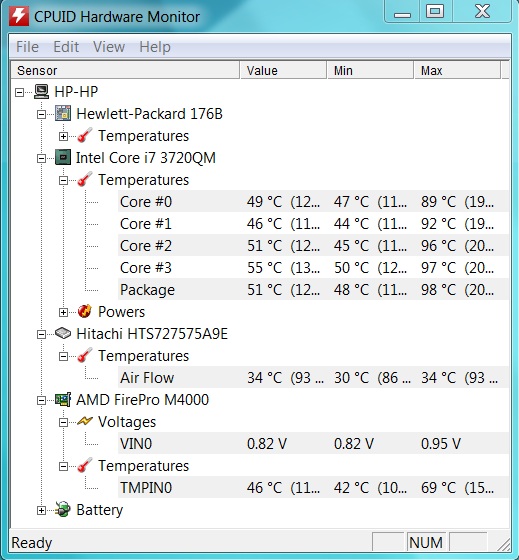 While the FirePro M4000 doesn't heat up that much (and shouldn't, really), the i7-3720QM's cores encroach on the high 90s, just too high for comfort. When we opened up the bottom of the 8570w, you saw how modest the cooling system design was, and now you see how that plays out. Because of the high temperatures, the 8570w is also capable of producing quite a bit of fan noise. At idle, the fan is almost constantly spinning, albeit quietly. Under sustained load, it begins to develop a high-pitched fan whine and becomes increasingly audible, easily peaking above 40dB.
The CPU itself actually overheats a little and starts to throttle. Under AIDA64's stress test, the CPU throttled by as much as 14% after just five minutes. It's no surprise HP elected not to offer the 55W Ivy Bridge quads in the 8570w; the notebook can barely handle 45W.