Conclusion: But Why the Drive Cage?
I feel like Corsair has ultimately acquitted themselves fairly well with this, their least expensive enclosure. I get nervous whenever a manufacturer relatively well known for producing quality hardware decides to chase the bottom dollar; we saw what that approach did when Lenovo took over the ThinkPad brand. The Carbide 200R is a solid budget option that mostly offers good value at the $49 price point it's hitting in retail, but I really don't want to see, say, a 100R anytime soon.
We'll start with what Corsair got right. Their aesthetic continues to be top notch, and the interior design of the Carbide 200R has a lot of the things I've come to expect and appreciate from Corsair. The dedicated cabling channel surrounding the motherboard tray may not have worked miracles in my admittedly lackluster assembly, but it's one of their best and smartest innovations, making efficient use of the interior space available and allowing them to get the case just a little bit smaller. I want to see more designers employ that channel as well as integrating the motherboard alignment post. It looks like having the closed front of the case and moving the intakes to the sides helps mask some of the noise as well, and the cooling performance, at least on the CPU, is excellent.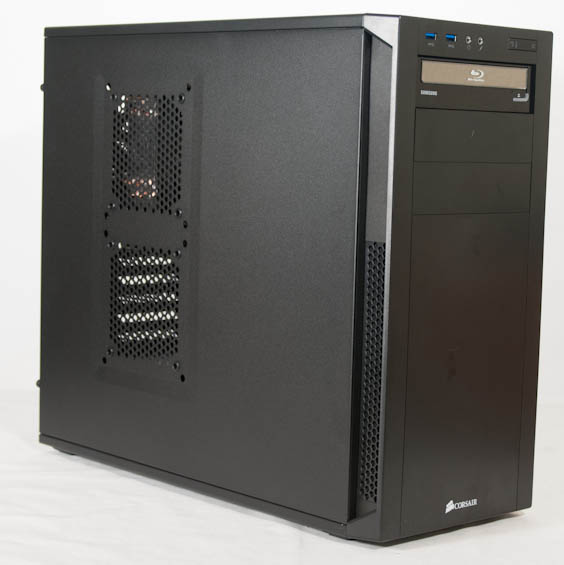 Unfortunately things start to fall apart when we get to the drive cage. I hate to nitpick on a single issue like this, but the pursuit of a toolless design has resulted in what could conceivably become a serious hot spot. We're talking about an SSD reaching temperatures of close to 40C in a mid tower; that's within spec, but what happens when you start adding more drives? The cage traps heat, is staggeringly difficult to use, and is even actually a little fragile.
If you're just planning on putting a single drive in and calling it a day, the Corsair Carbide 200R potentially has a lot to offer a frugal user. While Corsair's next case up, the 300R, is notably louder than the 200R, it also offers substantially better performance and doesn't have a glaring weakness (outside of noise) like the 200R's design does. Users in an extreme pinch would probably be well served by the 200R, but I think I'd still recommend tracking down a BitFenix Merc Alpha or Merc Beta instead. Those enclosures are cheaper still, but offer more well rounded performance.