3DS MAX 2013
Our previous benchmark, the "architecture" scene that is included in the SPEC APC 3DS Max 2007 test, was getting way too old. So we decided to switch to the "Trol_cleric29_max2010" scene while upgrading to 3DS MAX 2013. We render at 1080p (1920x1080) resolution and measure the time it takes to render the first three frames (from 0 to 2). The 64-bit version of 3DS Max 2013 runs on top of 64-bit Windows 2008 R2 SP1. All results are reported as rendered images per hour; higher is thus better.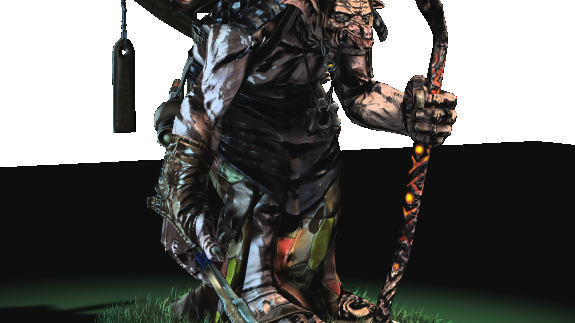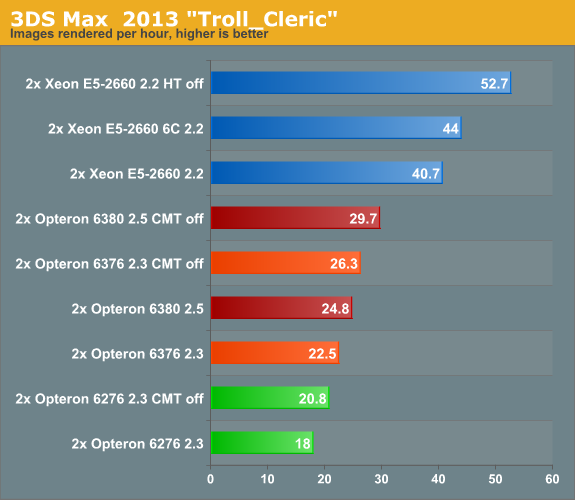 The results are pretty chaotic at first sight. But the numbers are correct and can be verified by a third party or by yourself for that matter. Let us try to make sense out of this.
First of all, we used the NIVDIA Mental Ray renderer, which despite the "NVIDIA" part in its name is still a CPU only renderer. Secondly, the new benchmark is better than the old one: most of the time all cores are working at very high CPU load: typically 96% and more. However we noticed that without Hyper-Threading and CMT, the CPUs are able to turbo longer and at higher clockspeeds and there are small periods of single threaded action. These two facts together probably explain why disabling Hyper-Threading or CMT improves performance by 20% and more.
Cinebench reports that the Xeon 2660 is 20% faster than the Opteron 6380. In the 3DS Max, the Xeon is up to 77% faster. The new Mental Ray engine seems to be extremely well optimized for the Intel architectures and underperforms on the AMD architecture.
At the end of the day, it is clear that Intel has a huge advantage here, but also that this market is shifting more and more to GPU rendering. This is out of the scope of this article, but many people in the rendering business are using GPU accelerated rendering thanks to NVIDIA's iray renderer. CPU + GPU rendering with iRay seems to outperform Mental Ray in almost all scenes except those with relatively simple lighting, so combining an Intel E5 Xeon with a fast GPU is the best option.