Earlier this week Plextor put out a press release about a new firmware for the M5 Pro SSD. The new 1.02 firmware is branded "Xtreme" and Plextor claims increases in both sequential write and random read performance. We originally reviewed the M5 Pro back in August and it did well in our tests but due to the new firmware, it's time to revisit the M5 Pro. It's still the only consumer SSD based on Marvell's 88SS9187 controller and it's one of the few that uses Toshiba's 19nm MLC NAND as most manufacturers are sticking with Toshiba's 24nm MLC for now.
It's not unheard of for manufacturers to release faster firmware updates even after the product has already made it to market. OCZ's Vertex 4 is among the most well known for its firmware updates because OCZ didn't provide just one, but two firmware updates that increased performance by a healthy margin. The SSD space is no stranger to aggressive launch schedules that force products out before they're fully baked. Fortunately a lot can be done via firmware updates.
The new M5 Pro firmware is already available at Plextor's site and the update should not be destructive, although we still strongly suggest that you have an up-to-date backup before flashing the drive. I've compiled the differences between the new 1.02 firmware and older versions in the table below:
Plextor M5 Pro with Firmware 1.02 Specifications
Capacity
128GB
256GB
512GB
Sequential Read
540MB/s
540MB/s
540MB/s
Sequential Write
340MB/s -> 330MB/s
450MB/s -> 460MB/s
450MB/s -> 470MB/s
4KB Random Read
91K IOPS -> 92K IOPS
94K IOPS -> 100K IOPS
94K IOPS -> 100K IOPS
4KB Random Write
82K IOPS
86K IOPS
86K IOPS -> 88K IOPS
The 1.02 firmware doesn't bring any major performance increases and the most you'll be getting is 6% boost in random read speed. To test if there are any other changes, I decided to run the updated M5 Pro through our regular test suite. I'm only including the most relevant tests in the article but you can find all results in our Bench. The test system and benchmark explanations can be found in any of our SSD reviews, such as the original M5 Pro review.
AnandTech Storage Bench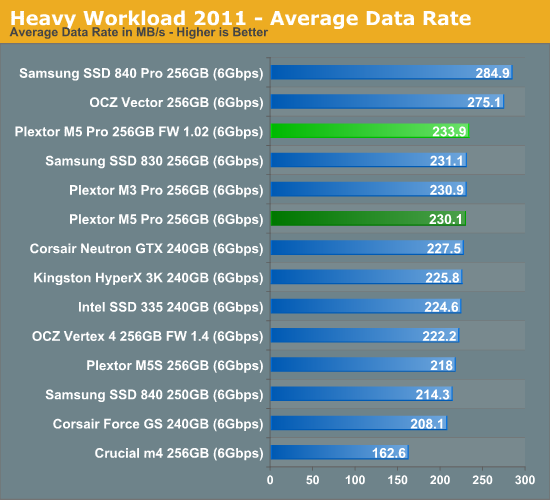 In our storage suites, the 1.02 firmware isn't noticeably faster. In our Heavy suite the new firmware is able to pull 3.8MB/s (1.7%) higher throughput but that falls within the range of normal run to run variance. The same applies to the Light suite test where the new firmware is actually slightly slower.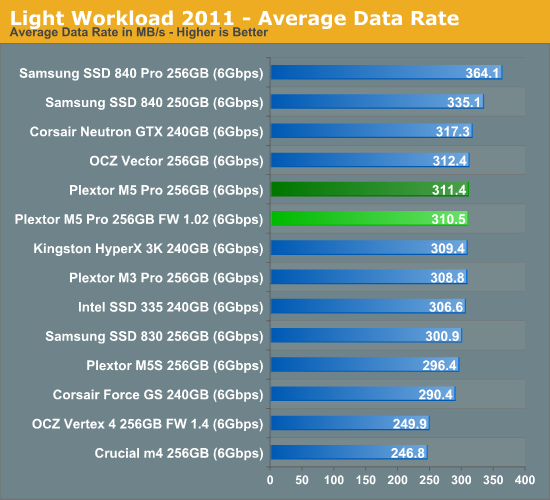 '
Random & Sequential Read/Write Speed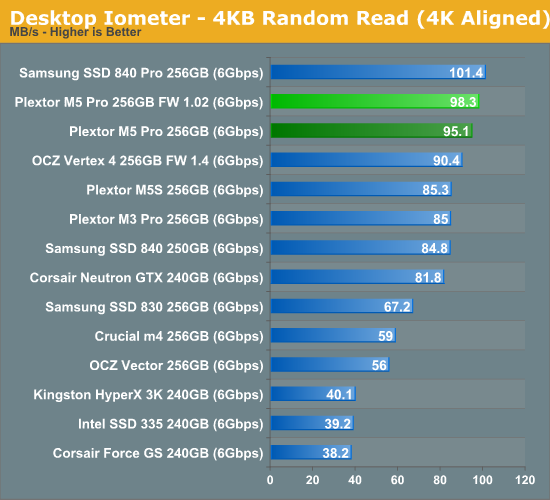 Random speeds are all up by 3-5%, though that's hardly going to impact real world performance.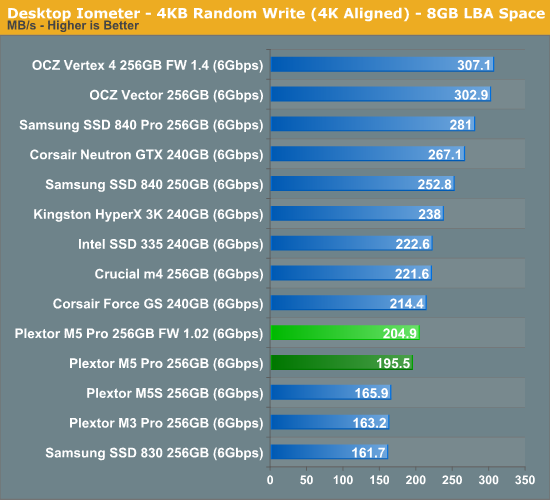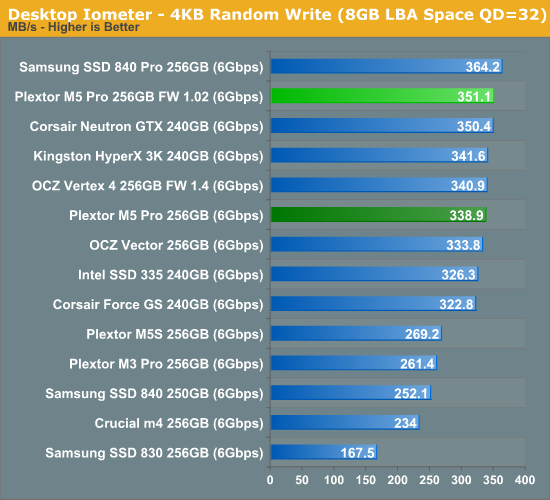 Sequential speeds are essentially not changed at all and the M5 Pro is still a mid-range performer.