In my Nexus 4 review, I noted that the device was the first shipping handset to include support for SlimPort via an Analogix ANX7808 SlimPort transmitter. When I wrote that review it wasn't immediately clear what advantages SlimPort offered over MHL, which has become relatively ubiquitous in the year or so since its introduction. Since then I've acquired the SlimPort microUSB to HDMI 1.4 SP1002 and VGA (D-SUB) SP2002 adapters from Analogix for testing out SlimPort on the Nexus 4.
SlimPort is a new video output standard which works over microUSB, and is effectively an MHL alternative based on the DisplayPort standard administered by VESA. SlimPort is offered both license and royalty free, and supports up to 1080p60 or 1080p30 with 3D content over HDMI 1.4 (up to 5.4 Gbps of bandwidth), in addition to support for DVI, VGA (up to 1366x768 and 720p at 60 Hz), and DisplayPort. What's different about SlimPort from a user-facing perspective is that external microUSB power is not required for the adapter to work and is instead only required for optional charging. At the same time, the adapters draw no power from the source to operate.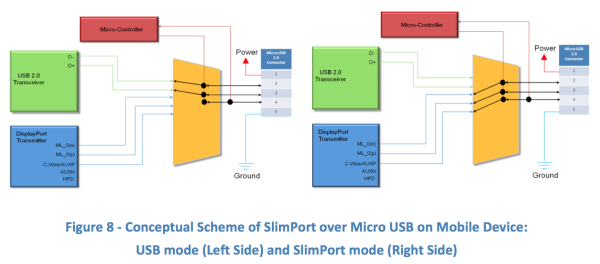 SlimPort over USB - From Analogix SlimPort Whitepaper (PDF)
I've spent some time playing around with the SP1002 HDMI adapter, which I believe is based on ANX7730, and the SP2002 VGA adapter, which is likely based on ANX9832. As of this writing, the Analogix SP1002 adapter is available on Amazon for around $30 USD. I haven't seen the SP2002 available online anywhere yet, however.
When connected to the Nexus 4, the HDMI adapter rotates the UI into landscape and mirrors the display just as expected. Resolution is scaled to 1080p60 on the Nexus 4 up from the panel resolution of 1280x768, which results in some letterboxing. As expected there's no requirement to have microUSB power connected to the adapter, I tested it with and without external microUSB power, all this does is just enable charging.
I posted a video review (shot on the Samsung Galaxy Camera) demonstrating the Nexus 4 doing mirroring with the SlimPort SP1002 adapter and received a query about whether the combo enables multichannel audio over HDMI as well. I tested VLC for Android with some .MKVs I had laying around with 5.1 AAC tracks and found that VLC will decode the multichannel audio and ship it over as 5.1 PCM to my A/V Receiver, so this does work, surprisingly enough. There's no bitstreaming support as far as I can tell, however. As an aside I was able to playback a number of 720p MKVs with hardware decoding checked in VLC for Android and 5.1 audio out with no dropped frames. The Nexus 4 seems to be a passable platform if you're looking to play the occasional 720p video over HDMI — provided you have the free storage for it.
I also tested out the SP2002 microUSB SlimPort to VGA adapter, which has a longer cable and correspondingly beefier module for accommodating the D-SUB connector on the end. I tried with a Dell G2410 LCD display and XGA resolution DLP projector and saw an output resolution of VGA (640x480 at 60 Hz), which wasn't quite what I expected. The SP2002 should work just fine with 720p60 over VGA, and I know both monitors expose the proper EDID, it seems as though the Nexus 4 just defaults to this mode. Just like the HDMI adapter there's a microUSB port on the back for optional charging, though the dongle doesn't require external power to operate.
Thus far I'm fairly impressed with SlimPort. I enjoyed discrete microHDMI connections on devices when that was the norm, though finding a microHDMI to HDMI cable was always the challenge. Later MHL seemed a step in the right direction, but requiring three cables to do display mirroring seemed like a bit much. With SlimPort I think we've finally arrived at something close to ideal with the standard not requiring external power to function. It will be interesting to see how SlimPort, MHL, and Miracast adoption fare in the coming year as mirroring to a larger display is in the cards as a convergence trend for smartphones and tablets.
Source: SlimPort (SlimPort Connect)