Conclusion: When is a Win Not Really a Win
The Lenovo ThinkStation D30 is definitely, full stop, the fastest desktop workstation I've tested. That's a mantra that's been repeated over and over again in this review but it's essentially correct, on paper and in practice. Whether or not the potentially massive increase in performance is appropriate for you and your business is really going to depend on the workloads you're going to be throwing at it and just how valuable your time is. I know that for independent video houses, every minute is precious, so it often makes sense to just buy the most CPU horsepower you can get your hands on. A configuration like the D30 would be a good fit for those.
For CAD, Maya, and other workstation tasks, the SPECviewperf results come in very handy for figuring out exactly which workloads need what, and how much you can gain from the move to a Quadro 5000, dual octalcore Xeons, or both. Of course, if you're doing mixed workloads that are just going to soak up every last ounce of performance they can get, it's probably a good idea to go big.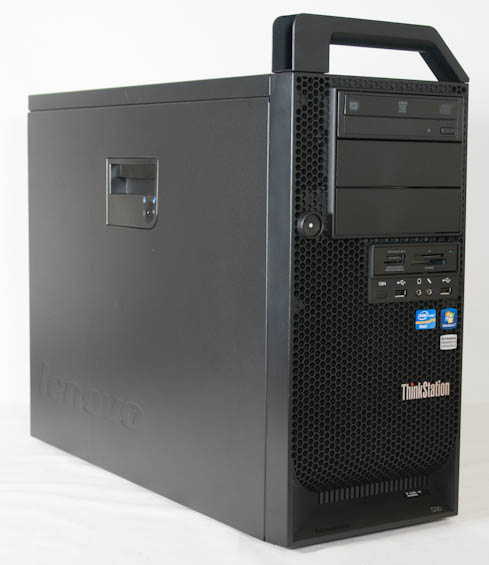 So where does the Lenovo ThinkStation D30 fall in the competitive enterprise landscape? Unfortunately, Lenovo's in the same unenviable boat that HP is in right now, having to compete with an unusually aggressive Dell. Enterprise workstations mean big, big money with high, high margins, but a hungry Dell is making life difficult for organizations that aren't going to be as forward-thinking or agile.
Case in point? Dell's Precision T7600 workstation offers many of the same independent certifications Lenovo's D30 does, but does so with a superior internal layout in terms of serviceability and convenience, can be rackmounted, and comes in at $7,653 for almost the exact same system configuration. That's $3,200 less than Lenovo is charging per unit for a system that's designed to be more serviceable. If you need a bunch of these, Dell will basically give you four better built systems for the cost of three of Lenovo's.
Right now, the fact is that unless you're pretty strictly in bed with Lenovo, there's just no reason to buy the D30 over Dell's Precision T7600. The ThinkStation D30 needs a smarter, cleaner, more serviceable chassis design and it needs to at least hit price parity with Dell. Until then, Lenovo runs the same risk HP is running right now on the desktop workstation side: being an also-ran and losing out to a vastly more hungry competitor.