Back at IDF Intel gave us a hands on demo of its Next Unit of Computing (NUC), a custom form factor motherboard that fits into an Intel-supplied 4" x 4" x 2" chassis. The first-generation NUC is built around a dual-core ULV Ivy Bridge CPU, the Core i3 3217U (17W TDP, 1.8GHz frequency, no turbo, HD 4000 graphics running at 350MHz - 1.05GHz).
Intel will be selling two versions of the NUC: the DC3217IYE and the DC3217BY:
Intel NUC Kit Comparison
DC3217IYE
DC3217BY
CPU
Intel Core i3-3217U
Intel Core i3-3217U
Chipset
Intel QS77 Express
Intel QS77 Express
RAM
2 x DDR3 SO-DIMM slots
2 x DDR3 SO-DIMM slots
HDMI Output
2
1
USB
3 x USB 2.0
3 x USB 2.0
Gigabit Ethernet
Y
N
Thunderbolt
N
Y
mini PCIe (half-height)
1
1
mini PCIe (full-height, mSATA support)
1
1
Chassis Color
Black
Black with Dark Red Top
Power Supply
External 19V DC
External 19V DC
Intel sent along the DC3217BY which it expects to see on sale via Amazon and Newegg around early December for $300 - $320. For that price you basically get the motherboard (including CPU) and chassis. Memory, mini PCIe cards and even the power cord all come separately. The power cord you'll need to buy is a C6 type that plugs into the power adapter's C5 type connector. The 3-plug C6 connector is also known as a cloverleaf connector. My assumption here is to keep costs down Intel avoided including this part as they'd need to have a different cable depending on what part of the world the NUC was being sold into. The kit also comes with a VESA mounting bracket.
The main difference between the two models is the presence of GigE (-IYE suffix) vs Thunderbolt (-BY suffix), although the version without Thunderbolt comes with two HDMI ports instead of one. The Thunderbolt version ships with a dark red glossy top (pictured in the gallery below). You can drive a 2560 x 1440 panel off of the Thunderbolt port, although the usual Windows Thunderbolt compatibility requirements apply here.
Building the NUC is incredibly simple. There are four screws that hold the chassis together, removing them gives you access to the motherboard: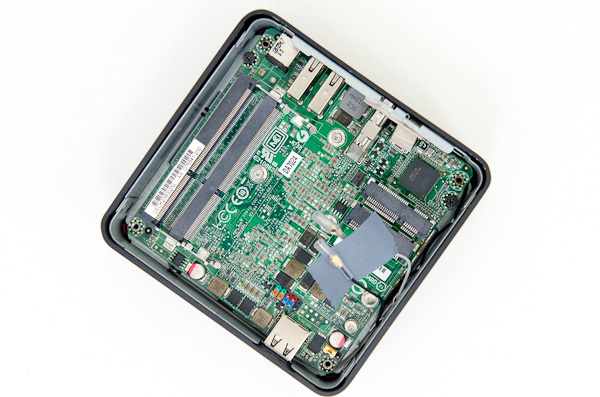 You don't actually need to go any further if you just want to get the NUC up and running. From here you can install up to two 8GB DDR3 SO-DIMMs. The bottom mini-PCIe slot accepts a half height card (perfect for WiFi) while the top slot can take a full height card or an mSATA drive. The antenna pigtails for WiFi are already routed to the appropriate spot inside the chassis. This model has an integrated Thunderbolt controller which you can see in the upper right of the machine.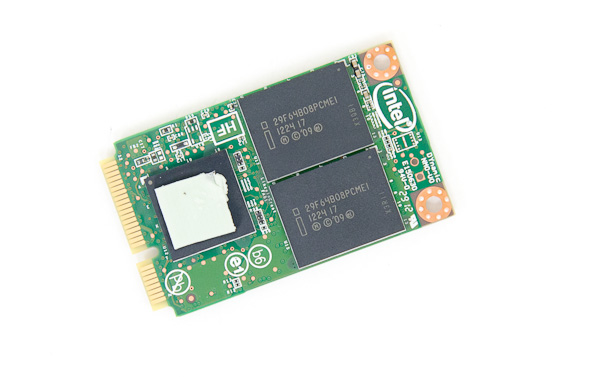 Intel sent along its mSATA SSD 520 (180GB), which is a SandForce based mSATA drive from Intel using 25nm MLC NAND. SandForce controllers work very well in mSATA form factors since they don't require any external DRAM. There are only four IC packages on the mSATA 520: the controller itself plus 3 x 64GB 25nm MLC NAND devices. Intel's SSD Toolbox labels the drive as an SSD 525, however the part numbers above indicate 25nm NAND which would make this a 520.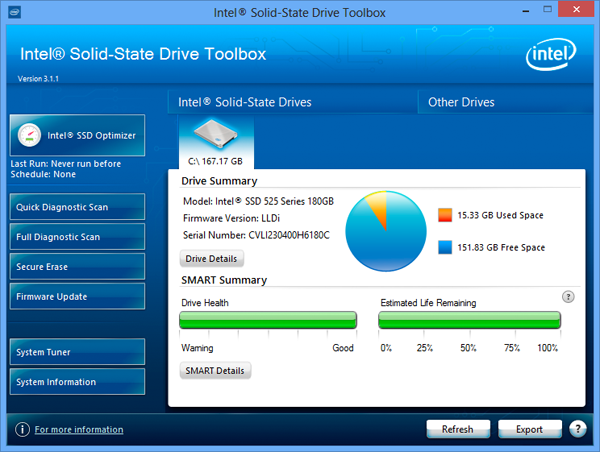 Going further, there are four screws that hold the motherboard in place, remove them and you can pull the board out completely: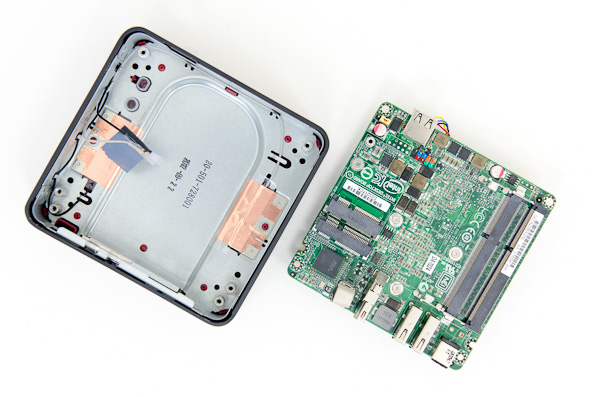 On the underside of the motherboard you'll find the heatsink/fan covering the QS77 chipset and the Core i3 CPU: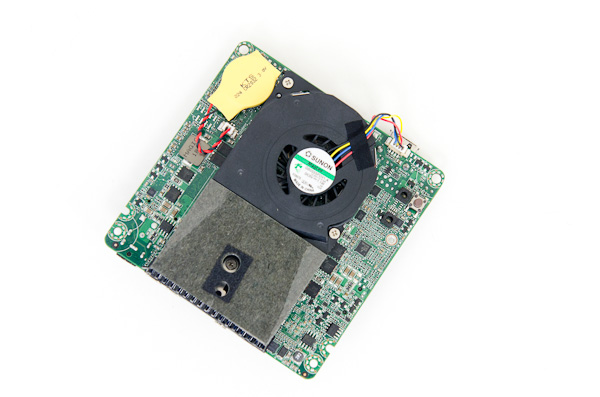 Under heavy load the fan will kick in, but it's barely audible from more than 18" away from the chassis. The top of the plastic chassis does get quite warm (48.7C) while the CPU is running full tilt. The 65W power adapter will pull around 10W for the full system at idle and peak power consumption for the NUC tops out at 19.3W when running our x264 HD test.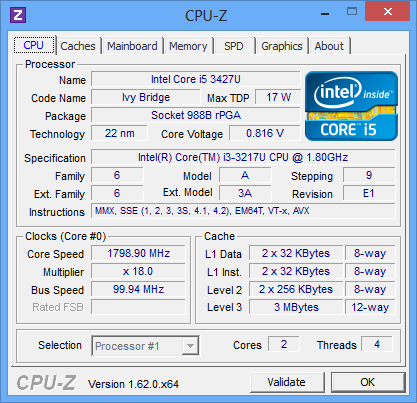 Performance is obviously going to be in line with other 17W mobile Ivy Bridge CPUs. We don't have a huge library of x264 HD 5.0.1 tests to compare to, but this should give you a bit of an idea of how the NUC would compare to a full blown 65W Core i3 based desktop PC: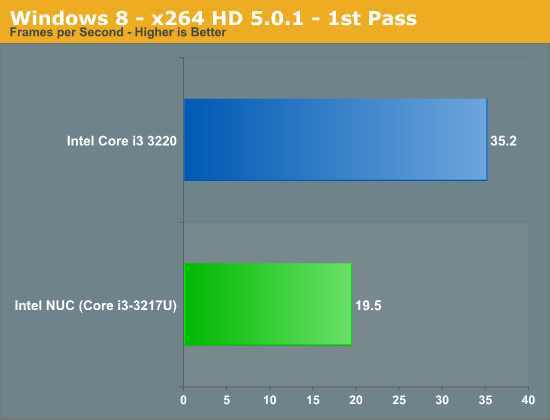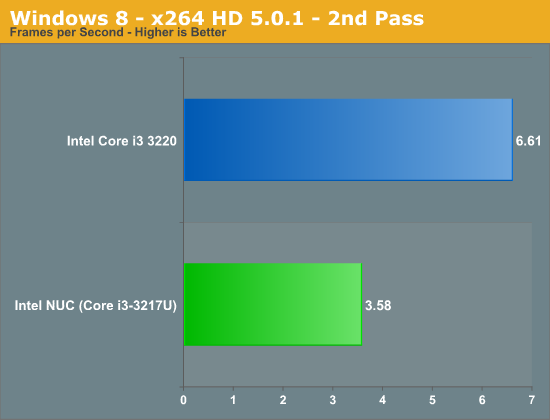 Compute bound tasks will obviously be slower, but lighter usage models will be just fine. Remember that this isn't an Atom based system, you'll actually get decent performance out of it. I'll be running some more benchmarks on the machine over the coming weeks, including a look at GPU performance.
The NUC is a nifty little concept and I'm glad Intel is bringing it to market. Obviously I don't see the NUC replacing everyone's desktop, but if you've got a specific application where form factor matters more than absolute performance (albeit one where you still need good performance) there may be a good fit here. What I'd love to see is for the NUC to be turned into a standard form factor, with a real ecosystem of multiple parts suppliers building components. Intel keeping it all in house, at least for the first revision, makes sense in order to establish a good baseline.