Assembling the BitFenix Ghost
In the process of examining the BitFenix Ghost, I gradually became more relieved. Oftentimes assembly can actually be the biggest bugbear of case reviews, especially when dealing with smaller cases. The only company I've ever consistently counted on to make life easy for me has been Corsair, but BitFenix really came through here. The Ghost is incredibly, almost comically easy to build in.
As I mentioned in the previous section, BitFenix includes a peg in the motherboard tray that makes lining up the motherboard incredibly easy, and the built-in extrusions in the tray itself almost entirely remove the hassle of installing standoffs. Not only that, but you're virtually guaranteed never to have to need a pair of pliers to help you remove a standoff that came out with the motherboard. Small conveniences can really go a long way.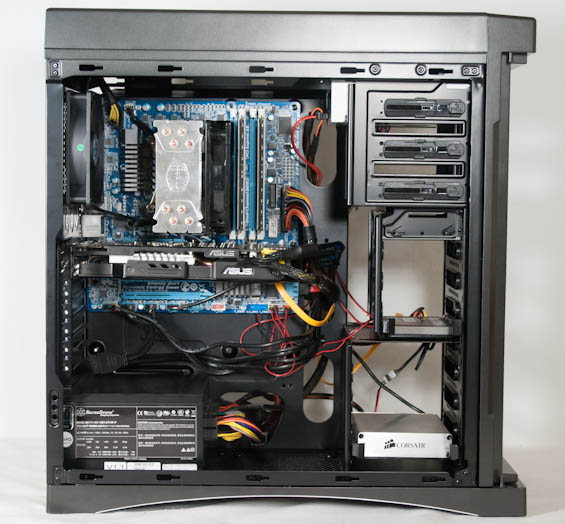 Those conveniences essentially permeate the design of the Ghost. Toolless drive trays exist for both 2.5" and 3.5" drives and their respective cages, and the toolless locking mechanism for the optical drive bays is fairly secure. Even the shields for the expansion card slots snap in and out of place; you'll only need screws if you're installing an expansion card. Installing the power supply is just as easy, with standoffs in the bottom of the case that lift it up, although you'll need to screw it in, same as always.
Cabling is mostly easy, with routing holes included in the motherboard tray and rubber grommets included separately in the package if you'd prefer to use them to line those holes. BitFenix provides ample space behind the motherboard tray for routing cables, though I was disappointed to see they didn't include a 3-pin to molex adapter for either of the fans. Our testbed motherboard only includes one system fan header, which meant I had to dig up an adapter to connect the other fan. Most users won't run into this, but it's something to be aware of.
The only difficult part of assembling the Ghost was in replacing the side panel behind the motherboard tray. Due to the archaic mounting design of the side panels, I was forced back into the classic practice of using your full body to line up and lock in the panel. It's inexplicable that they could've made a mistake like that one, especially in light of how painless and uneventful the rest of the assembly was. My favorite part honestly remains the 2.5" drive cage with corresponding sleds, a design choice so convenient and so obvious that it's perplexing as to why it remains as rare as it is.