Design of a product is a key part in being able to sell it with positive results. This is why the Apple vs. Samsung case is so big – design wins like to propagate to competitors and the original designers want to hold onto their design as much as possible. We are not going to see anything like Apple vs. Samsung in the motherboard industry, but it would be interesting if that were the case.
But the point remains – as users, we want plenty of design wins to come from all sides. So what happens if a company launches a product with great gusto, but it acts more like a design flop? Is there oversight in the design from the manufacturer, or have other departments apart from design chipped in with their opinion. Ideally some of the features should be designed by market research, rather than by micro-management. Then again, it is also dependent on how the market research is carried out – choosing several PC enthusiasts and asking their opinion is not proper and methodical market research.
By the nature of being a technology reviewer, I am also a critic. I never mean my criticism to be rude, and always aim to provide reasoning and future suggestions about what I would like to happen. Thus after re-reading through this review, I am slightly taken aback by my level of criticism geared towards motherboard design. There are some odd design choices from the H77N-WiFi, such as the CPU/chipset orientation, the 4-pin CPU power connector, combining dual LAN with a WiFi module, no voltage options. But there are design wins – dual HDMI and DVI-I being the big one. There is also scope to change design – moving certain features to the rear may be a possibility as seen on other motherboards.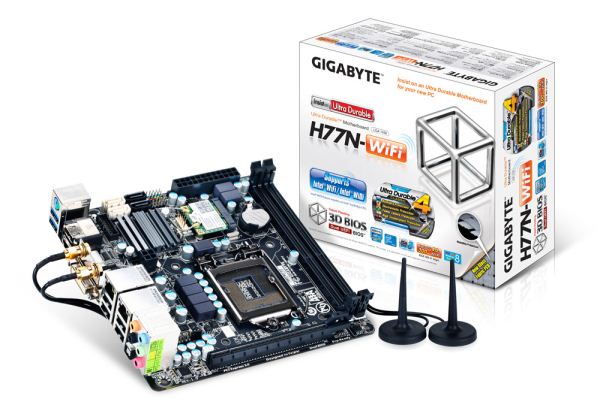 When I test a motherboard, I have an open test bed to allow cables to go where they please. This is normally oriented for ATX designs, where connectors are often in regular places. I had to move this around somewhat for the Gigabyte H77N-WiFi, dealing with SATA cabling at the top and restrictive CPU cooler options. If these are overlooked on the understanding that when it is in a case there is no cause for concern, then the Gigabyte H77N-WiFi offers a price competitive product.
For $120 we have a mITX board that gives an Intel WiFi Module with WiDi support, dual HDMI outputs combined with a DVI-I, and dual Realtek network ports. Performance wise I would easily suggest this motherboard paired with an i3-3225 to beat the A10-5800K in any single threaded workload you can throw at it. Multi-threaded workloads are more or less benchmark dependant.
I must apologize as I still have a backlog of Z77 mITX boards that I promised I would get through. Please stay tuned for those, as I also have Z77 OC boards and some FM2 coverage coming up. Stay tuned!