Many thanks to...
We must thank the following companies for kindly donating hardware for our test bed:
OCZ for donating the SSDs
Micron for donating our SATA testing SSD
G.Skill for donating our memory kits
ASUS for donating AMD GPUs and some IO Testing kit
ECS for donating NVIDIA GPUs
Gigabyte for donating the i3-3225 used for comparison
Rosewill for donating the Power Supply
Test Setup
Power Consumption
Power consumption was tested on the system as a whole with a wall meter connected to a Rosewill 500W 80PLUS Platinum SilentNight power supply. As I am in the UK on a 230-240 V supply, leads to ~75% efficiency at low loads, and 90%+ efficiency between 20% and 100% loading. This method of power reading allows us to compare the power management of the UEFI and the board to supply components with power under load, and includes typical PSU losses due to efficiency. These are the real world values that consumers may expect from a typical system (minus the monitor) using this motherboard.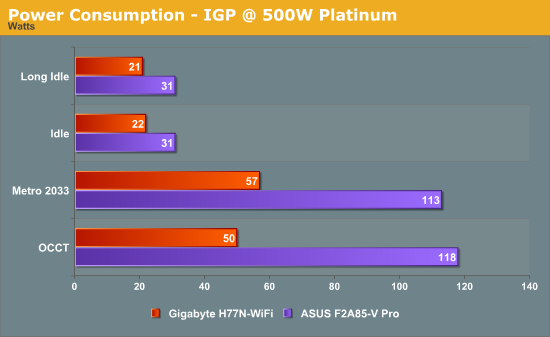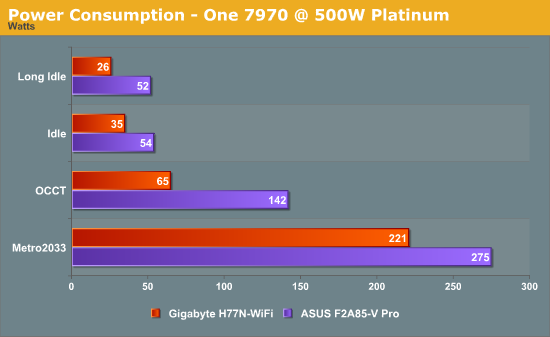 Using the i3-3225 processor gives an amazing idle power usage – 21 W on IGP. Even with a 500W Platinum power supply, 21 W is still on the very low end of efficiency. I wouldn't be surprised if the actual draw was more like 14-16 W.
POST Time
Different motherboards have different POST sequences before an operating system is initialized. A lot of this is dependent on the board itself, and POST boot time is determined by the controllers on board (and the sequence of how those extras are organized). As part of our testing, we are now going to look at the POST Boot Time - this is the time from pressing the ON button on the computer to when Windows starts loading. (We discount Windows loading as it is highly variable given Windows specific features.) These results are subject to human error, so please allow +/- 1 second in these results.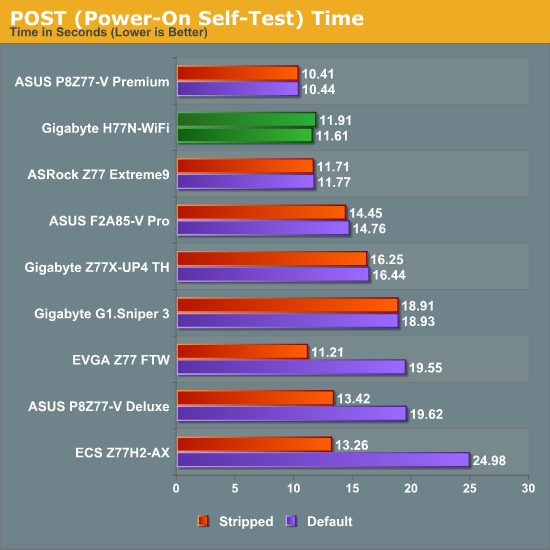 With the launch of Windows 8, most of the motherboard manufacturers are scrambling to update their BIOSes to take advantage of some of the Windows 8 features. This has resulted in reduced boot times – manufacturers that were taking 18 seconds to POST are down to 12 or below. I have been quoted that with the right combination of hardware and BIOS options, some setups can be in the operating system in 2-4 seconds. Nevertheless it also has a knock on affect for other operating systems – the Gigabyte H77N-WiFi is able to boot in a highly respectable 11.61 seconds with a 7970 attached.