For the past few days I've been trying out WP8 on an HTC 8X and running it through its paces. My time has been pretty limited, so I hesitate to call this a full review of either WP8 or the 8X, but it's worth going over basic impressions of the device and how the 8X stacks up as a smartphone. I played with an 8X a while ago and thus had a great feeling for its form factor, but couldn't make it past the lock screen. This is the first time that Microsoft has felt comfortable enough to show WP8 without any restrictions, and although the platform code on this 8X is RTM, the ROM and tweaks thereof aren't final, so it is important to realize some things may change.
First off the HTC 8X hardware and industrial design is really quite phenomenal. It's very easy to make the case that past WP devices weren't necessarily representative of the OEM's best possible effort, in reality that's putting it quite nicely. After the pressure put on it by Nokia at the tail end of WP7.5, it's clear that HTC decided to get serious about making unique hardware for WP8 with different industrial design tailored to the platform. That means a variety of neon colors and totally different design language than what Android gets.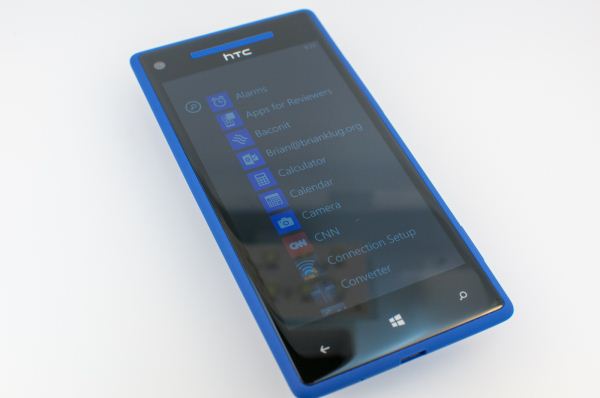 The 8X has a unique tapered shape that fits in the hand quite well. Like so many other smartphones pushing unique industrial design, it has a sealed internal battery, takes microSIMs, and includes no microSD card slot. The version I played with was an international model with no LTE (just WCDMA) and thus included a dual core MSM8260A SoC which is essentially an MSM8960 with different baseband software loaded on, and DC-HSPA+ support. This is really just a minor note since versions with LTE will have MSM8960 and no difference in application performance, just the inclusion of LTE.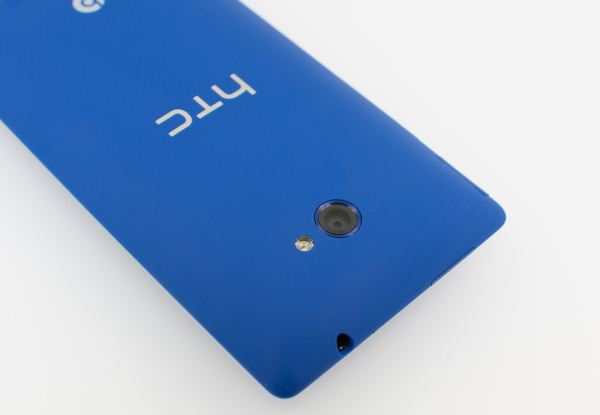 The 8X is a unique shape in part because HTC puts the battery in-between the display stack and PCB to maximize cell area, allow the phone to taper in the back and curve around more, and at the same time not kill antenna performance. This is actually a pretty interesting way of doing things since most phones are still a display, PCB, then battery stack. Changing up the order of those ingredients seems obvious in retrospect but is new to the 8X. It's this taper that makes the 8X feel thin even though at 10.12 mm it definitely isn't the absolute thinnest smartphone out there. I've put together the usual comparison table for the 8X.
Physical Comparison
Apple iPhone 5
Samsung Galaxy S 3 (USA)
Samsung Galaxy Note 2
HTC 8X (International)
Height
123.8 mm (4.87")
136.6 mm (5.38" )
151.1 mm
132.35 mm
Width
58.6 mm (2.31")
70.6 mm (2.78")
80.5 mm
66.2 mm
Depth
7.6 mm (0.30")
8.6 mm (0.34")
9.4 mm
10.12 mm
Weight
112 g (3.95 oz)
133g (4.7 oz)
180 g
130 g
CPU
1.3 GHz Apple A6 (Dual Core Apple Swift)
1.5 GHz MSM8960 (Dual Core Krait)
1.6 GHz Samsung Exynos 4412 (Quad Core Cortex A9)
1.5 GHz Qualcomm MSM8260A (Dual Core Krait)
GPU
PowerVR SGX 543MP3
Adreno 225
Mali-400MP4
Adreno 225
RAM
1 GB LPDDR2
2 GB LPDDR2
2 GB LPDDR2
1 GB LPDDR2
NAND
16, 32, or 64 GB integrated
16/32 GB NAND with up to 64 GB microSDXC
16/32/64 GB NAND (?) with up to 64 GB microSDXC
16 GB NAND
Camera
8 MP with LED Flash + 1.2MP front facing
8 MP with LED Flash + 1.9 MP front facing
8 MP with LED Flash + 1.9 MP front facing
8 MP with ImageChip, LED Flash + 2.1 MP front facing
Screen
4" 1136 x 960 LED backlit LCD
4.8" 1280x720 HD SAMOLED
5.5" 1280 x 720 HD SAMOLED
4.3" 1280 x 720 SLCD2
Battery
Internal 5.45 Whr
Removable 7.98 Whr
Removable 11.78 Whr
Internal 6.8 Whr
I have to emphasize that my time with the 8X has been pretty limited. I had a chance to run one battery life test on the 8X for comparison purposes. This is the new suite which contains way more aggressive cache busting and faster page refresh times. I'm going to run the 8X through the whole suite as soon as possible, but for now I have the 3G cellular number.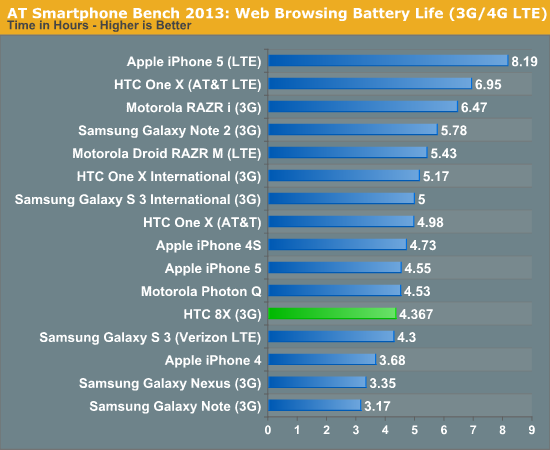 WP8 also includes a battery saver feature which is worth trying out and will get investigated. I suspect like other platforms, this changes the CPU governor and limits the maximum clock, in addition to the stated halting of background sync and processes.
The 8X has a 1280x720 Super LCD 2 display which looks great a 4.3-inches diagonal. Since this is a 16:9 phone it's the first time we get to see how WP8 deals with the difference in aspect ratio (15:9) posed by WVGA and WXGA formats. The answer is pretty simple, legacy apps just get aspect resized and include a black bar at the top. I was supplied a new build of the Twitter app with both better fast app switching and support for 16:9, but it was the other apps with that bar at the top which I found interesting. Most of the time it isn't distracting, but this is how WP8 deals with that aspect change (letterboxing).
The display performance on the 8X is great, I had a chance to measure brightness and contrast before heading out the door.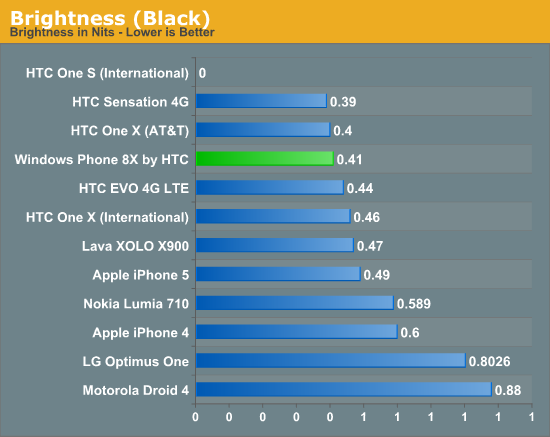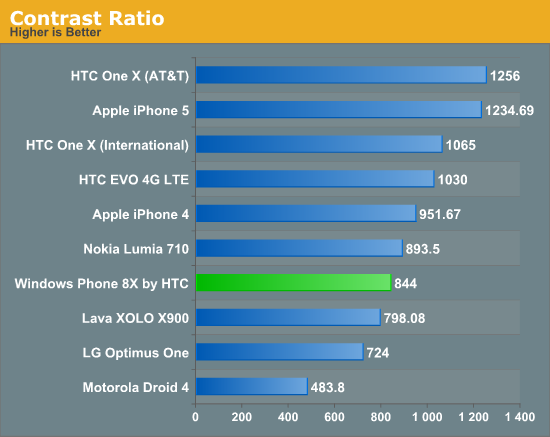 The Windows Phone platform continues to let OEMs customize the camera experience, and that includes the entire imaging chain. As a result the 8X contains the same F/2.0, 28mm (35 mm equivalent) 8 MP system with ImageChip (for fast autofocus) as the One X, and thus imaging performance analogous to the HTC One X on AT&T (One XL elsewhere). The front facing camera is dramatically better, however, at 2.1 MP and F/2.0.
In addition to the imaging chain there continues to be an allowance for changing the camera UI and adding features there. The new camera UI in its current form is much more consolidated than the previous one, with drop downs for all the appropriate settings. Like before you have to tap save to manually keep those settings after a close. The big new feature here is Lenses, which is almost like a hub for imaging applications which get access to the preview image API and can do their own DSP or processing on them. This is a great execution of a feature that generally just lives as discrete applications on other platforms. Crop and rotate editing support in the stock photos application is also a new addition.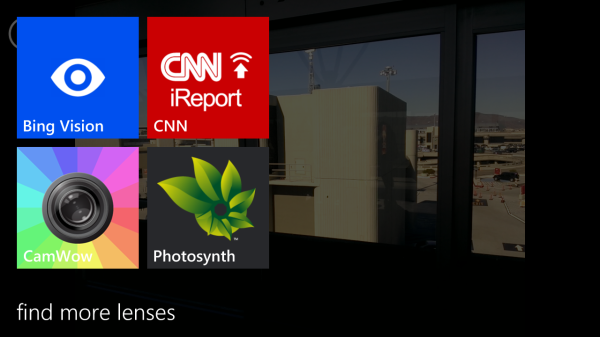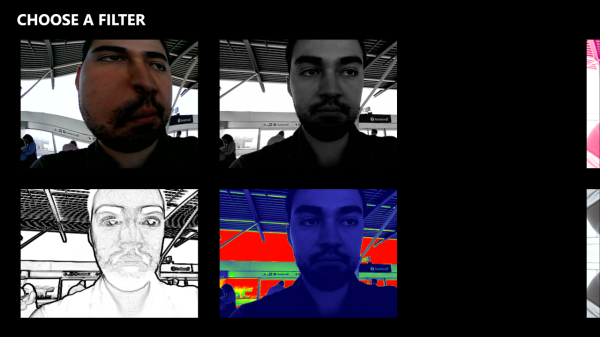 I didn't have time to run the 8X through the full test suite for images, which actually is pretty time consuming. I was able to grab photos in the lightbox of the test scene and also some demo shots while carrying and using the 8X with my personal SIM inside. I hesitate to call this final performance since things will likely change before release, but what I see now is, as suspected, very close to the MSM8960 based HTC One X.
Thanks to the fact that we're now talking about an MSM8960, Windows Phone can now for the first time record 1080p video as well. HTC has gone with 1080p30 H.264 baseline at 20 Mbps on the 8X. I didn't shoot a video at the test location because of time constrains, but the two sample videos I did shoot again are a big step forward for WP8 purely because they're 1080p this time around.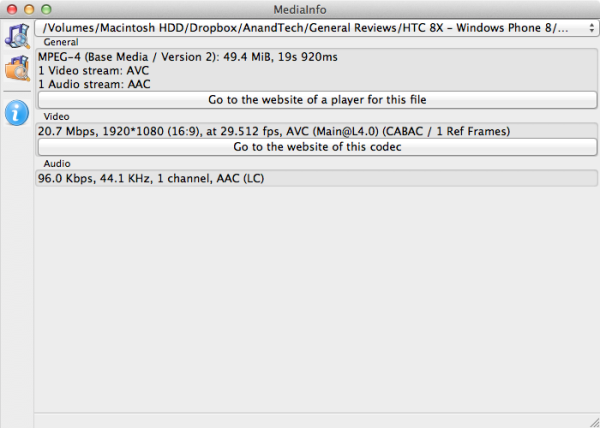 Audio on the 8X is very interesting as HTC has included a much higher power headphone amplifier in an attempt to differentiate itself with real sound quality improvements instead of just dynamic range compression with Beats. I listened to music on my Shure SE535s on the 8X and came away very impressed with what I heard. I intend to measure output and dig for what headphone amplifier is actually being used here, but initial impressions are positive. Likewise speakerphone volume is pretty good as measured using our normal tests.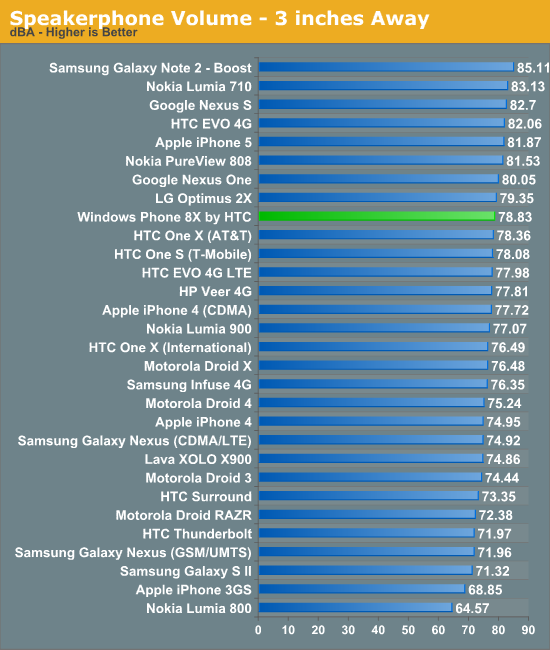 The 8X also includes dual band WiFi (2.4 and 5 GHz support) in addition to Bluetooth. I suspect this is using the Qualcomm on-MSM8960 implementation with WCN3660. There isn't an IPerf port for Windows Phone or I would test throughput.
I already showed sunspider from the HTC 8X, the only real other remaining benchmark for the platform that we can run is WPBench, and here the 8960 in the 8X and other improvements to the software stack destroy the previous WP7.5 devices handily.
WPBench Comparison
HTC Surround
(1.0 GHz QSD8250)
Nokia Lumia 800
(1.4 GHz MSM8255)
Nokia Lumia 900
(1.4 GHz APQ8060)
HTC 8X (1.5 GHz MSM8960
Total Score
61.58
91.14
89.09
227.21
Result Screenshot
As I stated before my concluding thoughts about the HTC 8X are very positive. HTC really brought everything it had to offer with this device and it shows in person. The design and use of neon colors is striking, and the shape and material choices definitely make for a great in-hand feel.