USB 3.0 Performance
The 13-inch rMBP features a slightly lower powered Platform Controller Hub (PCH) compared to the 15-inch model. While the 15-inch rMBP used Intel's HM77 chipset, the 13-inch model uses the QS77. The difference between the two is best summarized by the table below:
Power Consumption Comparison
HM77
QS77
TDP
4.1W
3.6W
Average Power
1.22W
1.15W
Package Size
25x25mm
22x22mm
USB Ports (USB 3.0)
14 (4)
14 (4)
PCIe 2.0 Lanes
8
8
SATA Ports (6Gbps)
6 (2)
6 (2)
VGA Out
Y
Y
LVDS Out
Y
Y
Smart Response Tech & RAID
Y
Y
vPro & Active Management Tech
N
Y
Small Business Advantage
Y
Y
The QS77 features a slightly smaller package, and shaves off half a watt of TDP and 70mW of average power compared to the HM77. In the process you don't really lose anything either, in fact you gain some functionality: QS77 adds support for Intel's VT-d and TXT.
The downside is slightly higher cost per chip (+$6) but otherwise it's a net improvement, likely chosen to help deal with the smaller overall chassis volume and battery.
The QS77 chipset still supports up to four USB 3.0 ports, two of which are put to use by the 13-inch rMBP itself (one on each side of the chassis). I didn't have any USB 3 docks or enclosures with UASP support when I reviewed the 15-inch model, but I've since rectified that with the help of our friends over at HighPoint.
This is the RocketStor 5122B external USB 3.0 chassis: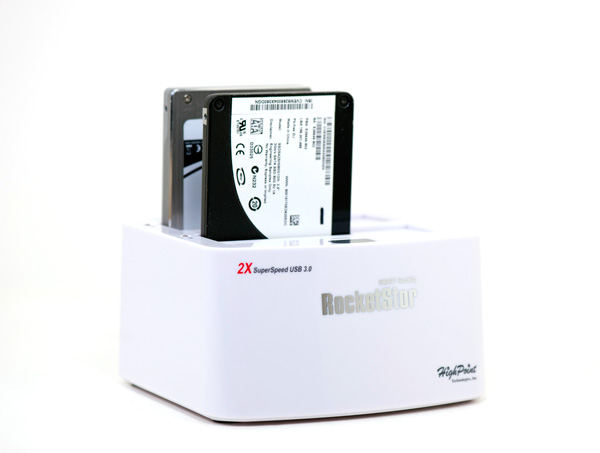 The 5122B features two 3.5" SATA bays that can easily accept 2.5" drives (or a mixture of both). It's intended to be a quick backup solution, but I used it for a different purpose: to test maximum USB 3.0 throughput on the 13-inch rMBP.
The secret to the 5122B is that it has two dedicated USB 3.0 ports, one for each SATA connector. It makes cabling a bit of a mess, but it also gives you up to 10Gbps of peak, theoretical performance. In reality USB 3.0 is good for about 400 - 500MB/s (3.2Gbps - 4.0Gbps), making the 5122B sound a little less impressive but it should still be good enough to really showcase what Intel's QS77 can do inside the 13-inch rMBP.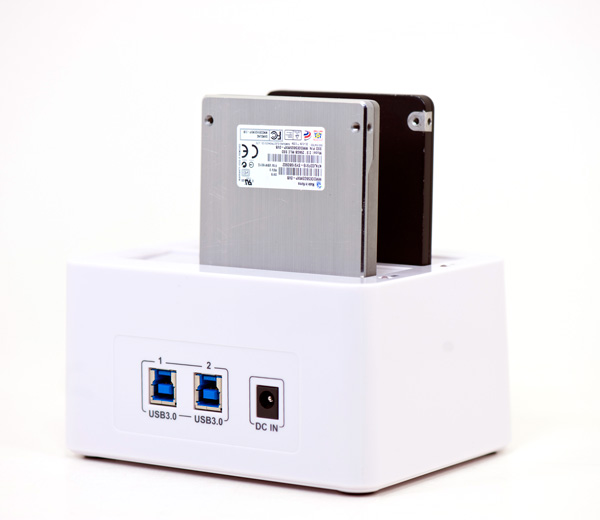 I grabbed the two SSDs I had closest to me: Intel's SSD DC S3700 and Kingston's HyperX 3K, and filled both with (compressible) sequential writes. Combining both transfer rates, peak performance topped out at 706.8MB/s (average was 679MB/s).


Two USB 3.0 drives transferring at the same time
I then created a software RAID-0 array in OS X and measured average performance of around 650MB/s. Peak performance remained just over 700MB/s. This isn't quite as good as what you can get with Thunderbolt and the implementation isn't nearly as clean, but it's a lot cheaper ($89 if you can find a 5122B in stock).
Finally supporting USB 3.0 is just a huge improvement over previous generation Macs.