Portal 2
A stalwart of the Source engine, Portal 2 is the big hit of 2011 following on from the original award-winning Portal. In our testing suite, Portal 2 performance should be indicative of CS:GO performance to a certain extent. Here we test Portal 2 at 1920x1080 with High/Very High graphical settings.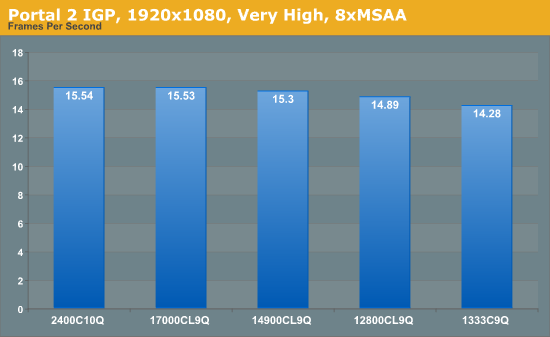 Portal 2 mirrors previous testing, albeit our frame rate increases as a percentage are not that great – 1333 to 1600 is a 4.3% increase, but 1333 to 2400 is only an 8.8% increase.
Batman Arkham Asylum
Made in 2009, Batman:AA uses the Unreal Engine 3 to create what was called "the Most Critically Acclaimed Superhero Game Ever", awarded in the Guinness World Record books with an average score of 91.67 from reviewers. The game boasts several awards including a BAFTA. Here we use the in-game benchmark while at the lowest specification settings without PhysX at 1920x1080. Results are reported to the nearest FPS, and as such we take 4 runs and take the average value of the final three, as the first result is sometimes +33% more than normal.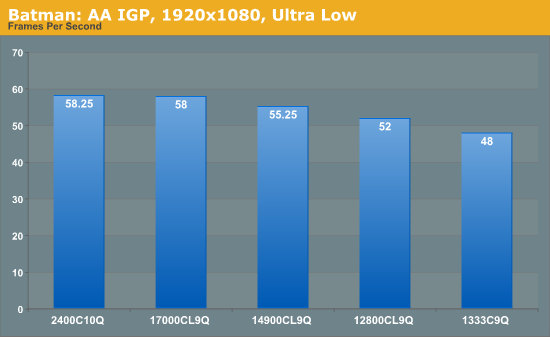 Batman: AA represents some of the best increases of any application in our testing. Jumps from 1333 C9 to 1600 C9 and 1866 C9 gives an 8% then another 7% boost, ending with a 21% increase in frame rates moving from 1333 C9 to 2400 C10.
Overall IGP Results
Taking all our IGP results gives us the following graph: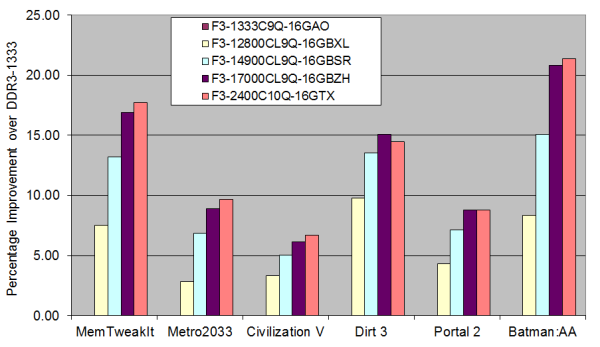 The only game that beats the MemTweakIt predictions is Batman: AA, but most games follow the similar shape of increases just scaled differently. Bearing in mind the price differences between the kits, if IGP is your goal then either the 1600 C9 or 1866 C9 seem best in terms of bang-for-buck, but 2133 C9 will provide extra performance if the budget stretches that far.