Market Positioning
Over recent years the price of DDR3 memory kits has hit record lows quarter on quarter. This means that profit margins for companies are also getting smaller and smaller – it becomes hard to differentiate yourself as a product line on price alone. This is the reason why a lot of the kits we have looked at today are designed to be visually eye catching – having either colored heatsinks, detachable heatsinks or shaped designs.
The pricing for each of the kits are as follows:
$75: Ares DDR3-1333 9-9-9 4x4 GB
$80: RipjawsX DDR3-1600 9-9-9 4x4 GB
$95: Sniper DDR3-1866 9-10-9 4x4 GB
$130: RipjawsZ DDR3-2133 9-11-10 4x4 GB
$145: TridentX DDR3-2400 10-12-12 4x4 GB
The margin between the 1333 MHz and 1600 MHz kits is $5, and as such would only be differentiated between tight budget constraints, bulk sales or aesthetic looks. The jump up to 1866 MHz is slightly more, but going up to DDR3-2133 and beyond is a significant jump in price, indicative of the binning process required for these higher end modules. The testing in this review will show if the leap up to DDR3-2133 memory is proportionally a good idea.
Test Bed
Many thanks to...
We must thank the following companies for kindly donating hardware for our test bed:
OCZ for donating the USB testing SSD
G.Skill for donating our memory kits
ASUS for donating the IO testing kit
ECS for donating NVIDIA GPUs
Rosewill for donating the Power Supply
I would like to extend thanks for Rosewill, as this is the first review we have used their new SilentNight 500W Platinum power supply. I first saw this bit of kit at Computex – a silent power supply capable of 500W and Platinum certified sounds like a great bit of kit and it was flawless during out testing. When I received the power supply I made an unboxing video before it went on sale:
It currently retails for $180 on Newegg.
ASUS MemTweakIt
With our overview of the ASUS Republic of Gamers range of products, one piece of software caught my eye while I was testing. The ASUS MemTweakIt allows for almost complete control of the memory subtimings while in the OS, such that users can optimize their settings for memory reads, memory writes, or for pushing the boundaries. The upshot of this software in our context is that it takes all the sub-timings and settings and condenses them into a score. As the memory kits we test contain XMP profiles, these profiles determine a large majority of the sub-timings on the kit and how aggressive a memory manufacturer is. We should see this represented in our MemTweakIt score.
As we do not know the formula by which ASUS calculates this value, it has to be taken with a pinch of salt. It could be weighted in favor of one of the settings versus the other. Normally I would not put such an non-descript benchmark as part of our testing suite, but the MemTweakIt software does give us one descriptor – it gives us a theoretical rate of improvement across the range of kits we test, and allows us to order them in the way they should perform. With this being said, the results for our kits are as follows: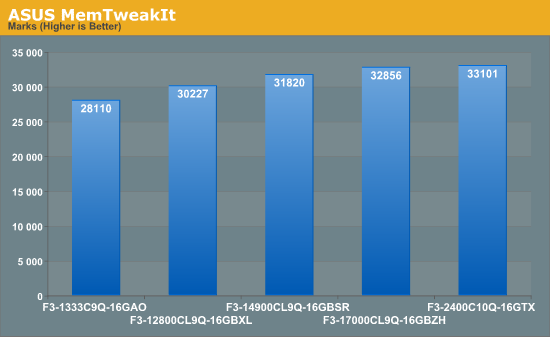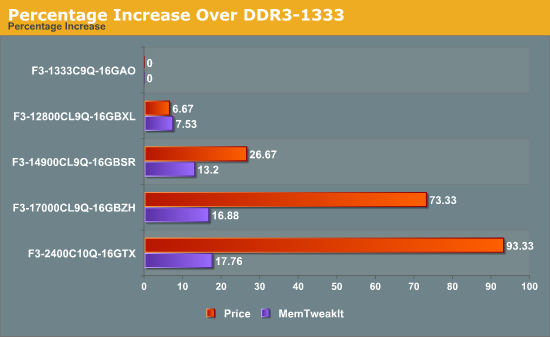 The rise in MemTweakIt score does not follow the price increases – for an almost doubling of the cost of the memory kit, we only see a 17.76% rise in the score. What this score means, we will see in due course.